BrightSign XT1144-T Media Player Complies with Trade Agreements Act
The new BrightSign XT1144-T satisfies Trade Agreements Act (19 U.S.C. & 2501-2581) making it ideal for government agencies, according to the manufacturer.
Leave a Comment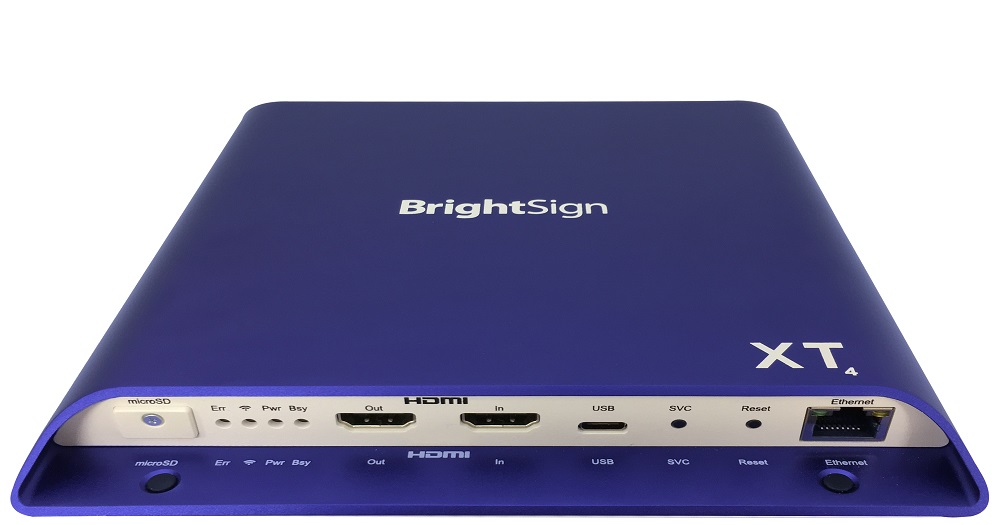 Digital signage player manufacturer BrightSign is touting that its new media player, BrightSign XT1144-T, complies with the Trade Agreements Act (19 U.S.C. & 2501-2581) – a feature that it says makes the product a good fit for government agencies.
The BrightSign XT1144-T, which sells for $850 and is available now, is a variant of the XT1144 and is manufactured in accordance with the TAA, writes the company in a press release.
The new media player's performance and specifications are identical to the XT1144, however the manufacturing process is Trade Agreements Act compliant, paving the way for sales into government agencies within the United States.
More on BrightSign XT1144-T from the press release:
The BrightSign XT1144-T delivers unsurpassed performance for enterprise applications with a powerful 4K video engine, BrightSign's fastest HTML and graphics engine and the company's most powerful CPU. This state-of-the-art technology for leading-edge digital signage installations supports H.264 & H.265 decoding, Dolby Vision and HDR10+ media pro­files, Full HD and 4K playback including Mosaic Mode.

The new media player offers a hardware-accelerated HTML5 rendering engine that enables flawless playback of multiple modular HTML5 assets including JavaScript, CSS animations, WebGL and even swipe/gesture interactivity. The XT1144-T offers Gigabit Ethernet, as well as 4K full-resolution graphics, PoE+ and HDMI In for Live TV playback.
As for what it means to be TAA compliant, the law is intended to preserve fair and open international trade and it can restrict the purchase for certain products for federal contracts.
Here's more on Trade Agreements Act from the U.S. Department of Veterans Affairs:
The Trade Agreements Act is applicable to all Schedules.  In exercising its authority under FAR Part 25, Foreign Acquisition, purchases by Ordering Activities are restricted to either U.S.-made or designated country end products.
A U.S.-made product can be either 1) an article that is mined, produced, or manufactured in the United States, or 2) an article that is substantially transformed in the United States into a new and different article of commerce with a name, character, or use distinct from that of the article or articles from which it was transformed.
It is the offeror's responsibility to verify that all offered products are U.S. made or designated country end products as defined in clause FAR 52.225-5.
When an item consists of components from various countries and the components are assembled in a designated country, the test to determine country of origin is substantial transformation (see FAR 25.001(c)(2)).
Offerors requiring a determination on substantial transformation can go to the US Customs and Border Protection (CBP) Office of Regulations and Rulings.  For services, origin is determined by the country in which the firm providing the service is established, not the location at which the services are performed.