Absen Says It Has Built Asia's Largest 8K Ultra HD Virtual Studio
Absen says it has built the largest 8K Ultra HD Virtual Studio in Asia, integrating LEDs with a virtual camera system & real-time rendering.
Leave a Comment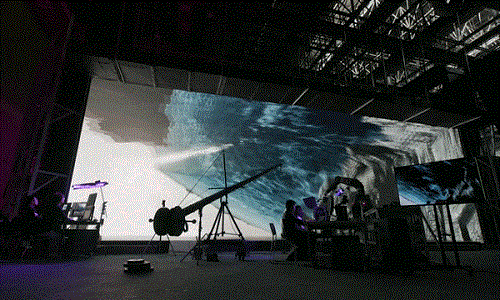 We've written several times about the massive LED walls that are replacing green screens in some of film and TV's most popular titles. Most notable including Disney+'s The Mandalorian.
The technology, called Stagecraft, was developed by visual effects studio Industrial Light & Magic, a division of production company Lucasfilm, which was founded by "Star Wars" creator George Lucas.
Last week, we wrote about recent improvements to that technology for the second season of the hit show, and it seems that this trend is catching on across the world.
LED display solutions provider Absen says it has built the largest 8K Ultra HD Virtual Studio in Asia, integrating LED technology with a virtual camera system and real-time rendering system.
According to Absen, the indoor panoramic LED stereoscopic LED virtual studio is 6 meters high and has a diameter of 24 meters, equivalent to about 20 feet high with a diameter of just under 79 feet.
In a press release announcing the installation, Absen says this is the first attempt by Chinese film and TV studios to construct such a structure.
"Through relentless innovation and a drive to constantly try new things, the Absen team finally solved technical problems with steel welding, load-bearing, ceiling fixing, and connecting the ceiling and backdrop curved screen," the company said.
The display makes use of a PWM constant current LED driver that improves image display and grayscale level to make dark textures more visible. The display also features a high refresh rate that allows it to quickly respond to a dynamic picture and synchronize with a high-speed camera without leaving any trace of scanning lines.
Like Stagecraft, this technology gives film crews the ability to bypass on-location shooting and create more realistic studio backgrounds. It also provides light sources that make scenes "almost indistinguishable from reality," according to Absen.
Filmmakers can also view the shooting environment and modify scene effects in real time, giving them more flexibility and creativity.
According to Absen, other features include:
10/12bit input and 16bit output with HDR support;
Absen LED panels are able to work with higher frame rates which can reach up to 144 frames per second, it makes it possible to shoot slow-motion visual effects with over-cranked cameras against LED screens and still retain perfect synchronization between screen and camera.
Low latency with frame delays as low as 1 frame;
The genlock can lock the processor at the camera shutter to achieve seamless synchronization of virtual scenes and character movements.
Absen's LED virtual studio has been adopted by TransQuebec.inc. XR Studio in Canada, Channel 5 in Russia, Catalyst Connect in the UK and Show Imaging Studio in the U.S., among others.