Virtual Production Technology Isn't Just for Hollywood 
The demand for the technology behind "The Mandolorian" is increasing and emerging as a new opportunity for integrators.  
Leave a Comment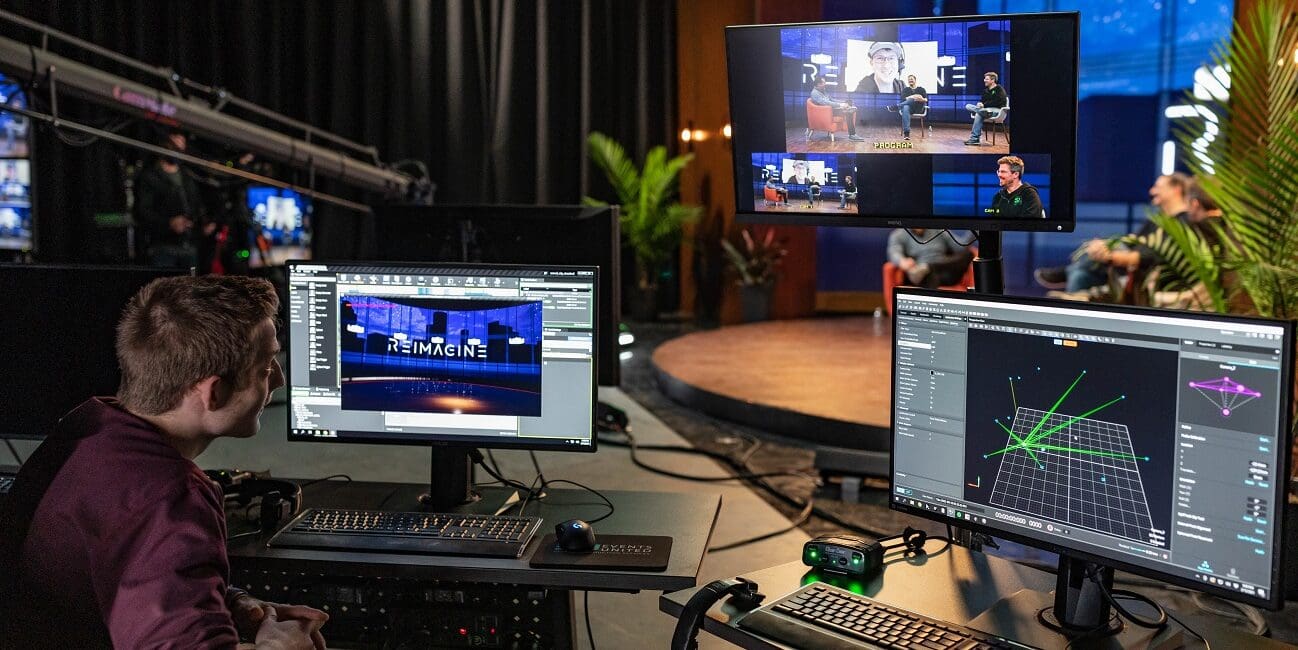 Audiovisual professionals are all well aware of the immersive qualities of LED technology – especially particularly large installations.
However, they are not just being used in commercial installations, theatres, stadiums or homes. Now, they are being used on the big screen. We've covered this before, when reports began surfacing about how fan favorites like "The Mandalorian" and "Westworld" employ large, curved LED screens in place of green screens. 
This technology gives filmmakers the ability to shoot on location somewhere without having to actually travel to that location. It also gives the on-screen talent the ability to actually see the surrounding environment rather than imagine the setting on the green screen behind them.
The early adopters were the effects and animation team at Industrial Light & Magic, a division of production company Lucasfilm, which was founded by "Star Wars" creator George Lucas.
Now, more mainstream AV players are chomping at the bit to bring the same technology to the integration community and other production studios.
One of the major initiatives currently underway is Planar Studios, a new business venture from display manufacturer Planar that capitalizes on the growth of virtual production and extended reality markets by combining the advanced technologies, industry partnerships and personnel to create on-screen content.
The company hopes to become a partner for the production industry be developing advanced visual technologies like critical LED and motion capture systems, bringing virtual production (VP) and extended reality (XR) to mainstream entertainment, as well as corporate and education markets.
From Film to Traditional AV Use Cases
Adam Schmidt, executive vice president of sales, marketing and pro services for Planar, said in an interview with Commercial Integrator that the goal is to bring the same kind of technology to traditional AV customers – not just the film industry.
According to Schmidt, the net result of extended reality and virtual production is content that is more engaging and captivating, which end users in corporate, education and houses of worship have been chasing for years.
"As these virtual production tools and techniques get simpler and more accessible, you'll see these markets … utilizing virtual production techniques and lean on the integration community to not just design those, but deploy those and perhaps operate those," Schmidt says. "It's an eventual opportunity for the entire (pro AV) community."
One of the main use cases of LED installations is to create immersive experiences, and virtual production use cases certainly accomplish that. However, what if this same technology was applied to an otherwise boring investor conference?
According to Schmidt, the technology can be applied to supplement presentations using graphics and other imagery to create compelling visuals that really engage the audience.
"Why would any corporation do that ubiquitous investor conference the same way again?" Schmidt asked.
In a university environment, the technology can be used to access an increasingly global community of students or help worshippers connect with one another without having to physically be at church.
Despite the undeniably hype, virtual production and extended reality technology is currently very expensive and complicated to master – even for the industry pioneers who are helping to bring this to the market and make it more accessible and affordable.
"One of the things preventing it from more widespread adoption is that it's a little clumsy and a little expensive," Schmidt says.
Such is the case with most new technology. When it first comes to the market, it tends to be prohibitively expensive for mass adoption and overly complex because only a handful of engineers have had the opportunity to improve the technology.
XR and VP Are Emerging … and Evolving
However, that's not stopping some in the industry from seeing what virtual production and extended reality technologies can do. New Hampshire-based Events United and sister company Studio Lab decided to start experimenting with this technology when business slowed down due to the pandemic last year.
The company took the LED wall technology from its events-based business and merged it with its studio business to start "trying some of the Mandalorian stuff," says Tim Messina, the company's owner.
Despite just beginning to offer this technology to clients last year, the company has emerged as an early pioneer of extended reality and virtual production providers with clients coming to the company's studios to shoot commercials with multiple settings and some clients on the events side requesting it for live events.
"At the same time, we're still in the very, very early stages of this, and it's going to be shifting, there's going to be more coming," Messina says. "it's important that you pay attention to these changes as they're happening."
Ian Messina, director of virtual production for Studio Labs, get to work to learn immersive creation platform Unreal Engine – a must in this line of work – and quickly learned about the complexities of virtual production.
"In the early stages of it, a lot of things were up in the air. Some people had it figured out, some people didn't figure it out," he says. "
Any new technology is exciting, but disruptive technology that flips current production techniques upside-down will take time to evolve and become easier to use.
"There are a lot of late nights where you get stuck on problems, and sometimes you need that back and forth where somebody goes in, works on it for an hour, gets stuck, and someone else goes in and looks at it from a different perspective," Ian Messina says. "But ultimately, you're making something work that didn't work a year ago."
The company gave a public tour of their production space, which included loads of AV, giant Planar screens and incredible tracking technology that allowed the scene on the LED walls to move with the camera.
The tour included a demonstration of how the technology works and its advantages over a green screen. In the studio was a yellow Ferrari, and on the LED wall was a scene of a garage.
If that were a green screen, green light would be bouncing off the shiny car, which would then have to be removed in post-production. However, the only light bouncing off the car in the studio was the light generated by garage environment on the video wall, which makes the scene much more realistic.
The demand
According to Tim Messina, the combined company is able to disassemble the stage and take it on the road for live events and use the technology in innovative ways.
"As an event company, we can tear all of this down in one day and relocate it somewhere else in a completely different configuration," he said. "We have an event in January where the video wall is torn into a thousand different pieces and content is mapped across the entire thing."
Tim Messina went through several other previous uses, including as part of an aerialist's act, configured as a dome and motorized panels that can move with the camera.
"The demand for all this is through the roof," he said.
One of the main reasons for the demand is the technology's ability to transport actors to anywhere in the world without having to spend time and money traveling, which can save productions a ton of money, says A.J. Wedding, a director, producer, visual effects expert and co-founder of Los Angeles-based Orbital Virtual Studios.
Wedding's studio operated the virtual studio in a smaller test facility which is currently booked about 100% of the time, Now, they're moving into a 36,000-square-foot facility with two stages and is currently servicing its first TV series.
"I think COVID has a lot to do with it," Wedding says. "When you're doing a production that has a lot of location shoot days, those days are very expensive already. Then you add COVID on top of it and there's a lot of things you can't do now."
With quarantine requirements after traveling, locking down a location is a lot more challenging, so the opportunity to shoot in an environment as immersive as the actual location can do wonders for the production's budget and timeline, Wedding says.
This technology – since it's brand new – can be expensive, but it should eventually come down in price as it becomes more mainstream and made less complicated.
However, that is currently one of the challenges, Wedding says. In addition to the price of the technology, it can also be costly to find someone who can operate these systems.
"It's very difficult to find enough people who understand how to use it," Wedding says. "Those people are in high demand, so you have to pay them more."
It will also take time, Wedding says, as producers, live events operators and entertainment technology professionals are just now being exposed to virtual production and extended reality.
"You have to have people that believe in it," Wedding says.