Marshall Furniture Celebrates Its 35th Year in Business
An unyielding loyalty to customers and employees along with a commitment to producing quality products propels Marshall Furniture halfway through its fourth decade in business.
Sponsored Content
Leave a Comment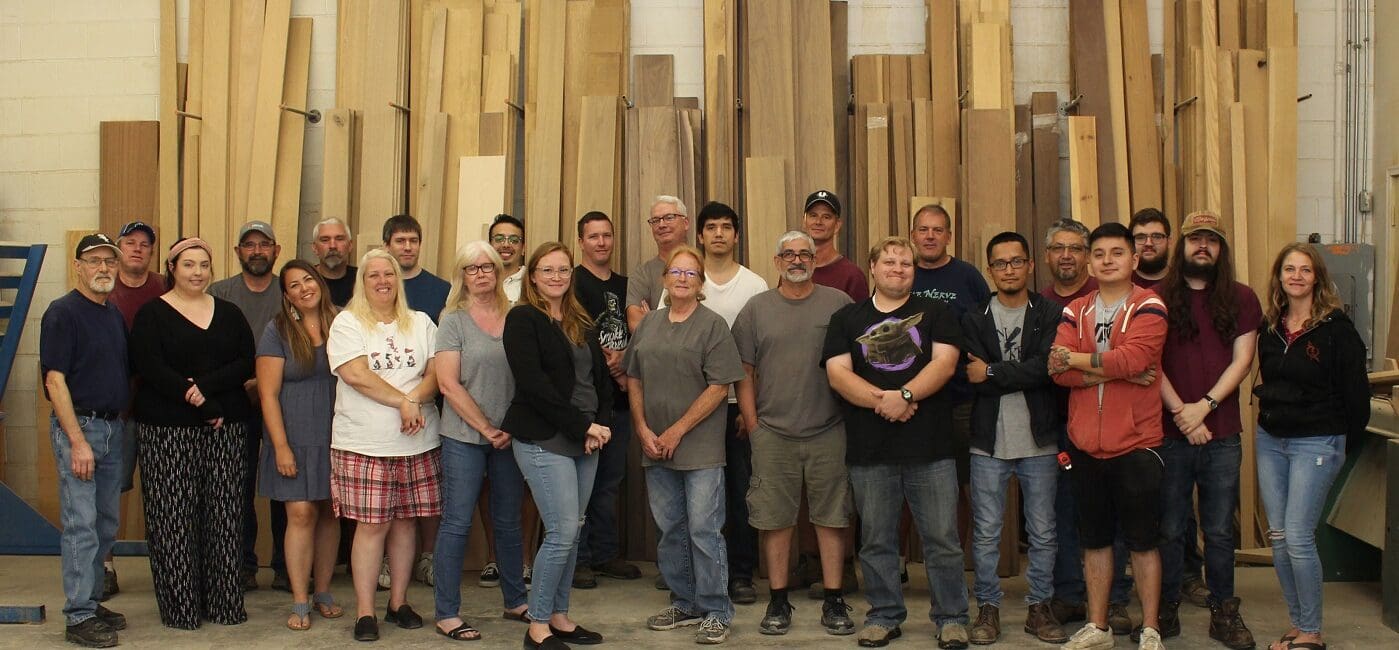 About 35 years ago, when Richard Mangione first started Marshall Furniture with just two employees, he never envisioned the company turning into the 30-plus-employee company that is a household name when it comes to custom technology furniture for the professional audiovisual industry.  
"In the beginning it was about was how we were going to survive for the next week," Mangione says.  
Now, more than three decades later, the company is turning 35 years old and continues to be a part of the fast-growing pro AV industry. The company continues to grow while it retains many employees who have been with the company for two decades and preserves all the hallmarks of being a strong small business while meeting increasing demand and quality standards.  
Early beginnings
Mangione, the retired president of the company, was previously a sales manager at a K-12 education furniture maker and learned the ins and outs of the furniture business, including the dealers.  
At the time, Mangione saw his then employer – a large corporation – eat employees and spit them out.  
"I just hated working for big corporations," Mangione says. "I watched them ruin people." 
However, it was there that he learned from one AV dealer of the incredible demand for wood furniture, and Marshall Furniture (named after his middle name) was born. After a few years of trial and error, Mangione's company hit its stride and found a way to bring employees into an environment where they truly felt appreciated.  
The company began making mostly wood cabinets on casters to move 37-inch monitors, but then grew into making custom lecterns for customers across the country.  
In the first few years, the company was swamped with work, Mangione remembers.  
"There was such a huge demand, and we had to grow very fast to fill it," Mangione says. "It was a pretty wild time for the first 10 years or so." 
The company eventually brought its manufacturing in house to help speed up production and operates out of a 32,000-square-foot facility in Antioch, Ill. where it has been for 20 years.  
With technological advances, the company has added CNC machines to its production floor to cut the material, but the finishing touches are still all done by hand.   
That has helped the company earn an unmatched reputation for providing custom wood furniture to meet virtually any audiovisual need, including lecture halls, boardrooms, classrooms, courtrooms and more.  
Employees and culture drive longevity
A small family-owned business can only be successful if its employees keep coming back to work, which only happens if said company values its employees and treats them with the dignity and respect that small businesses are expected to give.  
Mangione still visits the facility now and then, but mostly so his dog "can see her friends." 
Canines are as much a part of the culture as its employees, as there are typically several dogs in the office (a few of which made an appearance on a Zoom call with Commercial Integrator).  
Perhaps it's that laid-back, casual work environment that has kept several long-time employees there for decades.  
Michelle Wille, a manager partner responsible for sales and marketing, started with the company in 1999. Luke Fisher, a cabinet maker, has had two stints with the company – one for eight years in the 1990s and his current seven-year tenure. Jim Schaffroth, another managing partner, has been with the company for about two decades.  
Tom Feldkamp, director of business development, marks his 20th year with the company this year.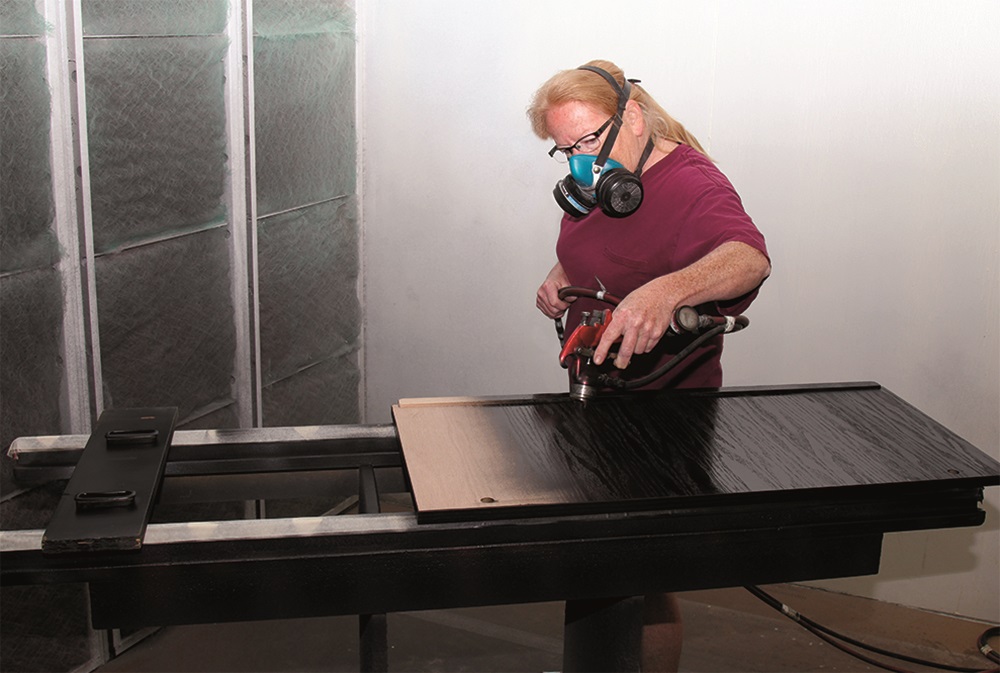 "It's kind of like family, not to be cliché," Feldkamp says about the reason so many employees stay with the company for years on end.  
Yes, people have assigned roles, but it's commonplace for everyone at Marshall Furniture to have more autonomy and wear different hats.  
"We've all tried to put our best foot forward to get the best possible product out there," Feldkamp says. "Whether that means helping to pack up a shipment if the time is tight or answering a phone, we all kind of do that around here. No one is uncomfortable stepping out of those roles and to lend a hand." 
Other employees like Wille came to Marshall Furniture looking for a career change. With no experience in sales or marketing, Wille was able to find her place and grow within the company.  
"I was always given a voice," she says. "By having that voice, it extends your relationships with your clients because they see you as a decision maker. That's an empowering thing." 
An unyielding commitment to customers and quality products
Those core values so often found in small locally owned businesses bleed over into how the company approaches its customers, and the passion with which the company treats its employees is apparent in how the products are made.  
The company still counts its original three local customers as among its client base and has grown to work with major U.S. universities. 
For that, Feldkamp credits Mangione's original philosophy of always putting the customer first and never taking advantage of a customer and always being a trusted partner that helps a client make the best decision for their project rather than just another vendor.  
In a word, the company takes the phrase "The customer is always right" very literally.  
"That's something we all take to heart," Feldkamp says.  
That has helped the company retain most of its customers over a 35-year history and evolve along with them as their needs and budgetary resources evolve. That is particularly true of late when the pandemic slashed budgets and capital spending across virtually all industries.  
Since Marshall Furniture is a custom shop, their products tend to be high end, which sounds expensive. However, the company has been working with customers to build budget-friendly solutions using different materials to meet different price points.  
"We're really trying to take that message to the streets," Feldkamp says.  
To keep up with demand and quickly ship product out to customers, Marshall Furniture has added several CNC machines, but has not compromised on the incredible detail with which its cabinetmakers put the finishing touches on products. 
Schaffroth spoke about the advancements in robotics that is shaping the manufacturing industry in other markets, but what sets Marshall apart from the rest is its distinctly human touch.  
In many shops, it's getting harder and harder to find actual humans working there. But in the custom AV cabinet market, the kind of quality attention to detail demanded by customers would be nearly impossible with a fully robotic workforce.  
"It might be possible for white melamine kitchen cabinets where noone sees the actual cabinet and you just see the front door of it," Schaffroth says. "But not in our business – there's too much going on." 
For longtime cabinetmaker Luke Fisher, that that attention to detail, coupled with the work environment, is what keeps him coming back to work every day.  
"The fit and finish is still all done by people like cabinetmakers, assemblers and finishers," he said. "That's the best way to get a quality product."