Red Thread PurifySpaces Air Purification System Promotes Health and Safety
PurifySpaces by Red Thread offers effective air cleaning using Bluezone technology to help workers, students, teachers and health care workers stay safe.
Leave a Comment
Red Thread today announced a new addition to its portfolio of workplace re-entry solutions called PurifySpaces.
The PurifySpaces air purification system, featuring Bluezone technology, "kills airborne pathogens and returns pure air into interior environments," according to the Red Thread announcement.
Red Thread partnered with Bluezone to integrate this technology into custom furniture cabinets for corporate, health and learning spaces.
"Originally developed for the U.S. military, Bluezone achieves a 99.98% kill rate against aerosolized MS2, a SARS-CoV-2 surrogate virus, within 120 minutes," according to the Red Thread announcement. "Bluezone attacks contamination near its source, continuously circulating air through Bluezone's germicidal UV-C light reaction chamber to maintain optimal air quality."
Red Thread: Furniture Company or Change Agent?
The CDC, FDA and 239 scientists who wrote an open letter to the World Health Organization all recommend using germicidal UV-C to mitigate airborne transmission, according to the Red Thread announcement.
"PurifySpaces can help organizations gain employee trust by instilling confidence that their work environments are safe and protected," said John Mitton, VP of audiovisual technology at Red Thread, in the company announcement. "Managing compliance and safety will be an ongoing challenge for any workplace re-entry strategy, even with comprehensive post-COVID protocols.
"Effective air cleaning is a critical element of infection management and risk mitigation for any space—whether it's a distance learning classroom or two-person enclave," he said.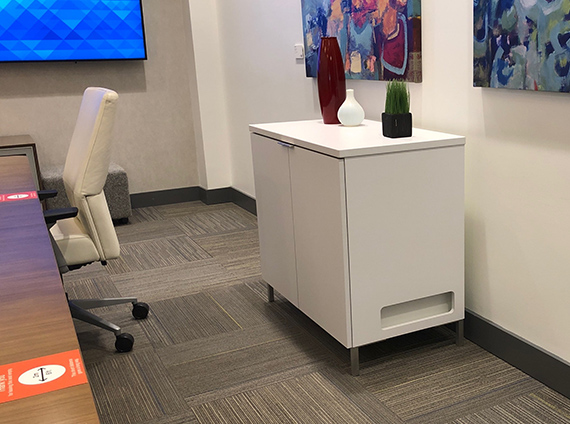 More About Red Thread PurifySpaces
Available in both tower and credenza models, PurifySpaces integrates into a custom cabinet designed to blend into the decor of any space. There are over 100 laminate surface finishes to choose from, with custom and antimicrobial options available.
The cabinet provides proper air flow ventilation and easy access to the technology. Contaminated air is drawn in, while clean air is exhausted through an airflow vent system. Designed and engineered to run 24/7, PurifySpaces continuously treats the air at a quiet, ambient sound level.
This purification system also has a one-year warranty for parts and a service plan available for ongoing maintenance.
If you enjoyed this article and want to receive more valuable industry content like this, click here to sign up for our digital newsletters!