Environmental Lights Launches Continuous Side View RGB PixelControl Strip Light in Black Finish
The Continuous Side View RGB PixelControl Strip Light is a discrete lighting solution that blends seamlessly into dark environments.
Leave a Comment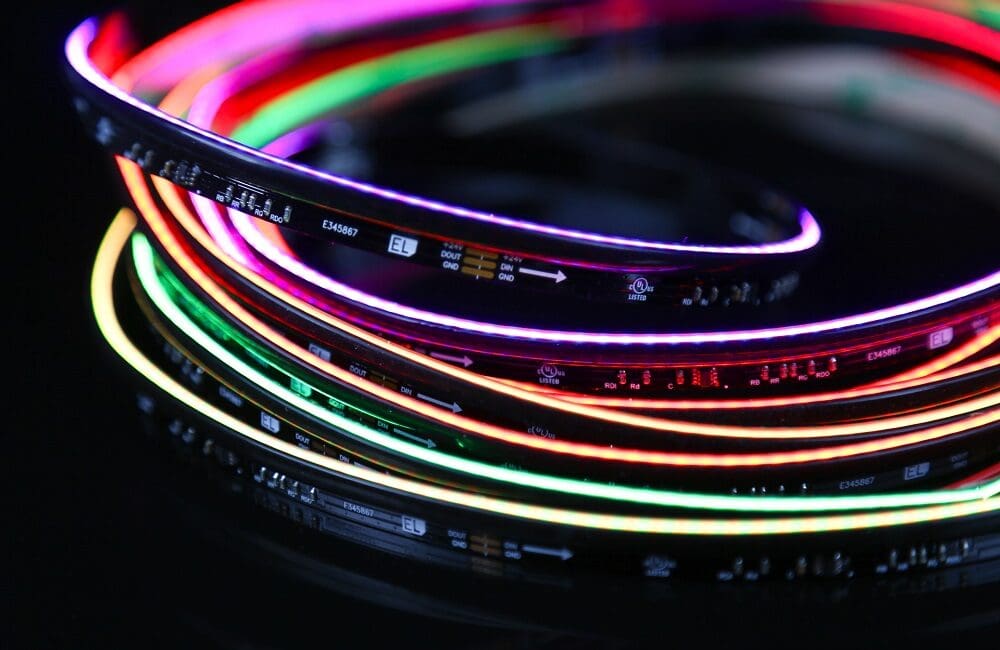 Environmental Lights, the San Diego, Calif.-based LED lighting solutions provider, announced the launch of Continuous Side View RGB PixelControl Strip Light in black finish.
The new product emits a continuous line of light from the strip's edge. The neon-like appearance of the light is only visible when viewed from the side. The extremely narrow profile combined with the company's patented continuous chip-on-board (COB) technology provides a highly dependable, hotspot-free, discrete lighting solution that can be placed in tight spaces, says the company.
The black finish allows the strip to blend seamlessly into dark environments with the ability to precisely control pixels — what you see is a dazzling lighting effect that seems to appear out of thin air.
"Continuous Side View RGB PixelControl Strip Light provides lighting designers with everything they need in one package for entertainment and production promotion applications" says Jordan Brooks, president of Environmental Lights. "When in operation, the product is capable of displaying stunning lighting effects with a variety of control protocols and blends into the set discretely when turned off."
Watch: Environmental Lights Spotlights Opportunities for Houses of Worship
Continuous Side View Applications
The discrete lighting solution is ideal for television and film sets, retail store displays and hospitality venues. The black PCB and side-firing lumens give the product hardware an extremely subtle presence while providing powerful visual effects thanks to the PixelControl functionality. The built-in diffusion ensures that the light will be evenly dispersed.
Environmental Lights offers 13 additional varieties in 16-foot reels. Environmental Lights offers fixed color temperatures ranging from 2700K to 6500K as well as tunable white and non-PixelControl RGB. Among these, there are also white finish PCB and waterproof versions available.
The new product is available now at EnvironmentalLights.com or by calling (888) 880-1880. Sales engineers are available to answer any questions and assist with specifying the ideal combination of lights and power for projects.
Continuous Side View RGB PixelControl Strip Light Features
Continuous Side View RGB PixelControl Strip Light in Black Features:
Directional light output parallel to mounting surface
Extremely narrow profile
Built-in diffusion
Black Finish
Patented COB technology provides best-in-class color consistency and dependable longevity
PixelControl technology – WS2811 IC Chip
Built-in diffusion
RGB spectrum produces millions of colors.
UL Listed
RoHS
If you enjoyed this article and want to receive more valuable industry content like this, click here to sign up for our digital newsletters!