Logic Integration Transforms Building into Tech Marvel: NexGen HQ
Logic Integration's eye-catching videowall at NexGen's HQ in Denver has earned the company the 2023 Best Small Office Integration Award.
Leave a Comment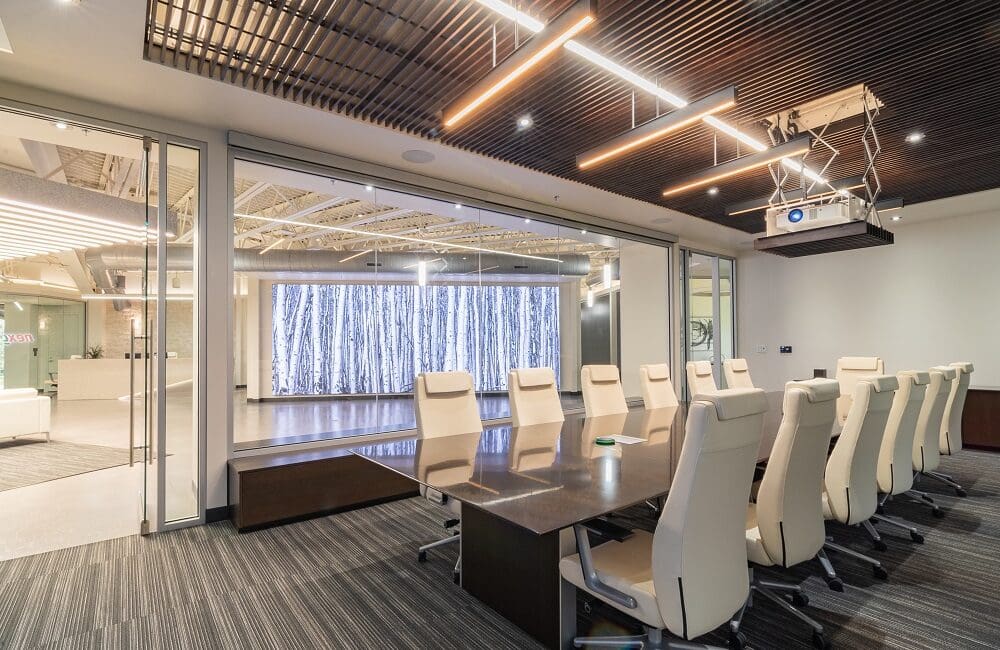 Photos & Slideshow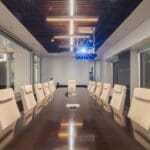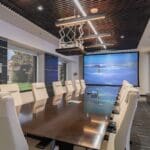 ---
Denver-based Logic Integration has been been recognized as the 2023 Commercial Integration Award Winner for Best Small Office Project!
When NexGen Oil & Gas, a privately-owned exploration and production company in Denver, Colo. purchased a building in Denver's Tech Center, they had a grand vision to turn it into a new state-of-the-art headquarters that showcases the latest in advanced technology and sleek design.
With a focus on videowall installations and custom solutions, NexGen turned to Logic Integration. Inspired by the integrator's commendable work at Denver locales like The Sportsbook Bar and Grill, NexGen knew they had found the right partner to bring their vision to life. Their goal was not just to renovate the space, but to create a seamless fusion of technological innovation and refined aesthetics.
At the heart of this transformation is an impressive videowall in the lobby. More than just a screen, it serves as a statement piece for business presentations, client engagements and artistic displays. NexGen wanted a balance of grandeur and clean aesthetics, and Planar's videowall technology was the perfect fit.
Related: Celebrating the 2023 Commercial Integration Award Winners
Videowall and Boardroom Solutions
Logic Integration collaborated closely with NexGen to identify the ideal configuration, ultimately settling on a Planar 12×8 and 8×8 MGP 1.2 mm videowall with a variety of pixel pitches. The model bolstered by DATAPATH videowall components, produces crystal-clear images, even when viewed up close, making a lasting impact on visitors. To maintain a sleek look, the Planar trim kit conceals all cables and tech components.
But the videowall is just the beginning. Other areas of the building, including the "all-hands" zone and the boardroom, have also received tech upgrades. A 4K display and a motorized Sony projection system provide an immersive experience in these spaces.
To bring everything together, Logic Integration utilized a suite of technologies from renowned brands, such as Biamp, Desono's loudspeakers, Yealink's videoconferencing tools and Planar videowalls.
Integration Challenges
The project, of course, didn't come without challenges. The first major major challenge was customization and aesthetics. Logic Integration had to ensure that the technology would seamlessly integrate with the existing architecture. This meant customizing the videowalls to fit specific spaces, like the main lobby and the "all-hands" area. The team's choice of Planar's 1.2mm fine pixel pitch required meticulous planning and execution, due to its high-resolution output.
With the use of multiple technologies like the Datapath Videowall components, the Crestron RMC4 4-Series Room Media Controller system and more, Logic Integration had to ensure the harmonious integration with all components.
Working alongside architects was also crucial to maintain the building's structural and aesthetic integrity while incorporating the technology. In addition, working with suppliers, consultants and other contractors was vital to avoid any project overlap and ensure a smooth workflow.
NextGen Office: A Tech Marvel
The project was a comprehensive collaboration involving multiple stakeholders, and while it had its challenges, meticulous planning, continuous communication, and expertise ensured its successful completion. This venture wasn't just about renovation. It was about creating a space that exudes innovation, aligning with NexGen's ethos. The collaboration between NexGen, Logic Integration and the other manufacturers transformed a building into a tech marvel.
Click 'View Slideshow' to view additional technology installation photos at NexGen's office. All photos courtesy of From the Hip Photography.
Equipment List
Atlas IED Atmosphere speaker system
Desono loudspeakers
Planar Z6 controller, videowalls
SnapAV AN 510-AP-I-AC Araknis Networks 510 series indoor wireless access point
Sony projection system
Visix digital signage
Yealink videoconferencing tools
Congrats to Logic Integration for their Next Gen office Integration Award! 🎉 #avtweeps #CIX23 #CEDIAEXPO pic.twitter.com/bfAx74N3Vl

— Alyssa Borelli (@alyssa_borelli) September 7, 2023
If you enjoyed this article and want to receive more valuable industry content like this, click here to sign up for our digital newsletters!