Settling into the Hybrid Office
Hybrid work represents a prime opportunity for integrators, and the AV industry broadly, to reimagine workspaces and help facilitate new ways of collaborating.
Leave a Comment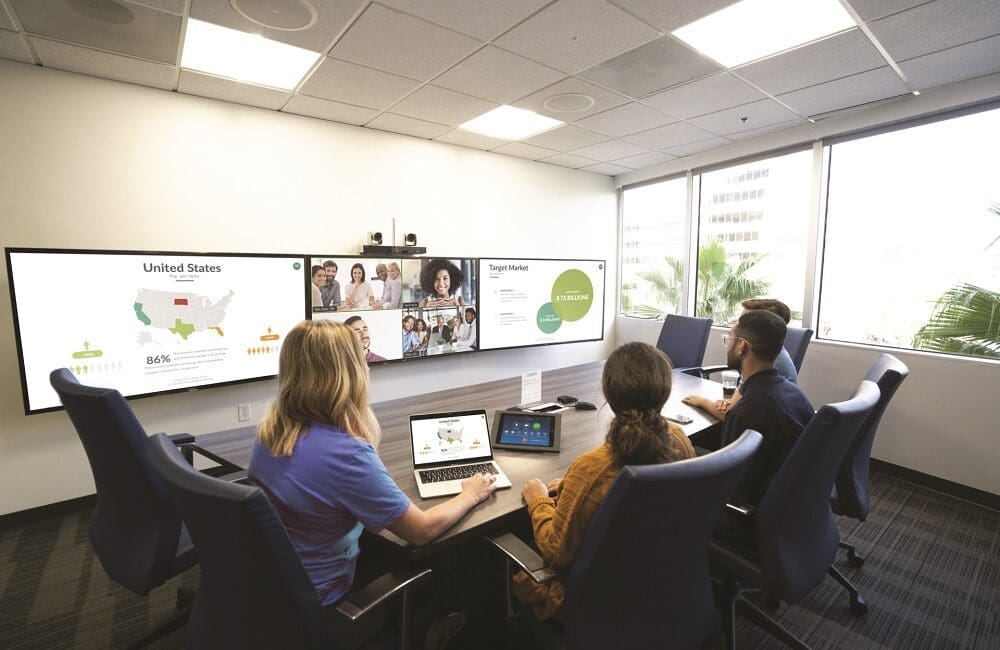 After weeks and months of forced working from home, employers discovered a surprising (to some) result: Remote work is effective. Employees can still be productive at home, contributing appreciably toward business operations. It's clear that companies with an eye to future success understand remote work is the new normal. The number of telecommuting workers has increased by 115% over the last decade, according to AVIXA research, making it a major driver of videoconferencing's proliferation. For integrators, this revolution is a prime opportunity to reimagine workspaces and help facilitate new ways of working. 
Despite fears of workers making a collective mass exodus from corporate offices, AVIXA's economist, Peter Hansen, said that those fears are not coming through in the data. "After the Great Recession, we saw years of flat office rent; after the pandemic, office rent flattened out for a few months, but it's been slanting upwards," he said last autumn on AVIXA's inaugural Xceptional Insights podcast, titled "Hybrid Work, Corporate Offices and the Impact on Pro AV." He added, "[But] it's not to say that demand for office space is spiking." AVIXA's market-intelligence data suggests that workers will plan to spend about 60% of their time in the office and 40% of their time working remotely. 
Clearly, the concept of hybrid work has become the norm over the past few years. However, according to data from Relogix, the Canada-based occupancy-analytics provider for hybrid-workplace monitoring and performance, workspaces were already under-utilized by 35% to 40% before the onset of the pandemic. That trend has only accelerated in the present, with occupancy varying day by day
An Opportunity for Integrators
Fortunately, there's reason to believe that integrators won't suffer from the shift to hybrid work, even if physical offices become less occupied. Instead, it's going to be an opportunity, particularly when it comes to conferencing and collaboration. According to AVIXA research, working remotely has soared 140% since 2005, and close to 90% of American businesses are investing in videoconferencing technology. Videoconferencing also has a much higher utilization rate than corporate-management software, messaging applications and project-productivity solutions, according to research conducted by Upwork.
Videoconferencing software offers a wide range of features — for example, breakout rooms, which allow teams to communicate more effectively during all-company meetings. As enterprises juggle multiple conferencing applications in their environments, integrators should be cognizant of which application most closely meets needs and preferences. Zoom, the videoconferencing giant, released a slew of new all-in-one platform features that integrators can leverage for their clients' benefit.
Related: An Integrator's Top 10 Takeaways from Zoomtopia
Corporate Enterprise are Investing in Hybrid Work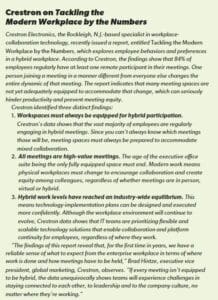 "Corporate is one of the strongest areas of planned capital improvement flowing into AV expenditure," Hansen said during the podcast. "When you look at the spaces that those companies are planning to invest in, it is a lot of group-collaboration spaces and individual workspaces. As we look at what's coming up…rather than [in the] rearview, it's not 'What did you spend on?'; it's 'What do you plan to spend on?'" In Hansen's estimation, decision-makers are "voting for" the office, and it shows in planned investments. "We do think that, even if it's not a five-day workweek anymore in the actual office — maybe it's more like three, or some other combination thereof — they are planning to invest accordingly," he added. "And, so, that's where our Industry Outlook and Trends Analysis (IOTA) annual forecast really picks up." 
"We see corporate and conferencing and collaboration to be both strong areas of investment," Hansen said. However, he sounded a note of caution, adding, "Not quite as strong as it was over the last two years." As we all know, AVIXA research clearly detected a surge in conferencing-and-collaboration investment amid the pandemic, seeing it grow beyond every other solution area. With in-person activities really pulling back, enterprises and schools looked to execute adaptive measures. 
In short, even if it's impossible to recapture the frenzied pace of collaboration-and-conferencing investment that the pandemic necessitated, opportunity nevertheless remains. Hansen added, "While growth percent might be less over the next five years for the corporate marketplace, we see it adding $18 billion to pro AV over the next five years." 
Prioritizing Flexibility
When it comes to office investments, clients are prioritizing flexibility. They want conference spaces that can handle large, organization-wide meetings as well as smaller, department-level meetings. During the podcast, Hansen stated that's a perfect entry point for a professional AV expert. "You can't just 'hang and bang' and then expect to be able to get flexible use out of it," he said. "You need to have that well-thought-out, good equipment that's installed and supported well." 
Hansen continued, "If we don't know exactly what [the] norms are for offices long term, that's why they're investing in flexibility now. That means, over the next five years, as we settle into new norms, companies are going to have to go back to their AV, IT and construction partners and say, 'Hey, we made some investments in 2022 — they're good. But we need to make some new investments in 2024-2025 to settle in and really serve the needs that we settled on.'" 
That means integrators have an opportunity to serve their enterprise clients not only today but tomorrow and well into the future. 
If you enjoyed this article and want to receive more valuable industry content like this, click here to sign up for our digital newsletters!