Education Integrators Hit a Pivot Point
Tremendous strains on both K-12 and higher education customers have dramatically altered demands and require education market integrator to re-evaluate their offerings.
Leave a Comment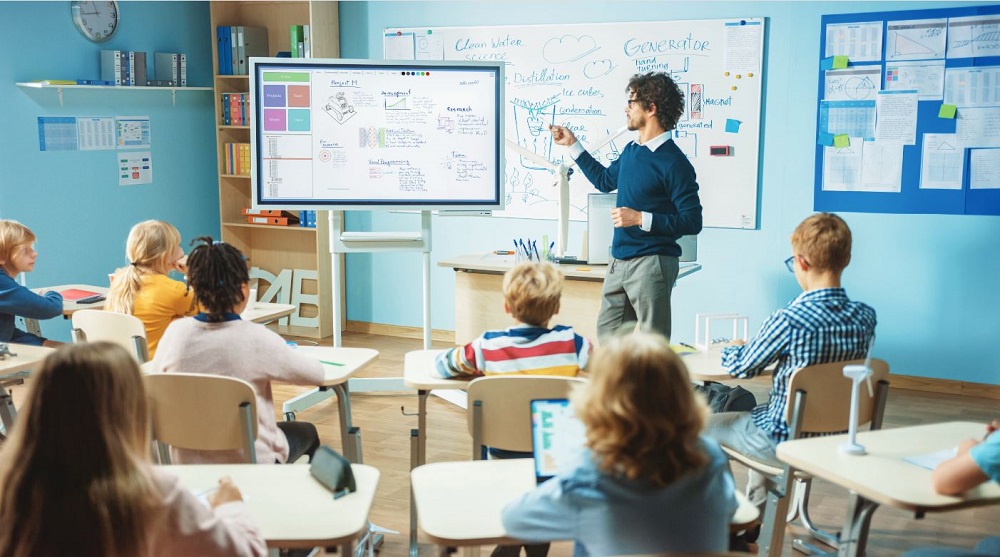 First the obvious: There is no question that the work of an integrator that serves K-12 or higher education customers has always been critical. Integrators that serve education markets can be proud of the impact they have on students, teachers, communities, and society. 
Whether and integration firm provides AV or distance learning solutions to improve learning environments; unified communications and collaboration (UCC) solutions to enhance faculty's working spaces; or security and life safety technologies, integrators provide benefits to students, teachers and our education system.  
Read: State of the AV Industry 2021: The Year Integrators are Needed More Than Ever
However, it's time for education market integrators to pivot. Educators and integrators alike have seen a lot over the past year-and-a-half — and it hasn't been pretty. In the post-pandemic market, the value that an integrator can provide to both K-12 and higher education customers will evolve. Integrators should challenge themselves:  
How can integrators help K-12 customers leverage remote classroom technologies to create a stronger and safer learning environment for all students?

 

How can higher education integrators help universities not only enhance distance learning but compel students to want to be on campus and in classrooms? 

 

How can integrators help keep pace with safety concerns, noting that COVID or at least viral concerns play a much bigger role in that now? 

 
So education integrator are at a pivot point from a technology demand standpoint — but also in terms of the escalating value they can offer their customers.  
K-12 at a Pivot Point
It's only natural that the disruption that happened over the past year and a half would cause K-12 customers to rethink their priorities — and it's clear that they have. For instance, schools now know how important really strong broadband in the classroom is. They needed it to facilitate streaming lessons to remote students. 
The challenge for integrators — now that stronger broadband is there, how will you leverage that? What are you capable of providing to enable better teaching and learning tools? This is an opportunity to recognize what the next big things for the classrooms are. Remember when the smartboard was the next big thing? That turned out to be a good decision.  
NSCA asked integrator members what they're seeing in terms of demand from K-12 schools. Many K-12 integrators are seeing school finally make classroom audio a priority. They're seeing both new builds and retooled classrooms focusing on not just classroom audio but on digital audio for bells, clocks and paging systems.  
It's impossible to overstate how big of a priority school security is. NSCA highly recommends that every integrator involved in the education market learn about the Partner Alliance for Safer Schools (PASS) program which provides tiered security recommendations and allows integrators to assume a stronger consultative role with education customers. 
 Read: The State of Distance Learning Technology in 2021
Beyond physical security, cybersecurity is an intensifying priority. That should open up a can of worms for every integrator that works for K-12 customers. Does your team have the right cybersecurity training and even certification to put those customers at ease. You're putting endpoints on their network. They consider you a security risk and it's your responsibility to establish credibility and confidence. Maybe you're not seeing a lot of it now, but we expect that more and more project contracts will require integrators to indicate cybersecurity training or certification.  
Maybe the "next big thing" is seizing the opportunity now to turn the classroom into a better hybrid learning environment. The need for mobility isn't going away. Nobody wants to be unprepared again. Giving access to devices and the Internet will be a huge push this year, according to NSCA integrators.  
We weren't prepared for this pandemic. But we can be prepared for the next time that our students' learning opportunities are disrupted. And it's not just about disruption. It's about recognizing what's possible.
As difficult as this past year has been, it also opened our eyes to that fact that we can create hybrid learning environments – especially if we plan for it. And there are other reasons besides pandemics that might make it difficult for students to physically be in classrooms.  
What are integrators capable of doing to facilitate that? What are integrators capable of doing to make K-12 schools less vulnerable in the event of another pandemic … or a bad flu season?  
Higher Education at a Pivot Point
The same challenges apply to higher education integrators. What have we learned? How will it position integrators to provide more value to universities than it has in the past?  
Integrators should ask themselves if they're in the "tuition justification" business. That seems sarcastic and negative, but it's not necessarily meant that way. University customers have been charging students a lot of money for a learning experience that usually includes in-person interaction with professors; social interaction with peers; and a living-away-from-home experience in a student community. 
People have long universally complained about how expensive college is – but we also generally accepted it. The pandemic may have chipped away at that acceptance.  
Many students' perception of distance learning as a means of earning a college degree while perhaps saving tuition dollars and living a different lifestyle has changed. Universities want to make sure that they're providing an environment that inspires students to want to learn in person to the point that they and their parents are willing to pay for it. 
How can higher education integrators play a role in making sure they're elevating the value of being there in person? That's even more tricky because you have to do that while also improving the distance learning experience.  
So integrators are tasked with improving the in-person learning environment to the point where it's obviously better than distance learning – and they're also charged with improving distance learning to the point where students see that as a great value. That's not an easy spot.  
In that sense, being in the "tuition justification" business isn't necessarily a bad thing – especially if you're legitimately providing solutions that enhance in-person learning. In terms of the contractors that universities will work with to make significant improvements to the learning experience, it's hard to imagine many contractors being more important than an integrator – than someone that can provide audio, video, video wall, touchless automation, intuitive control, security, life safety and better communication. This is a pivotal opportunity for higher education integrators.  
Indeed, the integration industry in general – beyond the education markets – is at a pivot point. That's a good thing. It's a chance for integrators to revaluate their offerings to keep pace with their customers' evolving needs. More importantly, it's an opportunity to double-down on the value that a trusted integrator provides to customers.