Best Higher Education Project: IMS' Eye-Catching Learning Stair Videowall at West Chester University
IMS installed a stunning videowall in a stairwell at Wester Chester University, enhancing campus experience and promoting technology.
Leave a Comment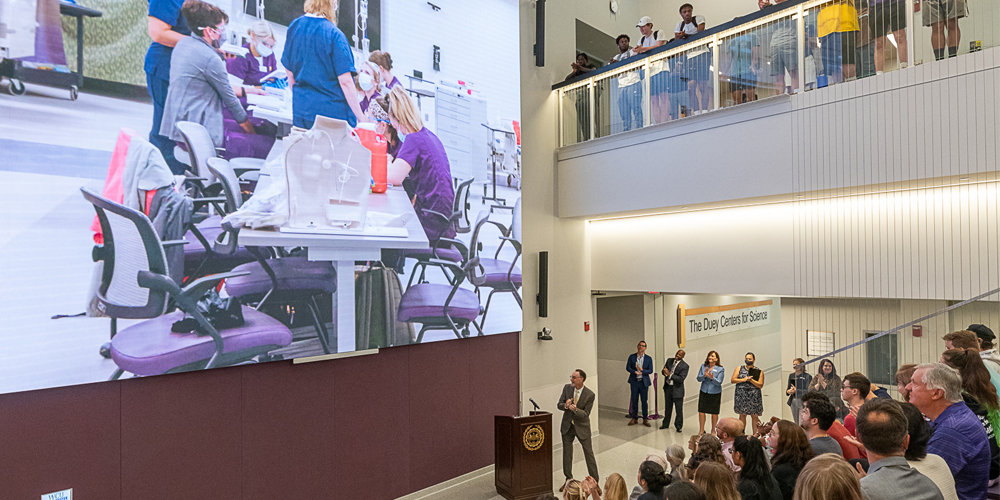 Photos & Slideshow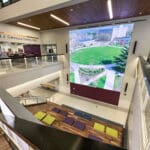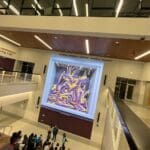 ---
Garnet Valley, Penn.-based integration firm, IMS Technology Services, Inc (IMS)., has recently been awarded the prestigious 2023 Commercial Integration Award for Best Higher Education Project! The project includes the installation of an impressive two-story learning stairs videowall at West Chester University's Science & Engineering Commons Center (SECC).
The eye-catching videowall, known as the Learning Stair Videowall, measures 23-feet by 24-feet and serves multiple functions within the campus. It is equipped with 264 direct view, high-resolution LED panels, along with advanced hardware and software for video processing and content management. The system offers various features such as wireless and HDMI presentation connectivity, PTZ cameras, in-room audio amplification, digital signage capability and more. All of these features are conveniently controlled through wall-mounted touch panels.
Crafting a State-of-the Art Learning Stairs Videowall
The content displayed on the videowall is carefully curated and designed by the WCU Communications and Marketing Department. It showcases 3D immersive videos, captivating graphics and stunning angles of the campus throughout the seasons. Special attention is given to highlighting student projects and work using high-quality cameras and custom-rendered content.
The videowall serves as a flagship space, providing a memorable experience for visitors and significantly enhancing campus admission and student orientation tours. It offers a wide range of content, including informative videos, campus information and real-time emergency alerts. This state-of-the-art technology demonstrates West Chester University's commitment to student engagement, inclusive learning environments and cutting-edge educational resources.
Despite facing challenges such as supply shortages and logistical complexities due to the COVID-19 pandemic, the IMS team successfully completed the installation within a tight project timeline.
Project manager Jack Dager, CTS maintained constant communication with key stakeholders to ensure a smooth process from start to finish.
Related: Celebrating the 2023 Commercial Integration Award Winners
The Learning Stairs Videowall Solution
The videowall operates using NOVASTAR controllers for video content delivery, while the Analog Way AQL-C videowall processor manages and switches the content. The audio system includes microphones, speakers, amplifiers, and advanced technology for assisted listening. Audio is delivered to the users via a series of speakers, including four column line array wall-mounted speakers installed to the left and right of the videowall. A series of ceiling-mounted speakers are also installed into the acoustical tile ceiling. The system features audio-out for ADA-assisted listening, with transmitters installed above the top column line array for proper coverage. Three control touch panels are strategically placed for easy access and control.
The videowall not only enhances the visual experience for visitors, but it also offers live streaming and video recording capabilities for important campus events. It provides an immersive and engaging atmosphere for commencement ceremonies, the President's annual Welcome Back address and more.
An Immersive Learning Experience
The videowall at the SECC offers a cutting-edge, immersive experience for everyone who visits. It showcases dynamic imagery and looping video that boosts school spirit, engages students, informs and promotes the university's brand. According to JT Singh, CIO & Senior Associate VP of Information Services & Technology at West Chester University, the videowall is a modern, tech forward tool that enhances the university's image both internally and externally.
For Professor Jordan Shugar, the SECC videowall is more than just a display. It plays a vital role in supporting student success, particularly in his Digital Storytelling coursework. The videowall allows students to explore new and innovative ways of collaborating, creating, and sharing digital stories. With the increasing prevalence of digital signage, the videowall/learning stair space becomes a captivating platform for students to envision and share information in a whole new dimension. It opens up possibilities for digital animations using blended media, 3D, 360-degree videos and even virtual/augmented reality. According to Professor Shugar, this technology transforms the learning environment and motivates students to think outside the box.
The SECC videowall is an essential tool for enhancing student success, encouraging creativity and pushing the boundaries of traditional teaching and learning methods.
Equipment List
Analog Way video processor
Biamp TesiraFORTÉ DSP
Crestron CP4N 4-series control system
Extron 4 channel I/O Dante enabled wall plate
Listen Technologies Advanced Intelligent DSP IR
Matrox Maevex 620 remote recorder capture AV, rack mounting kit
Mersive Solstice Pod
QSC column speaker
Shure Dante-enabled microphone array system, amplifier, transmitter, wireless receiver, lavalier mic
Vaddio expandable wall mount
Yamaha TF1 Audio Mixer with Dante Card
Click 'view slideshow' to view additional installation photos. All photos courtesy of West Chester University & IMS' Katherine Hennessey.
If you enjoyed this article and want to receive more valuable industry content like this, click here to sign up for our digital newsletters!