Line Array Speakers: A Complete Guide
Discover the best line array speakers including JBL, d&b audiotechnik, Meyer Sound and much more, the different types and advantages.
Leave a Comment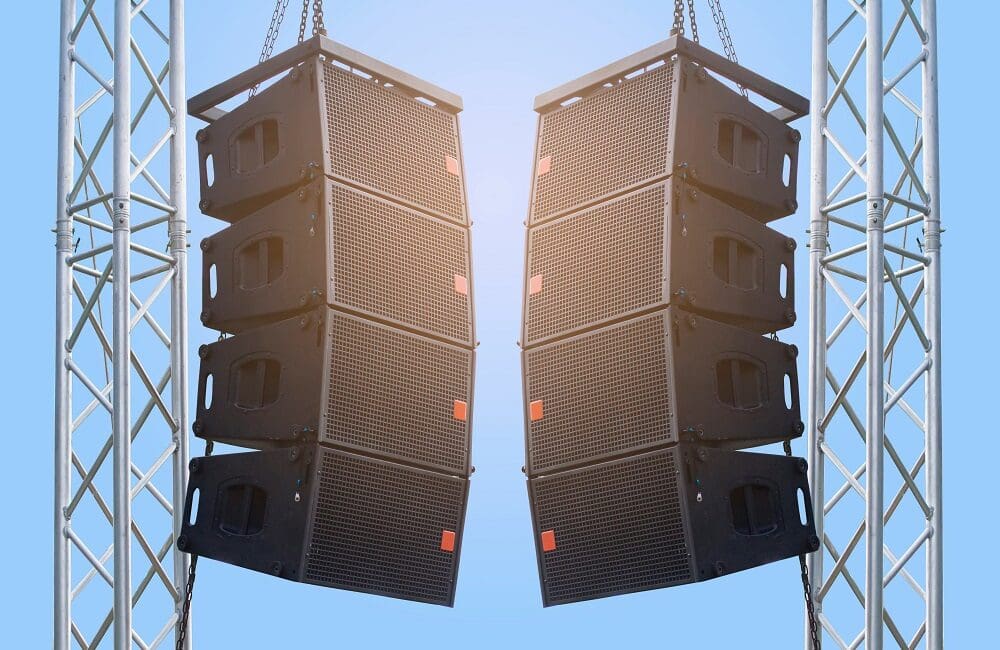 (Editor's Note: This post about line array speakers is part of Commercial Integrator's ongoing series of informational guides of topics relevant to audiovisual system integrators. This page was originally published on June 6, 2023 and has been updated as of December 8, 2023.)
Are you looking for a comprehensive guide online array speakers? This guide is full of everything you need to know, whether you're an audiovisual system integrator or someone just beginning their research into line array speaker systems.
Line array speakers offer many benefits, including the ability to give clear sound across large areas and over long distances – perfect if your venue has high ceilings and needs good coverage in both near-field and far-field listening zones.
We'll cover how these versatile systems work, the advantages of them and the details you need when selecting a line array speaker system. In addition, discover the best line array speakers, such as JBL, L-Acoustics, d&b audiotechnik, Meyer Sound and much more for unparalleled audio quality and coverage in any setting. Compare the top line array speaker brands and find the perfect system for your needs.
Get ready to define your ideal setup as we dive right in!
What Are Line Array Speakers?
Line array speakers are a type of loudspeaker system designed for large venues and events. They consist of multiple speaker units, called "elements," arranged vertically to provide directional sound while minimizing echo and distortion. This configuration results in superior audio performance, even coverage and improved intelligibility.
What are the Advantages of Line Array Speakers?
Wide coverage: Line arrays offer consistent sound dispersion over a wide area, making them ideal for concerts, conferences and sporting events.
Scalability: Easily expand or reduce the size of your line array system to match the demands of different venues and audience sizes.
Reduced distortion: The vertical arrangement of speakers reduces interference and feedback, ensuring clear, high-quality sound.
Flexible installation: Line array systems can be flown or ground-stacked, making them suitable for both temporary and permanent installations.
What are the Best Line Array Speaker Brands?
1. JBL Line Array
JBL is a leader in professional audio, offering an extensive range of line array speakers, including the popular VTX and VRX series. These systems deliver exceptional power, clarity and flexibility for a variety of applications.
JBL Line Array Calculator 
Integrators can use the JBL's Line Array Calculator (LAC) simulation software for the design and prediction of JBL VTX Line Array systems and their acoustical performance. In addition, integrators can also use the software with flown and ground stacked JBL VTX Subwoofer Arrays. Beyond just acoustical prediction, integrators can use the Line Array Calculator for mechanical validation and the calculation of all weight limits and safety warnings for the JBL VTX Systems
2. L-Acoustics Line Arrays
L-Acoustics is renowned for its innovative line array technology, with flagship systems like the K1 and K2. These long-throw speakers are used by major touring artists like Rihanna and Adele and large-scale events worldwide. Scott Wakelin, director of business development, hospitality, explains to Dan Ferrisi, editor-in-chief of Commercial Integrator, why performance audio can hugely benefit hospitality settings. Watch the full, eight-minute video Q&A with Wakelin here.
3. d&b audiotechnik Line Arrays
d&b audiotechnik's line array speakers, such as the SL-Series and Y-Series, are known for their precision, reliability and scalability. Their systems can be tailored to suit any venue or event.
4. Meyer Sound Line Arrays
Meyer Sound's line array systems, including the Panther, Leopard and LYON series, deliver exceptional audio quality and coverage. Their innovative designs have set the industry standard for live sound reinforcement. Headquartered in Berkeley, Calif., and with operations globally, Meyer Sound's products are known for their consistency, reliability and longevity.
The Best Line Array Speakers for Large Venues
In addition, check out this slideshow on 38 Line Array Speakers that perfectly suit large venues.
Choosing the Right Line Array Speakers
When selecting a line array speaker system, consider factors such as:
Budget: Determine the budget to narrow down the options and find a system that meets your clients' needs without breaking the bank.
Size and weight: Consider the size and weight of the speakers, especially if you plan on transporting and installing them regularly.
Power and output: Ensure the system has sufficient power and output to cover the venue and audience size.
Compatibility: Check if the line array speakers are compatible with the existing audio equipment, such as amplifiers and mixing consoles.
Conclusion
Line array speakers are an essential investment for anyone seeking top-notch audio quality and coverage in large-scale events. By researching and comparing different brands and models, you can find the perfect line array system to elevate your live sound experience.
We hope you've enjoyed this line array speaker guide. If you have any feedback, please share it with alyssa.borelli@emeraldx.com, web editor, Commercial Integrator.
If you enjoyed this article and want to receive more valuable industry content like this, click here to sign up for our digital newsletters!