Why Watching People Play Video Games is Great for AV Integration
eSports technology shouldn't be scoffed at — the AV tech they pack into eSports arenas has to be installed by someone. Why not you?
Leave a Comment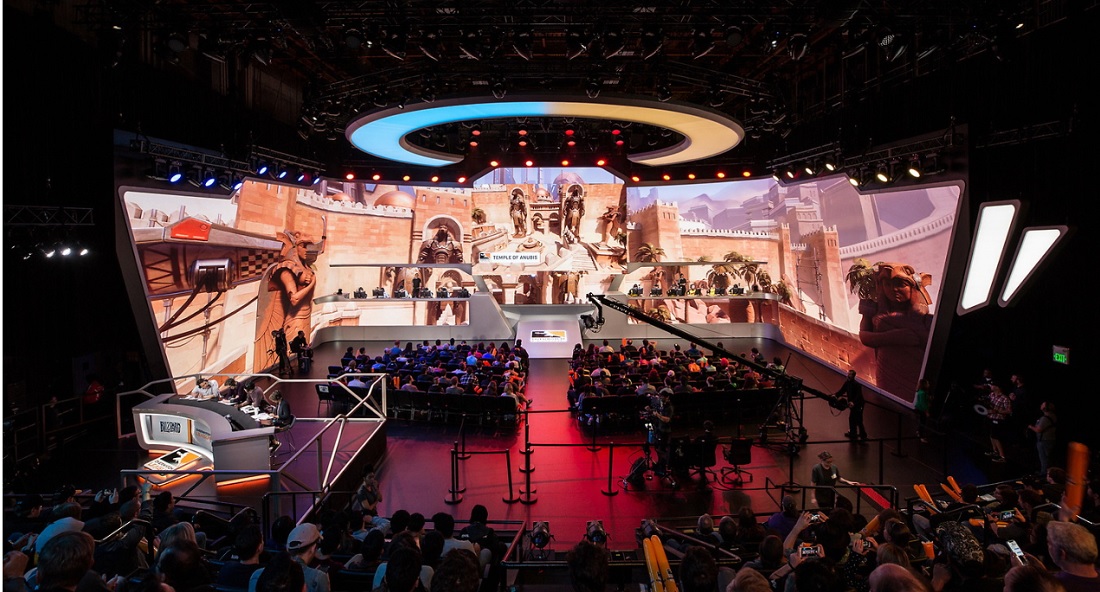 Video games are more immersive and much more competitive now than when "Pong" was played on home box TV sets. Commercial AV integrators might not imagine themselves working on what is usually thought of as a consumer-only industry, but if they familiarize themselves with eSports technology, that could change.
"eSports" refers to  live-play video game matches in special venues or on Youtube channels. But the industry — and, at this point, there's no arguing it isn't an industry — is fueled by highly-engaged and AV tech-acquainted fans.
eSports Fans Engage Differently Than Athletic Sports Fans
Fans of eSports are typically more engaged with their surroundings during live events – be they at a physical, common location like an arena or convention room, or in online settings like a group chatroom on Discord, marketing coordinator for Premier Mounts and gamer Brandon Breznick says.
He also notes that, for these fans, the ability to broadcast live play is equally important for an arena-setting event or an online-only one.
The takeaway for integrators seeking eSports technology jobs, he says, is that they must be equally adept with live broadcasting as they are with screens and typical event audio-visuals.
"Your average person who goes to an NBA basketball game isn't going to be very socially involved, save for taking a couple of pictures," Breznick says.
"Those involved with eSports may have their phones on them the whole time, talking to their friends who are also involved in whatever game is being played."
So, Why Watch People Play Video Games?
This is a question those who have no interest in gaming likely wonder: why is watching other people playing video games so popular?
Breznick explains that, once a fan is hooked on a game to the point of knowing it inside and out – studying its levels, pontificating on its lore – many find themselves with phantom thumbs, unable to pull off stunts or locate hidden obscurities in-game that more advanced players could.
"Sometimes, fans might not be able to do certain things that an eSports professional player does," he says. "All these big gaming companies pay great players to compete because they have insanely-high reaction times and can play the games people love in a way most aren't able to."
This tenacity with a controller leads to explosive competitive moments — just like the excitement sports fans experience when a basket is made from half-court or a quarterback is nearly sacked.
Technology at eSports Arenas
Video games are supposed to be immersive. When players dive into most modern titles, they're taking on a new ego, a new perspective. Breznick says the same hope for absorption is carried over into live eSports events.
Take the Blizzard Arena in Burbank, CA for example. The game studio's venue contains many different kinds of commercial technology that drives fan engagement, including:
Audio: speaker systems that can make feel like they're right next to the gunfire, metal-banging and other action on-screen.
Video: LED cabinets, narrow pixel-pitch, permanent installations. Using a videowall to show content in real-time allows audience members to stay immersed.
Broadcast: all of the matches are broadcast live to fans who can't make it to eSports arenas.
Mounting: necessary for the audio/video systems.
Wifi and Cell Signal Extension: not only is this necessary for the games and broadcast elements to run smoothly, the fans themselves benefit when trying to share their experience on social media.
eSports, Breznick says, are still in an "early-adoption phase," meaning that spaces which host them are typically more general-purpose, retrofitted for these events.
The integrator has to be able to work with existing architecture, deciding on video wall variables and ideal placements.
But there are some eSports arenas, like Blizzard Arena, built exclusively for eSports events, and Breznick says integrators have a unique opportunity to get in on the ground floor.
"Getting in with those architects and consultants early lets integrators make calls on trusses and architectural support systems that will bolster their installations later," he says.
Live Broadcast Experience Wanted
Obviously, integrators with large venue and event space integration experience are a perfect match for the eSports technology market. But those with live broadcast experience might have more of a leg-up.
"When the events are live in eSports arenas, yes, there's an audience sitting in their seats cheering while dressed up as their favorite characters, but there's also a loyal fanbase watching from home," Breznick says.
"Inside the Blizzard Arena, there is a desk where people with mics are commenting play-by-play for audiences tuning in online. So if you have live broadcast experience, you'll integrate well with the general plan of one of these events."
eSports Could Help Aging AV Industry
Breznick maintains that eSports aren't just a valuable market for integrators to tap for projects. They're a suitable market for talent, too.
He says that, unlike typical sports fans, video game enthusiasts are much more likely to already be tech-savvy. Seeing the power of AV integration in action at live video gaming events could inspire them to pursue a career in AV integration.
"With video games, there are many simple setups where the console uses HDMI to hook into a display. For kids who grow up gaming, that's an essential concept."
As video games evolve, there are more home players who take them seriously. Young people who want to emulate the virtual stunts they see famous players pull online buy dual-monitors and maximize their setups to eliminate lag.
Read Next: Will AV Integrators Ever Unlock the Escape Room Technology Market?
"When you have a kid in one of these eSports arenas look up and see a video wall and is in love with the environment they're in, you can tell the kid that they can be involved in this," Breznick says.
These fans are technologically-adept from a young age. Yet many youths don't know about AV integration. Talent-hungry integrators could stand to benefit from at least leaving a business card at the event that says, "Like what you see? You could be doing this!"
If you enjoyed this article and want to receive more valuable industry content like this, click here to sign up for our digital newsletters!