APG Media Group Delivers for Canadian Broadcasting Corporation on Election Night 2019
APG Media Group helped CBC build technologically advanced live television studio to cover Canada's 2019 federal election.
Leave a Comment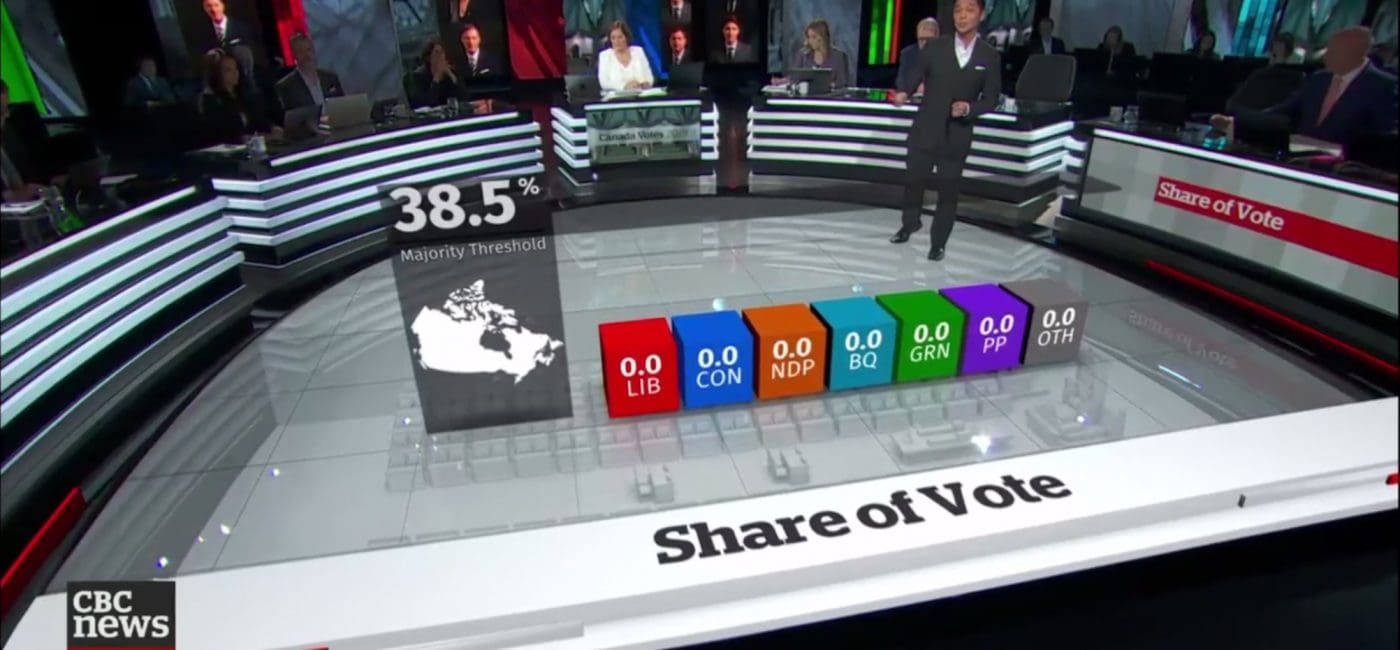 Election nights have become one of TV's biggest live events, so to maximize engagement and excitement during the 2019 Canada federal election coverage, the Canadian Broadcasting Corporation built a live broadcast studio where almost every surface—including the floor—were LED displays.
The CBC tapped APG Media Group to help design and outfit the new temporary studio with 350 LED tiles that comprise two video walls, 16 LED towers, two anchor desk displays and a circular LED floor display.
The high-pressure election night environment required that every facet of the studio's design, technology and operation be perfect, said APG Media Group president and CEO David Weatherhead.
"In this situation, there's only one chance to get it right," said Weatherhead. "The CBC trusted us to specify the absolute best, most reliable technologies to deliver an election night broadcast unlike any other in Canada's history."
The immersive 360-degree studio "offered endless opportunities to display and share information and graphics to grab the attention of modern viewers," he said.
The new studio, located at the Canadian Broadcasting Centre in Toronto, used 284 Hyper Pixel LED tiles with a 2.9mm pixel pitch to build the studio's 11.5-foot-wide by 6.5-foot-tall Election Results Wall, the 19.7-foot-wide by 11.5-foot-tall Remote Video Wall and 16 9.8-foot-tall ceiling-flown LED towers.
The Remote Video Wall presented live feeds for content such as street views and correspondent commentary, while the Election Results Wall displayed constantly updating vote tallies and poll results
The CBC required the anchor desks to have LED displays built into them, so APG supplied new 1.5mm HyperPixel LED displays. The higher resolution ensured close camera shots would have no moire effect.
Furthermore, the desk LED was curved at 5 degrees and the HyperPixel product has a built-in mechanism to ensure a consistent curve is achieved.
APG also installed a 4.9-foot-wide by 1.6-foot-tall display on the front of the guest table and a 3.25-foot-wide by 1.6-foot-tall display for the front of the presenters' table.
Inside the CBC Election Studio
The CBC also asked APG to design an LED floor for the open-floor-plan studio. APG met this challenge with a custom-designed, arch-shaped LED display comprising 66 additional LED panels with a 4.76mm pixel pitch. The resulting floor resolution is full HD.
APG said that a variety of video processors were used to feed the different aspect ratios and content for the various LED displays. The CBC designed all the content and pixel mapped it to fit each display's unique aspect ratio.
The studio was designed and built exclusively for Canada's 2019 federal election night and was dismantled immediately after the broadcast.
"The CBC knew what they wanted," said Weatherhead, "so our job was to give them the right technology and tools to make it all work and look great on screen. This set ushered in a new era for Canadian broadcasters."