Mood Media Unveils Harmony End-to-End Brand Experience Platform
Mood Media Harmony platform gives brands the ability to manage all in-store media – from music to digital signage – off one digital dashboard.
Leave a Comment
Mood Media today unveiled Harmony, its all-in-one multimedia brand experience platform.
The Harmony platform "enables brands to connect and manage all of their in-store content – including music, messaging, visuals and interactive components – through one content management system (CMS)," according to the Mood Media announcement.
"With Harmony, brands are now able to control and run all of their in-store experiences off one easy-to-use digital dashboard, ensuring all media elements are running in harmony with one another," the announcement says.
The Harmony platform "allows brands to shift away from using different devices and platforms, instead providing one cohesive system that simplifies and streamlines their ability to create and execute the entire in-store experience," according to the Mood Media announcement.
"Our new Harmony platform alleviates major pain points that many retailers and other consumer-facing businesses deal with due to having to use multiple vendors and systems," said Mood Media CEO David Hoodis in the company announcement.
"With our new end-to-end offering, brands gain the unprecedented ability to manage all of their tech-powered in-store experiences in one place, via an easy-to-use dashboard," he said.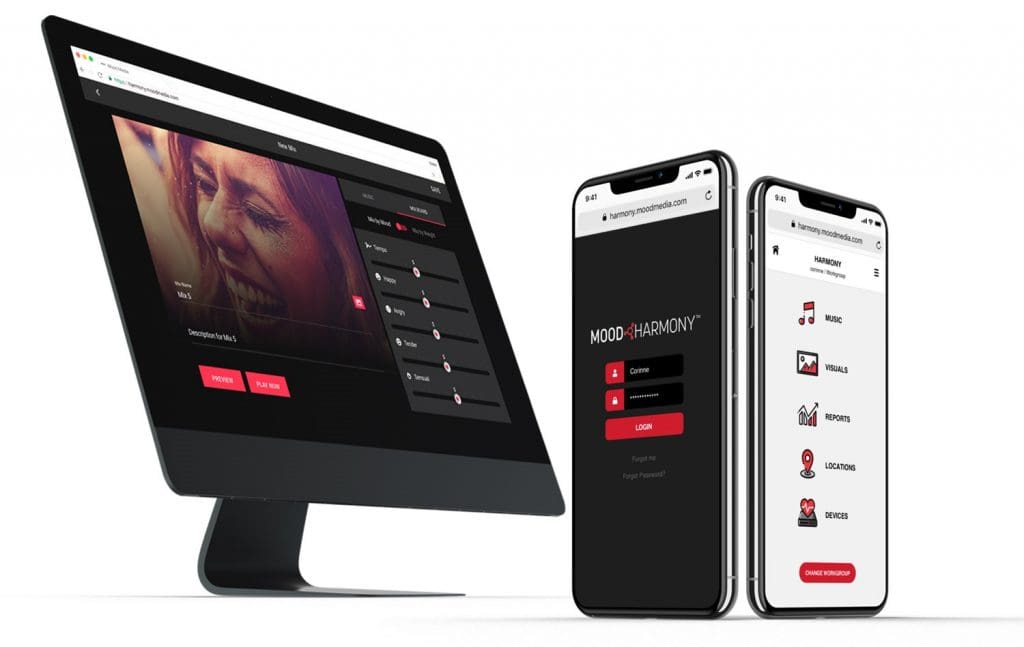 Harmony Platform Enhancements
In addition to the Harmony platform, Mood Media also introduced the Harmony A/V Media Player, a multimedia device that gives brands the ability to play and support HD content from a single player – including music, HD video, HTML5, RSS feeds, live streaming and more.
Other features include:
Music control. Users have access to a multitude of professionally designed music programming options, which are all backed by the world's largest library of fully licensed music for business.
Visual content management. Users can instantly manage and schedule digital signage solutions across multiple locations.
Plug-and-play installation with built-in mounting ports.
Active monitoring of updates, email player status alerts and system logs.
Expandable storage ranging from 16 to 256GB, which allows users to store music, messaging and digital signage content.
Energy efficiency, using under 10W of power no matter what content is playing.
"This device…gives our clients – including those in retail, QSR, automotive, health care and hospitality industries – a true one-stop-shop where they can operate all of their in-store solutions from a single multimedia platform, significantly reducing IT headaches and interoperability costs," said Trey Courtney, global chief product and partnership officer of Mood Media.
"Businesses can now have a complete all-in-one solution to execute their branded in-store experiences—and they can rest assured that their customers are enjoying an interactive shopping experience that is truly cohesive and complementary to their brand," he said.