Texas Rangers' Globe Life Field Has 22 AV Closets—but No Fans to Enjoy It in 2020
Diversified proud of ability to showcase its versality in MLB's newest ballpark, plus TV broadcasters will work remotely and Catcher Cam is back.
Leave a Comment
There are going to be a lot of things that look quite a bit different in Major League Baseball ballparks across the U.S. this season, not the least of which is the season hasn't even started yet in mid-July.
Add to that the absence of fans in the stands, no broadcasters in their traditional perches high above the action behind home plate and no high-fives, spitting and other ballpark staples that have become part of the action since the game's invention and it's obvious we're in for a bit of a culture shock this summer.
The Texas Rangers were excited to debut the team's new ballpark this year and pack the retractable-roof stadium full of fans, no matter the weather. While the grand opening of Globe Life Field—the team's replacement for Globe Life Park (no really)—will have to wait, the ballpark will open soon.
Diversified earned the honors of outfitting the newest MLB ballpark with several hundred AV devices, configured across 22 AV closets throughout the massive stadium. In addition to AV throughout the seating bowl, concourses and suites, Diversified also installed broadcast cabling, IPTV and the control room.
Related: NFL Teams Encouraged to Go Cashless
The Diversified team is no stranger to working with the Rangers, having done work for the team at its previous ballpark several years ago, says Christopher Sullivan, Diversified VP of business development for sports and live events.
The company monitored the Rangers' bidding process and secured the job about 18 months they first started keeping tabs on the job, he says.
"We stayed in touch with them and followed the process, so were able to capture a good piece of it," says Sullivan. "It was an exciting project that was able to showcase what Diversified is built for: one hand to shake and take on all those scopes. That made it simple for the Rangers.
"It was a good jumping-off point for us. Most people know us mostly for our broadcast capabilities," says Sullivan. He noted Diversified primarily relied on its Dallas-area team for the work at Globe Life Field, although the crew came from everywhere from New York to California.
"It was interesting for us to be able to bring all our teams together," says Justo Gutierrez, Diversified's director of AV and sound for sports and live events. "This was a project with a massive scope and lots of complexity, but it was a great success for us."
Gutierrez says project consultant WJHW was very hands-on, very involved" and the teams' close working relationship "certainly helped" with the finished product.
"The outcome certainly speaks volumes," he says.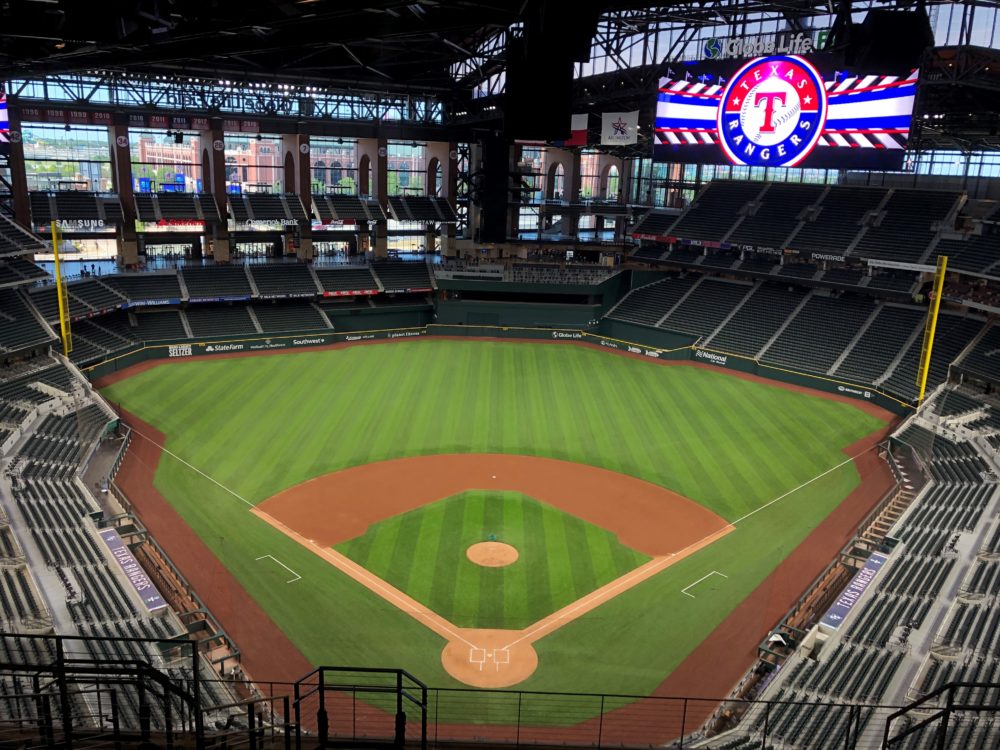 Inside Globe Life Field Installation
Jeff Sanderson, senior systems engineer for sports and live events for Diversified, agrees with Gutierrez about the size and complexity of the Globe Life Field installation, calling it "a monumental task."
That size and complexity led to some challenges, but the Diversified team and others on the job were able to conquer them eventually, says Sanderson.
"I'd call it stressful and successful," he says.
Even with crew members from across the country and crew sizes exceeding 50 people for most of the time Diversified was working on its portion of the project, "we were going to be ready, because we had to be," says Gutierrez. "That's the mantra for any sports project. This was an all-hand project for a long duration."
Much of the training of Rangers staffers on the new capabilities of the systems Diversified installed had to be delayed because of the spread of the coronavirus pandemic, says Sullivan, but that didn't stop Sanderson and his team from being able to access the building to finish and test the installed systems.
"Over time, the precautions and what was required to be on site escalated," says Sanderson. The crew had to wear masks, get their temperatures checked, fill out short questionnaires and wear wristbands that allowed them access to the building at various times, he says.
"The season being delayed allowed us to work out all the small bugs and take a deep dive into the systems," says Sanderson. Rigging and cable pulling were the tasks that were most affected by social distancing regulations, says Gutierrez, but most work was done before those were put in place.
That's not to say this was an easy installation, says Sanderson, and not just because he had to fly in and out of Washington to be there with the Diversified team.
"The consultant had a unique design and approach to this project," he says. "We learned a lot through the process in how to navigate a large-scale network for audio and video that allows fluid communication and uninterrupted service but is also robust enough to have redundancies."
With more than 140 iPads spread across the suites, clubs and offices at Globe Life Field and 22 AV data rooms in the building, "we tried to create silos so you wouldn't have to run too far to get to the rack room associated with the space," says Sanderson.
The Roof. The Roof. The Roof iiiiis OOOPEN! pic.twitter.com/bYbVSWovyx

— Texas Rangers (@Rangers) July 18, 2020
Troubleshooting and testing the systems Diversified installed started in January, says Gutierrez, who called that "one of the real big undertakings" in the Globe Life Field installation. He notes some of the sound systems might be toned down with no fans in the stands at least to start the 2020 season.
"The sound systems perform in empty bowl pretty well, but when the roof is closed, acoustics don't work very well in an empty stadium," says Gutierrez.
He expects radio and TV broadcast teams to have some "unique requests" to bring fans closer to the action this season, including different camera angles, and Diversified will be ready to support those requests. That might include artificial crowd noise throughout the ballpark, says Sanderson.
Whenever fans are allowed into Globe Life Field, they'll experience what Sanderson describes as "short bursts of interaction" through a localized speaker system throughout the ballpark that creates sound effects such as horses galloping in a circle when the Rangers do something good.
"We don't know how it's going to be used yet, but the potential of it is exciting," says Gutierrez. The localization is done by sending pre-recorded content through a Barco Medialon system, says Sanderson.
We could get used to this. 👀 pic.twitter.com/PMAbjqD6Jd

— Texas Rangers (@Rangers) July 18, 2020
Other 2020 MLB Tech
While we're likely at least a year away from Major League Baseball doing away with paper tickets at all ballparks to cut down on potential points of contact and possibilities of spreading the pandemic to more people, broadcasters for some teams will be working remotely for this year's abbreviated season.
We'll also see a lot more camera angles of all the action on the field, thanks to the release of Statcast 2.0 just in time for the 2020 season. I'm guessing we won't see iPads in the dugouts quite as often this season, based on the controversy surrounding sign-stealing by the Houston Astros, Boston Red Sox and possibly the New York Yankees–and probably 27 other teams.
Meanwhile, though, we might see the return of Catcher Cam on local and national TV broadcasts, a nod to the innovation debuted by Fox Sports in the late 1990s but shelved in recent seasons. Many teams have deployed the tool during intrasquad scrimmages during so-called Summer Camp this month.