The Secret Is Out: International Spy Museum Is Dazzling AV Experience
CI 2014 Integrator of the Year Electrosonic brings tales of espionage and intrigue to eager visitors in unique ways thanks to massive AV overhaul.
Leave a Comment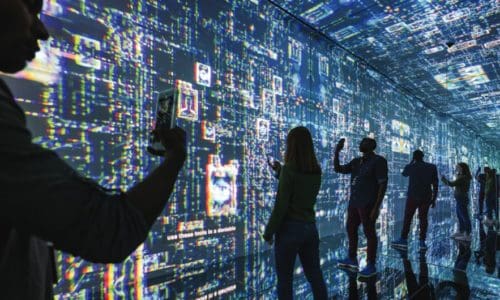 The International Spy Museum is the only public museum in the world with a global perspective on a centuries-old profession that's invisible to most people — and that's portrayed through a one-of-a-kind AV experience.
But this is no ordinary museum — the experience here is part museum and part game. Interactive and immersive exhibits let visitors experience what it takes to be an officer, agent or analyst working in the shadows, sometimes with life or death consequences. 
Technology uncovers the tradecraft, tools and impact of espionage through RFID technology and sophisticated interactive exhibits to create an exciting, educational, personalized 'gaming' environment.
Electrosonic, CI's 2014 Integrator of the Year, fused architecture, storytelling and technology to take visitors on an undercover mission where they test their skills and experience what it takes to be a successful spy. 
Electrosonic's approach was "to blend spy technology with AV technology to create an experiential introduction to spycraft."
The AV experience
"In this project, technology was particularly relevant and important because successful espionage also depends on effective technology," according to Electrosonic staffers. 
Interactive technology is key to success as visitors take on missions where they are under constant surveillance. A brief interrogation determines the visitor's mission, cover identity and level of expertise. 
The information is used to personalize their spy profile, which is stored on an interactive lanyard. 
Their mission is to complete a series of tasks by analyzing clues, maintaining cover, finding and contacting sources and collecting intel — all by interacting with exhibits throughout the museum. 
Each time they interact, their performance is monitored to build a mission profile that measures their success as a spy. 
RFID technology allows each visitor to interact in different ways with the various challenges. The personalized RFID experience allows visitors to try an infinite variety of tasks — and that encourages repeat visits.
This approach successfully engages visitors and meets the objective of improving understanding of the nature and contribution of espionage. 
The Museum's goal was to improve understanding of the contribution of espionage by engaging visitors in an experiential lesson in spying that would complement the vast collection of historical artefacts. They wanted to tell the stories in new ways using new media and digital technologies.
A key requirement was to give visitors surprises at every turn, while creating a seamless journey through the museum.
Electrosonic provided technical and creative consultancy to help the client tell the stories they were imagining, collaborating with Gallagher & Associates who did most of the experiential design. 
Collaboration was essential throughout the project, working with Gallagher & Associates and Spark RFID to ensure that the exhibits took full advantage of available technology. 
More spec's
The International Spy Museum is housed in a 32,000–square–foot building with multimedia theaters, audiovisual and interactive installations on five floors.
Visitors take on the persona of a spy and tackle a life–or–death mission in a shadowy world. While interactivity is integral to the visitor's mission and technology is an essential tool of spycraft, the owners did not want the technology to be obvious or interfere with the experience.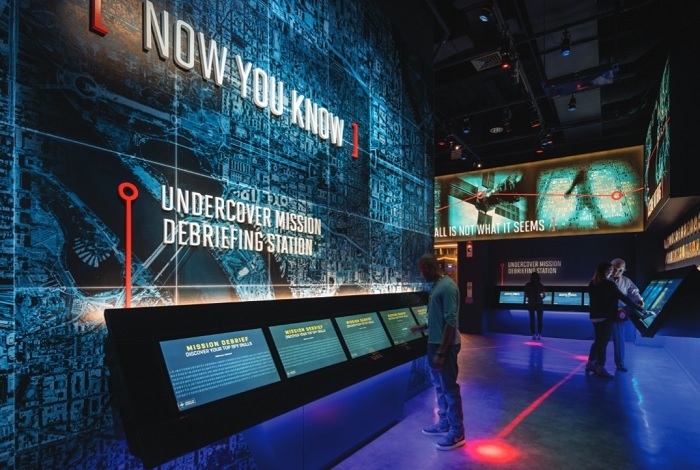 Hidden technology was essential and the installations had to be reliable and easy to use.  
The visitor's AV experience also had to form a seamless journey. This required careful positioning of RFID aerials and discreet integration with the exhibits.
In one example, an image captured during 'Sneaking into Berlin' is displayed on another exhibit later in the visitor's mission. 
The mission experience is capable of infinite variation. Each mission can be personalized to different ability levels or different forms of interaction.
Video tells stories of daring espionage missions while audio gives a voice to professionals from the intelligence services who reveal episodes from the past in their own words. 
Exhibits show how new technologies have transformed espionage and how cyberwarfare has become a potent weapon for intelligence agencies around the world. 
Working in partnership with Gallagher & Associates, Gallagher Museum Services, Cortina Productions, Kubik/Maltbie and Stark RFID, Electrosonic selected, installed and integrated more than 1,300 pieces of individual AV equipment, including 16 interactives, touchscreens, audio systems, custom control software, projectors, screens and media servers.
As well as developing and installing new exhibits to take advantage of technological advances, Electrosonic had to refresh, expand and integrate exhibits from the original museum.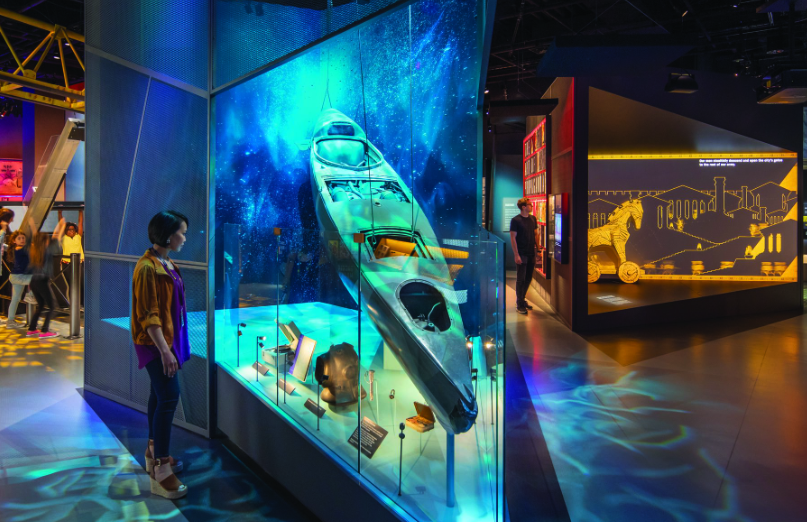 Initial budgeting and planning were challenging as minimal information on final exhibit layout was available. In fact, many of the exhibits remained in place on the original site just months before opening. 
The Electrosonic team had to use its experience to install data and power runs that were flexible enough to accommodate the final layout.
Electrosonic selected all equipment using its extensive industry experience and vendor partnerships to ensure that all systems specified were based on professional standard, best-of-breed equipment from industry-leading manufacturers. 
Systems and equipment were selected and designed for low energy consumption.
To minimize energy consumption, the Medialon servers incorporate custom scheduling software to turn systems on and off in line with opening times.
Electrosonic also developed custom software combined with an intuitive interface.
It talks to all audio, video, lighting and show control systems to give the museum team a complete picture of operational status and connectivity. 
Impact on Spy Museum
To maintain system availability and minimize downtime, an Electrosonic technician is permanently based at the museum and the media servers incorporate remote monitoring to provide essential feedback and alerts.
"I'm very proud that we are now expanding the Museum to meet the ever-growing need and desire to learn about the threats we face," said Spy Museum founder Milton Maltz.
Related: Museums Are Taking Their Collections Online: What Technology Can Do To Help
The AV experience created by Electrosonic has helped the owners relaunch in their new home. The personalized RFID technology encourages visitors to return for more and that has helped to attract larger audiences and more repeat visits. 
"The International Spy Museum has long been a destination for residents and visitors," said Washington, D.C. mayor. "Now it's finding innovative ways to keep us connected with our past." 
Equipment Highlights
BrightSign

 media players

 

Christie, Digital Projection and Panasonic projectors

 

Innovox

 and JBL speakers

 

Listen Technologies headphones and transmitters

 

QSC amplifiers and speakers

 

Shure microphones

 

Stewart 

filmscreens

 

Tannoy

 speakers
If you enjoyed this article and want to receive more valuable industry content like this, click here to sign up for our digital newsletters!