WyreStorm 600 Series AV over IP Gear Accommodates Full 4K HDR over 10GbE
The WyreStorm 600 Series of AV over IP gear will be a focal point of the company's exhibit during InfoComm 2018 in Las Vegas.
Leave a Comment

The WyreStorm 600 Series will be a featured piece of AV over IP gear at the company's InfoComm 2018 booth (#N1564).
The Software Defined Video over Ethernet (SDVoE) Alliance member company says that its Network 600 Series 4K HDR over 10GbE solution is engineered to provide professional integrators a choice of three AV over IP gear to best fit a particular installation scenario.
"As the flagship solution in the WyreStorm's extensive NetworkHD product line, the 600 Series brings the best picture quality and the lowest latency to the market," says David Silberstein, director of technology, WyreStorm.
Critical markets the 600 Series serves, according to Silberstein:
medical
visualization
command/monitoring
control
boardrooms
anywhere where real-time images need to be displayed with no image lag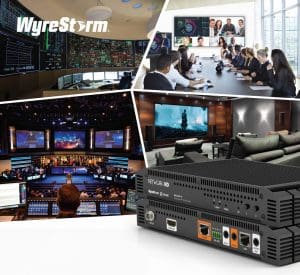 WyreStorm AV over IP Gear Supports 4K with HDR & 4:4:4
The scalable WyreStorm 600 Series supports 4K video up to 4,096 x 2,160 at 4:4:4 8-bit chroma subsampling and 4:2:2 12-bit HDR10 over both HDMI and the DisplayPort.
Later this year, the company will support the Dolby Vision HDR format.
Some of the other options the AV over IP gear provide include audio embedding and de-embedding, support for object-based surround sound (Dolby Atmos and DTS:X), 8-channel PCM audio downmixing, and the ability to create independent audio distribution via analog ports.
Other features available with the product line include auto-switch or software-selectable input ports, EDID capture and assign, video scaling, retiming, and color space conversion.
Read Next: WyreStorm Launches In-Wall HDBaseT Transmitter and Standalone PoH Receiver Kits
WyreStorm also emphasizes that integrators can use almost any layer 2/layer 3 network switch with the products to make the installation process more efficient.
"It's extensive feature set means the 600 Series isn't only limited to commercial applications, either," adds Silberstein.
"Full compatibility with the latest consumer source and display devices, multichannel audio, and built-in 4K/2K scaling means discerning homeowners can now also have the highest picture and audio quality in every room."