How They Got There: Alan Brawn
With a career spanning four decades in AV industry, Alan Brawn is one of the pioneers who helped push the industry forward.
Leave a Comment
Alan Brawn is a Pro AV Hall of Famer. 
With decades in the industry, Brawn has filled a number of roles: He has served as a president of Telanetix and national product marketing manager for Samsung. He was a founding member of Hughes-JVC and he managed a pro AV integration firm for seven years.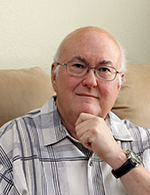 He is a recurring author for several trade publications that serve the AV industry, including Commercial Integrator. He has been a senior faculty member of InfoComm International, was the moderator of the InfoComm-ANSI PISCR standard, and a founder and past chairman of the Digital Signage Federation.  
For the past 16 years he was a principal of Brawn Consulting, a business consultation and educational strategy firm focused on the commercial AV, IT, and digital signage industries. 
In 2015, Brawn was honored with the Fred Dixon Lifetime Achievement in AV Education award from InfoComm. 
This is all with a late start. Brawn, 74, didn't get his start in the AV industry until a decade into his career. 
To walk through Alan Brawn's illustrious career would take more pages than this magazine has to offer. However, in considering the trajectory of Brawn's career, one theme stands out: the value of education. 
 "I spent the first few years of my professional life as a college teacher, and then I spent nine years in the photographic industry," says Brawn. "That was a dead end, to say the very least, as autofocus and automatic cameras were coming onto the scene even before digital cameras. 
"A gentleman by the name of Bob Anderson who owns Communitronics Corporation in St. Louis told me that I needed to join his company. I told him that I didn't know anything about the audiovisual industry, and he said don't worry, that I would learn," he says. 
That's turned out to be one of the greatest understatements of all time. Brawn did learn about the AV industry, and after learning about it went on to serve on boards and panels that helped to create the education tracks that most all integrators go through to this day. 
He always placed a value on education, going back to his days teaching at colleges before he started his commercial AV career. He likes to say that he's not very impressed with what he knows, but he's always impressed with what he doesn't know. 
The Value of Education
Stepping into the AV industry for the first time, the one thing Brawn knew for sure was that he had to learn about what he didn't know. 
"There were no formal educational offerings of the industry at all," says Alan Brawn. "It wasn't that it existed in some convoluted format. It just didn't exist." 
Brawn came up with a plan. As general manager of Communitronics, one of his jobs was managing a sales team, and his sales team would frequently take knowledgeable representatives from several AV manufacturers out to visit clients. 
As part of his plan, Brawn took a bartending classes. When the manufacturer's reps returned from their sales calls, he began to invite these reps up to his office for an after-dinner drink. 
He could make them whatever they wanted, and while he made the drinks, he asked them questions about their products and how they fit into AV systems. 
"I did that with each of the manufacturer's reps over a period of more than two years," says Brawn. "I knew I needed intensive one-on-one education just so that I could come up to speed. 
"At the outset, the only person that knew what I was doing was me. I admit to a hidden agenda but one that worked miracles for my education," he says. 
That initial curiosity led to the early building blocks of the education that many AV integrators go through to this day. 
"Those of us that were large regional dealers back in the day were invited to sit on national dealer panels," says Brawn. "You would interface with people at that level and explore best practices. We'd get together and talk about the need for AV education. 
"They began to invite me in to visit their dealerships, and I began to work with their people in a non-competitive way just as a favor," he says.  
"Always be open to learning something new. One thing we know for a fact in the AV industry is that it's always going to be changing." — Alan Brawn
"We ended up taking our ideas into what is now InfoComm and suggested the need to have AV education." says Brawn.
"The funny thing is that when we first started doing this, vendors would worry about educating their competitors. 
"The group of us would say in unison that this is a rising tide that raises all ships situation," he says. 
"There were about 20 of us around the country," says Brawn. "The first person to embrace our thinking about AV education was Mackey Barron of HB Communications fame. I, among others, were the ones that were involved in the early days of promoting this, irrespective of what vendor they were associated with." 
The teacher DNA in Alan Brawn had won out. 
"It really took a life of its own in 1992 when I joined Hughes-JVC as national sales manager," he says. "All of a sudden I had a national pulpit from which to speak." 
Brawn was asked to become the chairman of the executive committee of the InfoComm Shootout. 
"This was one for all and all for one," he says. "A lot of camaraderie. That's when the whole AV education thing started to take off in the industry and other people started to get involved."  Brawn and his like–minded peers participated in the InfoComm PETC (Professional Education Technical Committee) group. 
"It was fascinating. I worked with that group for nearly 15 years," says Brawn. "Our group was about 15 to 20 members and we would meet face to face at InfoComm headquarters for two days and plot and plan the educational curriculum for the show. 
"It was all about teamwork and to this day one of the highlights of my life," he says. 
This was all in tandem with his role at Hughes-JVC, going from national sales manager to VP of sales and marketing globally. 
"Those of us who had an industry focus, always tried to separate the vendor-neutral, industry related educational programs from the companies we worked for," says Alan Brawn. "I was fortunate enough to be involved in the early development of the CTS program. 
"All of that is vendor-neutral to this very day. There's always been a need for that separation, if you're going to be held in regard as somebody with a true industry focus," he says. 
Knowing What You Don't Know
"From the beginning I knew what I didn't know. It was obvious to me and others." says Brawn. "The first thing is you've got to put your ego on hold and figure out the blanks you need to fill in to do your job competently and serve your clients." 
In fact, there is a great deal that Alan Brawn does know. He attributes much of the success in his professional career to his understanding of the market—and he says that understanding came from venturing outside of his own role. 
"The technical team at Hughes-JVC would look to me as to whether the market would accept a product, service, or a given price or not," says Brawn. "I quickly learned that if you're in a sales and marketing role, you need to find some way to be connected to product development. 
"Marketing tees up the ball for sales. Marketing and then sales is the proper order. People involved in those areas of concentration in a company should always have an involvement in product development," he says. 
"My role working with display manufacturers has always been twofold: a marketing and sales responsibility, and a product development involvement to help bring the product to fruition," says Brawn. 
"I've never had the situation where I was completely separated from product development," he says. 
Brawn is grateful for many of the people he met along the way who gave him further insight into what he did not know, including his peers that helped develop those early training opportunities.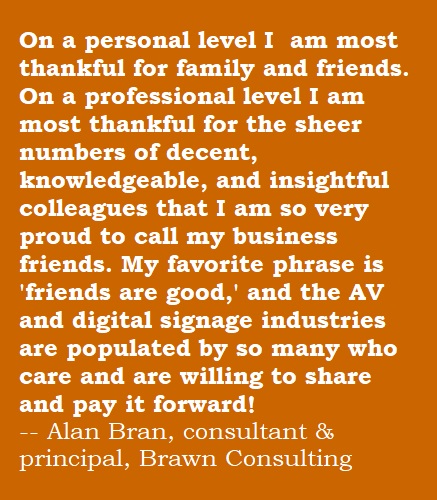 In fact, listening to Brawn talk about his career is like the biopic of a legendary musician that crosses path with other legendary musicians of their time. 
Similarly, Brawn discusses the value of his relationships with such industry titans as Andrew Edwards of Extron, Don Stewart of Stewart Filmscreen, Scott Miller of AMX, and George Feldstein of Crestron, to name a few. 
"These were people that literally mentored me even though we were about the same age," says Brawn.
"Looking back on it, these were the early pioneers who were destined to become the icons we know today. Working with them forces a person to up their game. 
"Those relationships are the things that have helped create who I am today as an individual," he says. 
Alan Brawn made sure that, when he recognized someone with the ability to think ahead to the future of the AV industry and think outside of the box, he learned as much as he could from those individuals—and gave them credit.  
"I knew enough to be in awe of their talent. The only credit I'll give myself is that I saw their brilliance, and I knew I had to take advantage of that brilliance as my career migrated," says Brawn. "You have to look for people as guiding lights." 
It wasn't only the legends of the AV industry that Brawn sought to learn from. In every company he worked for, he would make sure to connect with the right departments and people to gain a more wholistic view of his own role. 
He sought to understand the entire chain of the industry, distinctly understanding what each of the links in the chains bring to the table, and what effect they have on one another, from manufacturers and distributors to resellers and end users. 
"Once we embrace that we are part of the whole, we can have conversations on what we need to do in any of those particular niches that make the whole succeed," says Brawn.  
Brawn's original dream was to become a teacher. He lived in that role for several years after school, but eventually joined the business world, though he didn't leave teaching behind.  
"One of the things that characterizes me is I wake up every morning understanding that I'm going to learn something new," says Brawn. "Always be open to learning something new. One thing we know for a fact in the AV industry is that it's always going to be changing." 
He has certainly had an impact on that change. Brawn left his college professor role a while ago, but the programs he helped to build for a fledgling AV industry have gone on to educate thousands of new integrators. It's fair to say he achieved that dream of being a teacher. 
"There's an old saying that if you really want to understand a topic, agree to teach it," says Alan Brawn. "I have never created a seminar where I didn't learn more than I thought I was going to learn going into it and learned something unexpected along the way.  
"The excitement to share what I didn't know with somebody who may not know it yet," says Brawn, "That's the key to the kingdom." 
What are the biggest challenges to a new employee starting off in the AV industry?
Getting acclimated to the industry, understanding the industry, and understanding the fundamentals of what goes into the industry. 
What can new members of the AV industry do to grow?
Become involved in AV education presented by both AVIXA and a group of CTS-RU developers with vendor-neutral education programs. Then they need to aspire to a CTS certification. It will take a year or two to obtain that, but it gives you a nice path and professional credential and recognition. 
What is your favorite thing about the AV industry?
The people, the technology, and serving others. 
In what ways do you think the AV industry needs to change?
We as an industry need to further embrace the outcome. We need to say this is what we need the outcome to be. Then we need to figure out the best path to get us to the desired outcome. Think about that as the return on objectives. We need to continue and accelerate the idea of working towards the AV experience and the outcome and understand how best we get there. 
What's your favorite type of AV technology?
I would be a hypocrite if I did not tell you display technologies are my favorite. 
What would be your one piece of advice that everyone should 
follow
 to be a better employee?
Know what you don't know. Look toward to what you're going to learn today. Then work diligently, morally, ethically, in a manner that is going to benefit your employer and the industry overall. The rest will fall into place. 
What would be your one piece of advice that everyone should
 follow
 to be a better manager?
First of all, I don't think that everybody needs to be a manager. I don't think people should aspire to be a manager if they don't want to be a manager. There are people that are going to do individual tasks, and they are the core and the foundation of our industry. 
If you want to become a manager, my advice would be to become a people person. Be empathetic. Understand that all people do not have the same kind of passion that you may have. Treat people differently as their needs and your needs differ. Keep the people-focus uppermost in your mind. 
If you enjoyed this article and want to receive more valuable industry content like this, click here to sign up for our digital newsletters!