Just Add Power to Start Shipping MaxColor Series 2 Transmitter and Receiver
The new 4K60 MaxColor Series 2 features KVM support, fiber-port connection and audio return channel.
Leave a Comment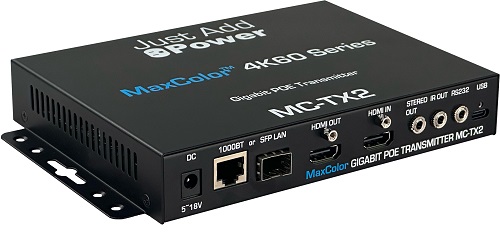 Seminole, Fla.-based Just Add Power, prominent in AV-over-IP distribution, has started accepting pre-orders for mid-February 2023 shipping of its 4K60 MaxColor Series 2 solutions. According to the company, the solutions feature KVM support, a fiber-port connection and audio return channel (ARC).
The new MC-TX2 transmitter and MC-RX2 receiver also natively support 4K60Hz in and out. This allows end users to play HDR video, including Dolby Vision and HDR10+ formats, using the growing number of Ultra 4K sources and devices in the market.
Supporting AVoIP Deployments
"When we announced the availability of our first MaxColor Series at the end of 2021, it was highly anticipated for its ability to cost-effectively distribute 4K60 12-bit video over existing network infrastructure," says Taft Stricklin, sales team manager at Just Add Power.
Stricklin continues, "We knew it was only a matter of time before our dealers were asking for 4:4:4 36-bit color support and greater flexibility in their design. Our R&D team worked tirelessly to develop the full MaxColor series that is ready for the future and will help strengthen their customer relationships. MaxColor 2 is just another great way we're helping lead the way in AV-over-IP deployments."
Also Read: More Than Just Ice: Just Add Power Delivers at Hertz Arena
MaxColor Series 2 Features
Just Add Power's new MaxColor Series 2 solutions include all the features and benefits of the MaxColor Series 1 products. However, they feature even more capabilities to support the most robust applications. With MaxColor Series 2, users can distribute 4K60/4:4:4/36-bit color video over a 1GB managed network. To do so, they require an existing Cat X (Cat 5e minimum) cable or over 10G fiber cable. In this way, integrators can use the cable that best fits their projects.
It also boasts power over USB-C, supporting, for example, a USB web-camera signal over IP. With the new ARC feature from Just Add Power, installers can easily send audio from a TV connected to a MaxColor 2 receiver and across the network to another MaxColor 2 receiver. They can do so by connecting to an audio-video receiver or other ARC-enabled amplifier. As a result, the project design becomes even easier and more flexible.
The MaxColor 4K60 Series 2 transmitter and receiver provide integrators with an affordable and scalable 4K UHD distribution platform to support today's 4K source content natively. It does so by providing high-frame rates over existing network infrastructures. MaxColor also offers high-frame rate, deep-color and 4:4:4 chroma support. With this, it ensures that what is on the capable screen matches the output of the source. Moreover, it does so with no subsampling or downscaling.
The series delivers zero detectable latency, instant and seamless switching, 4K up and downscaling and HDR management. At the same time, it supports all lossless audio formats and HDR10+, HLG and Dolby Vision. With this, Just Add Power says, it allows for the best viewing experience. Additional features include image pop, push, pull and integrated control.