L-Acoustics K2 Develops a Solid Model for Hard Rock Live Sound
Supported by Kiva II and A15 Focus, the installation at Hard Rock Live Sacramento is as flexible as the venue's roving stage.
Leave a Comment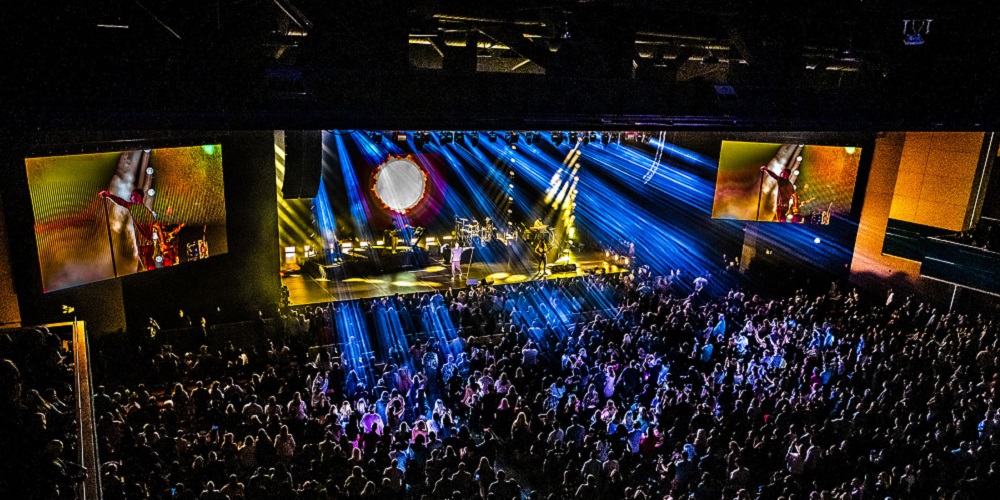 The all-caps exclamation, "Hard Rock Live is NOW OPEN!", on the website for the 2,500-seat venue at Hard Rock Hotel & Casino Sacramento at Fire Mountain is understandable. The resort opened in 2019; however, work on the entertainment facility became stumped for nearly three years. Then main reasons being the pandemic and constant supply-chain problems. However, after a debut performance by Maroon 5 in the summer of 2022, Hard Rock Live emerged as the region's premier concert destination. It also had Live Nation serving as its exclusive talent booking agency. The space is now positioned to host a multitude of other events all with a new L-Acoustics K2 sound system to ensure the room's constant demand. These include meetings, trade shows, boxing, MMA and charity events.
Choosing L-Acoustics
Like all Hard Rock venues, per a statement, the new Hard Rock Live's design has the patrons in mind. However, with prominent design and integration vendors creating it — Montréal-based Scéno Plus did the audio design, which Clair Global implemented — it's also keenly aware of the needs of touring shows.
"L-Acoustics is the most well-known professional loudspeaker system, and you'll find them on any technical rider," explains François Blais, Scéno Plus' vice president of technology and specialized equipment. "And that's why we especially liked K2 for this project. It's a great-sounding system from a rider-friendly brand, which makes it so much easier for the venue to market itself."
Blais continues, "Today, it's not enough to only go for the best sound. System designs must keep the economic aspects of venues in mind; they must be cost-effective. You have to look at systems design from the production manager's perspective, too."
Additionally, he notes his experience with France-based L-Acoustics in the past proves the level of support the brand brings with it. He adds, "They are there for us from the design phase through tuning the installed system."
Outfitting the Venue
The venue's main PA consists of 18 K2 divided into left and right hangs, 60 feet apart, managed by a pair of P1 processors: one primary, one backup. Ten KS28 subs anchor the low end, and five Kiva II serve as front-fills. Side-fills consist of six A15 Focus buttressed by four KS21 subs. Meanwhile, onstage, a dozen X12 and six X15 wedge monitors are joined by two SB18 subs intended for the drums. Eleven LA12X and nine LA4X amplified controllers power the combined FOH and monitor systems, driven by a new pair of DiGiCo Quantum225 consoles.
Also Read: Chicago's Famed Studebaker Theater Celebrates 125th Year With New L-Acoustics Kara II Sound System
Blais says that the combination of power and compactness that K2 offers allowed the sound system design to be highly flexible for reconfiguration around the venue for various applications. "It also means there isn't a bad seat in the house because we can adjust for sight lines no matter where or how the system is positioned," he explains.
Creating Great Sound
The company now regards this installation as a template for future Hard Rock Live venues in other and upcoming Hard Rock Hotel & Casino locations, and how the L-Acoustics sound technology can be part of that. "Hard Rock Live Sacramento and its sound will be a model for our new live venue designs," says Carl Sagen, production manager at Hard Rock Live Sacramento. He has previously toured with Diana Ross and Faith No More.
Sagen notes, "Hard Rock has always been about great sound. We wanted a system that would let this Hard Rock Live handle any event, from concerts to boxing and MMA to trade shows, as well as fulfill any contract rider, and it's doing just that. And it also sounds fabulous."
He adds, "We have been getting nothing but compliments from touring artists and their crews. The coverage and the sound quality are excellent. It's what everyone expects from the Hard Rock brand: great sound."