Lencore Acoustics Joins AV-iQ
The latest company to join the AV-iQ platform is Lencore Acoustics. As a result, the audio manufacturer now has an AV-iQ showroom.
Leave a Comment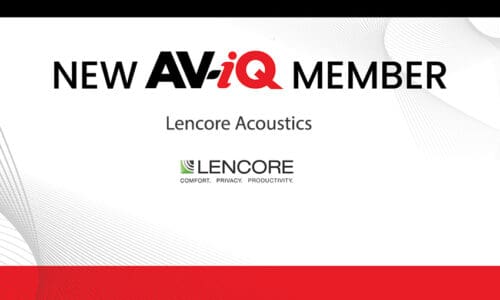 Lencore Acoustics, a prominent audio manufacturer, has joined the AV-iQ platform. Now, the company has an AV-iQ showroom.
The company manufactures system solutions for soundmasking, paging and audio, delivering speech privacy and productivity. What's more, its solutions offer exceptional comfort. The company creates products for a variety of industries. These, of course, include corporate, healthcare, finance, legal, government, hospitality and education applications. Lencore envisions a world in which the workplace is more productive and where privacy matters. This vision is of a world in which communication is instantaneous and clear. Finally, Lencore envisions a world in which the environment is as ideal for an individual as it is for group collaboration.
AV-iQ is the most comprehensive database of commercial AV, production and video products. AV-iQ.com targets industry professional end users. Indeed, it provides tools for them to research, compare and stay current on the latest information. Users can sign up for free at av-iq.com/myiq. Manufacturers interested in having their own showroom in AV-iQ database can contact sales@av-iq.com.
View Lencore Acoustics' AV-iQ showroom by visiting av-iq.com/avcat/ctl1642/index.cfm?manufacturer=lencore&ref=mansall-text.
For previous Commercial Integrator coverage of AV-iQ, check out our site archives.