WAVIT Acquires Women of Digital Signage
The acquisition of Women of Digital Signage by WAVIT will provide networking, mentoring and growth opportunities for all members.
Leave a Comment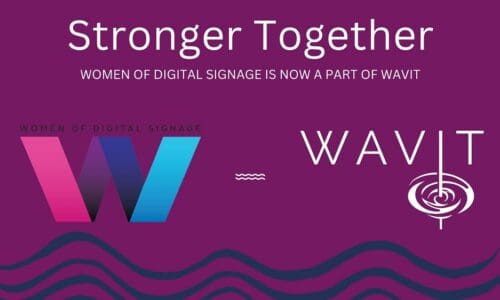 Women of AV/IT (WAVIT), a non-profit designed to empower women, has acquired Women of Digital Signage. The latter is a women's organization dedicated to promoting networking, mentoring and personal growth. It will now be a sub-group of WAVIT to allow its members to continue to grow their network in the world of digital signage and beyond.
Andrea Varrone, director of strategic accounts at Creative Realities and co-founder of Women of Digital Signage, expresses enthusiasm on the new partnership. She adds, "Partnering with WAVIT will give a much-needed resurgence to the Women of Digital Signage and provide the group with even more resources."
"The digital signage landscape has changed dramatically since we founded Women of Digital Signage five years ago. Digital signage has grown to be a much larger part of the proAV industry and having Women of Digital Signage as a sub-group of WAVIT just makes sense," adds Megan A. Dutta, director of emerging markets at THE rAVe Agency, and co-founder of both Women of Digital Signage and WAVIT. "Members of both organizations will benefit from the networking, mentoring and growth opportunities this acquisition will provide."
Also Listen: AV+ Podcast: Industry Luminaries Form WAVIT to Empower Pro AV Women
WAVIT officially launched on January 17, 2023. "I have served as a member of the Advisory Board of Women of Digital Signage since its inception; and it's clear to me that there is a strong synergy between the two groups," says Brandy Alvarado-Miranda, a founding member of both boards. "WAVIT is looking to create strategic alliances with similar organizations. This is the first step is creating a wider, stronger network of like-minded supporters. I'm looking forward to doing great work together."