Xyte Extends HaaS Cloud Platform with Field Operations App
Xyte's new Field Operations application speeds and simplifies deployment of AV products by quickly capturing device details through QR codes.
Leave a Comment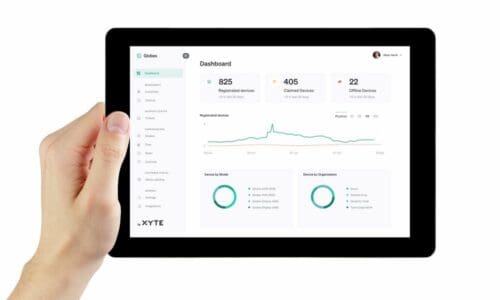 Xyte has unveiled an extension to its Workplace by Xyte AV platform: the Field Operations mobile web application. Xyte, a cloud services specialist, is based in Tel Aviv, Israel. The app aligns with Xyte's mission to streamline workflows for AV integrators and hardware manufacturers.
It also works to simplify the connection and information collection of deployed devices into end-customer environments within the Xyte platform. It does so by leveraging QR codes.
Typically, AV integrators deploying products on customer sites must manually enter details into the management system. This includes each unit's brand, model number, serial number, IP address and installation location. Of course, that manual data entry can be extremely time-consuming. That is true, in particular, of large-scale installations.
With the Field Operations app, things are much simpler. Installers choose the customer organization in the Xyte platform; select the room or space to which they want to assign the products; and scan QR codes on the deployed devices. Instantly, the devices are claimed into the customer's organizational tree. Automatically, all product information is entered. This, therefore, enables administrators to start managing devices in the cloud in minutes.
Field Operations App Designed for Integrators
Omer Brookstein, CEO of Xyte, describes the Field Operations app as designed with integrators in mind. He explains, "It makes it easy for them to add data about their vendors, products, facilities, endpoints, IP addresses, and serial numbers into the Xyte platform through a simple QR code." According to Brookstein, it's a huge time-saver. Especially, he says, "compared to logging data for each product and endpoint manually, especially at scale."
The Workplace by Xyte platform brings Xyte's Hardware-as-a-Service (HaaS) cloud innovations to the commercial AV industry. The company says it bridges hardware to the cloud. According to Xyte, the platform enables AV integrators and other service providers—who have free access to it—to offer custom managed services for their customers. Notably, those include remote management and monitoring of devices from a growing number of brands.
Available immediately, the initial version of Field Operations is just one tool that Xyte is developing. In its development efforts, the company is keeping MSPs, AV integrators and other channel partners in mind.
For prior Commercial Integrator coverage of Xyte, check out our site archives.