AV+ Podcast: 40 Under 40 Honorees Discuss Pushing Beyond Boundaries
Continuing CI's celebration of the 40 Influencers Under 40, Class of 2022, four more honorees discuss pushing beyond boundaries.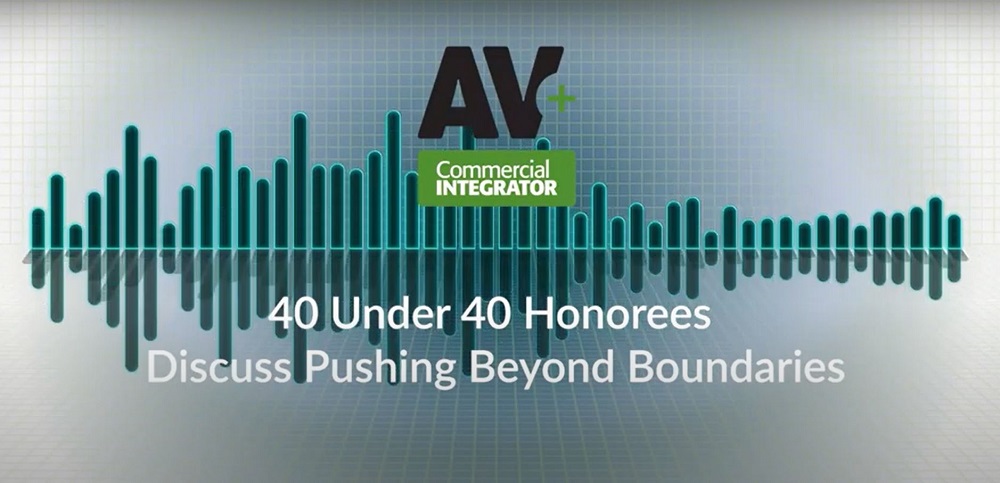 Listen to this podcast using the embedded player below.
On this Episode of AV+
Commercial Integrator continues its celebration of 40 Influencers Under 40, Class of 2022. On this edition of the AV+ podcast, Dan Ferrisi, host and editor-in-chief of Commercial Integrator, is joined by four more 40 Under 40 honorees: Chanan Averbuch, EVP of the Americas, Primeview Displays; Brittany DiCesare, client success manager, Control Concepts; Thomas Hauser, software engineer, AVI-SPL; and David Pequeno, regional account manager, Sony Professional. They discuss how to push beyond boundaries in the AV industry.
Top Stories of the Week:
Here's what's happening around Commercial Integrator this week:
Missed the Preserving Project Profitability in 2022 webcast? View it on-demand. With supply-chain snarls, increased labor costs and unprecedented unpredictability, integrators' jobs have become much harder. This webinar features NSCA's CEO, Chuck Wilson, as well as prominent NSCA members Kyle Habben (Electronic Contracting Company) and Mat Hennings (Communications Engineering Company). They'll offer tips to help you optimize your business and stay profitable.
CI's integration award winners reflect a mix of wow-worthy experiential excitement and practical, business-enhancing technical functionality. See the list of 2022 Integration Award Winners.
The 2022 Buyers' Guide Category Index sorts providers by product and service types while the A-Z Vendor list provides contact information for each of these companies. Download a copy today!
The Commercial Integrator Podcast
The term "pro AV" doesn't do justice to the whole integration crowd, so we at Commercial Integrator wanted to create a pro AV podcast that speaks to all the areas (and there are many!) under the umbrella of commercial technology integration.
The host, Commercial Integrator editor-in-chief Dan Ferrisi, is looking forward to providing listeners with an entertaining, informative forum for all topics affecting the commercial AV industry.
Prefer mobile? Find AV+ on iTunes
If you enjoyed this podcast and want to receive more valuable industry content like this, click here to sign up for our digital newsletters!