Backman Vidcom Integrates Interactivity into Children's Museum
The Discovery Centre 40,000 square-foot science museum project was important to Nova Scotia and just as important to Nova Scotia-based Backman Vidcom.
Leave a Comment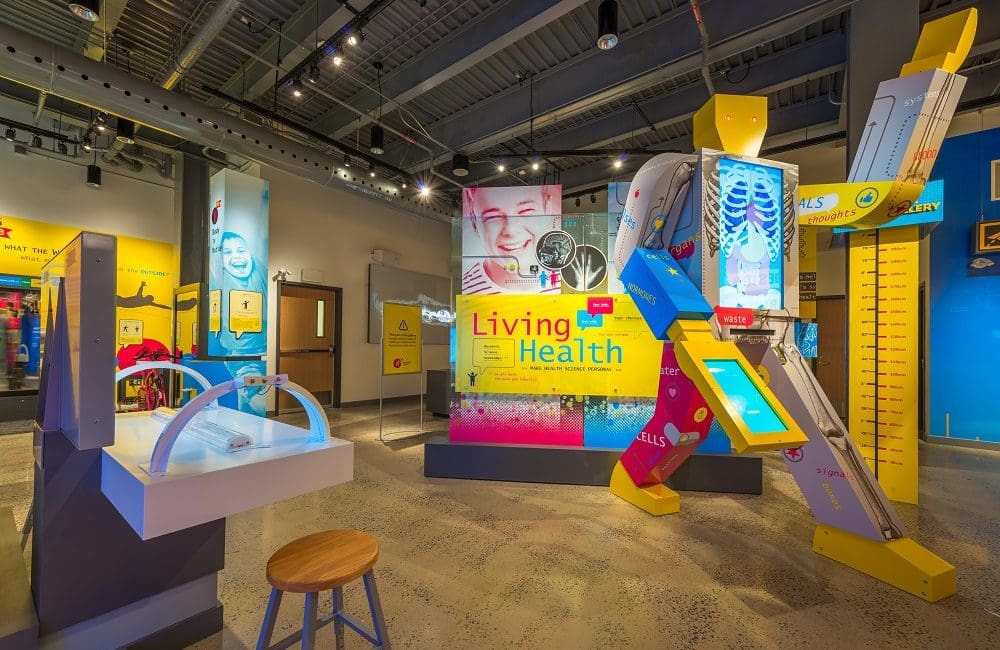 To understand why it was so important for Halifax-based integration firm Backman Vidcom to win the Discovery Centre project, you first have to understand how important this children's museum is to Nova Scotia.
The museum estimates that it has stimulated 1.4 million young minds for over 27 years with experiential science education. The Discovery Centre has evolved from a traveling science show to the largest science centre in Atlantic Canada. Upon learning that the Discovery Centre would be building a brick-and-mortar museum, Backman Vidcom owners put that potential project at the top of their wish list.
From Backman Vidcom's CI Integration Award application:
We wanted to be involved with the new Centre because of what it represented to us personally. We watched our own children develop an interest, curiosity, enjoyment, and understanding of science and technology at the old Discovery Centre. We knew that the new facility would be just as an important resource for our community and wanted to be a part of its new beginning.
It was back in 2014 when the new facility was in the planning, designing and raising capital stage, and when Backman Vidcom met with Dov Bercovici, president of the Discovery Centre, to make its case. Bercovici went into detail about his vision for the Centre. He recognized the value of having a local integration firm that understands the connection that Discovery Centre has to Nova Scotia, but made it clear that Backman Vidcom would have to earn the project.
The integrator went on to meet other project stakeholders, including the architect, fabrication contractor, and digital media contractor. After several meetings and presentations over a two year period, the BV was awarded the AV integration contract in September 2016.
Tying Together a Tech Solution for the Discovery Centre
In February 2017, the Discovery Centre opened its 40,000 square-foot science museum on the Halifax waterfront within an existing historic building that served as a former electrical power station. The museum space is highlighted by five marquee galleries – water, health, flight, energy and Creative Kids. There are also unique spaces including an atrium, traveling exhibits gallery, innovation lab and immersive dome theater.
Backman Vidcom had a significant role to play ensuring that the technical functionality of the exhibits and galleries were produced to the highest standard. The integrator performed the AV integration required for the centre's event space, used for programming and meetings.
Bercovici says the integration firm's "knowledge and pursuit of perfection were must-haves" for the project. "Their attention to detail and ability to value-engineer throughout the project was welcomed. What mattered to Backman was ultimately getting the end user's experience correct. On a complex build of this nature, it was important to have a partner with specialized technical knowledge. They could see things that the others couldn't."
A key aspect of the AV technology integration was not just the coordination of AV at the individual exhibits and galleries, but the programming of the AV in a way that blended the technology into the museum environment, giving it a subtle, yet meaningful impact.
For example, upon entering the new facility, a visitor is immediately immersed by an atrium highlighted by giant spheres suspended from the ceiling that constantly changes colors, and a very large interactive multi-media video wall that uses projection integration in coordination with four flights of stairs. Each step along the staircase activates a musical note for the children to enjoy. The end result is a light and music show that captivates the senses and becomes an integral part of the visitor experience.
Backman Vidcom worked closely with the exhibit fabrication contractor to develop the media and software for this atrium feature presentation. In this specific case, the firm took on the role of show producer and, in consultation with the design authority, directed the exhibit fabricator and its integration team in the final installation and programming of sequenced lighting effects, moving objects, projection and other areas where the AV production required integration with built exhibit and AV hardware systems.
Delivering the Right Impact for a Children's Museum
To say a quick turnaround was required is an understatement. Installation began in early December 2016 with programming, commissioning, training and turnover taking place in early February 2017. Backman Vidcom indicates that the quality of its work, including documentation, far exceeded the client's expectations and was acknowledged by the other project partners. Bercovici seems to agree.
"Backman Vidcom understood the importance of this dynamic," he says. "As the integration expert, the firm successfully managed the AV equipment installation from start to finish. This was no simple task, as critical expertise was necessary to bridge together the physical fabrication pieces with the digital media content. They could not have done a better job."
The integration firm continues to provide support for the project. "They know it's not enough to simply build something amazing and then walk away," Bercovici says. "We can't afford to have any downtime at the museum. The fact that they are local and can react to any mission critical problem on a moment's notice is a real luxury for us. And because they are also Halifax-based, they have a real sense of pride about being associated with this project. It matters to them. And that makes us feel like they're in it together with us."
Avoid Costly Failures That Keep Your Project Management Team From Their Best Work With This Free Report
Backman Vidcom Equipment Highlights
Planar Clarity Matrix video wall and displays
Apple content management
QSC audio DSP
If you enjoyed this article and want to receive more valuable industry content like this, click here to sign up for our digital newsletters!