Electrosonic: Hyosung America Customer Experience Center
Hyosung America had a bold, exciting vision for the Customer Experience Center at its North American headquarters in Irving, Texas.
Leave a Comment
Photos & Slideshow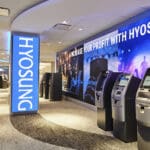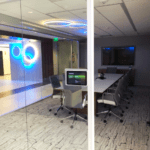 ---
Hyosung America is the leading manufacturer of ATMs for retail and financial services customers worldwide. As a key element of the company's global initiative to reinvent their brand and highlight the user experience, Hyosung has built a first-of-its-kind Customer Experience Center (CXC) at its North American headquarters in Irving, Texas.
The aim was to inspire customers to learn about Hyosung's industry-leading engineering to transform retail and financial services spaces as a key driver for business growth.
The technology installation in the CXC, designed and engineered by Electrosonic in partnership with Designer/Fabricator Derse, created a high-tech playground.
This unique environment features three LED video walls of various shapes and sizes, digital signage highlighting the rich history of Hyosung and innovation, interactive touchscreens that speak to the story of the brand and a highly choreographed audio experience to complete the journey through the space.
See Next: Best Museum Project: National Museum of Racing Hall of Fame
Electrosonic also provided design and systems integration for the fit-out of the audiovisual components on the 10th floor. This phase of the installation included 33 executive offices, a variety of different size conference rooms, a boardroom, a lounge and other employee only amenity spaces.
All the offices have large 55-inch displays with laptop connections and presentation capabilities. These spaces are furnished with audio and video conferencing technologies to support effective communication and promote collaboration.
In the initial stages, Electrosonic helped identify the audiovisual requirements and helped Hyosung build their standards. During detailed engineering, Electrosonic provided technology specifications and facility impacts to help Derse with the planning and design of the space.
The Customer Experience Center
On site, Electrosonic handled the installation of the audio, video and control systems, content distribution, system commissioning and programming.
Directional audio is synchronized with video content and played through 20 high-performance QSC speakers covering the CXC and conference rooms. The speaker layout was designed to accommodate future expansion of audio content.
To help Hyosung make the most efficient use of the spaces in the CXC and the headquarters, Electrosonic collaborated with Creating Margin to install and integrate individual room schedulers with touch capabilities for seamless room booking and a master room scheduling display at the reception desk.
Large-scale video walls and interactive touchscreens throughout the carefully choreographed journey inform visitors about the company's rich history and showcase the company's dedication to innovation.
Visitors can then experience Hyosung solutions in dedicated spaces that recreate retail banking branches and financial outlets, while highlighting Hyosung's industry-leading customer support and managed services offerings.
Two sizable LED video walls draw attention to Hyosung's retail and banking transformation solutions, while complementing the ATM machines and elevating the aesthetic feel of the environment.
A third LED video wall in vertical format focuses attention on the company's 'Be Inspired' branding and helps to build excitement and expectation for the journey through the CXC.
Digital interactive touchscreens provide in-depth information on Hyosung solutions and its commitment to innovation — further enhancing the visitor experience and helping build confidence in the brand.
Audio also plays a key role in creating a holistic, multisensory visitor experience. With carefully placed overhead and directional audio, the audio allows for background music to play while users navigate the space.
See Next: Best Meeting Room Project: Tech Company All Hands Meeting Room
When designing the audio experience, Electrosonic took into account the possibility of adding a 'Sonic branding' experience at a later time.
This would allow for audio to complement and enhance the digital experience of the displays and enhance the Hyosung brand through carefully synchronized sound.
The experiential elements of the CXC are designed to open conversations and drive meaningful business results. Naturally, this leads to opportunities for further, more detailed discussions with key clients and partners.
Therefore, the role technology plays in the meeting rooms where the tour ends is really important. Both the large and medium sized conference rooms feature large displays, video conferencing, presentation capabilities and speakers.
In addition to the installations in the CXC, Electrosonic was also responsible for designing and engineering the audiovisual systems for 33 offices, meeting rooms and communal spaces on the 10th floor headquarters of Hyosung America.
Each meeting or breakout room incorporates touchscreen displays, LEDs and touch panel, while all offices are equipped with large-format displays with content-sharing capabilities.
Lounges, cafes, lobbies and huddle rooms feature displays and digital signage throughout to facilitate internal communication.
Customer Reaction
Despite all of the challenges that the global pandemic presented, Electrosonic was able to deliver the project on time and within budget through effective project management and an agile workforce, including local subcontractors.
Hyosung now has a world-class Customer Experience Center that is already delighting customers and attracting interest from new prospects in retail and financial services.
The result aligns with Electrosonic's commitment to bringing memorable and unique experiences to corporate spaces, helping to differentiate Hyosung as pioneers and innovators in the market.
The journey through the CXC helps to build understanding of Hyosung's solutions and creates an engaging platform for in-depth discussions with customers at the next stage where Hyosung can gain a greater understanding of customers' diverse needs in the rapidly changing post-pandemic business environment.
While the CXC is now open to visitors, Hyosung are also planning virtual tours as a way of reaching customers who are not able to visit in person.
Equipment List:
Samsung displays
Chief mounts
Extron hardware
Shure microphones
TouchSource media players and software