2019 MLB Tech Roundup: Fingerprints, Eyeballs, Credit Cards and High-Speed Cameras
Major League Baseball teams employing biometric scanners in some parks and replacing cash with debit cards in others. Where are the robot umps?
Leave a Comment
After a few years of eye-popping new video boards across MLB, the pace of tech upgrades in that regard has slowed a bit in recent years, with only the Atlanta Braves unveiling a new one last season in their new ballpark, SunTrust Park, and the Oakland Athletics, San Diego Padres, San Francisco Giants and Seattle Mariners doing the honors this year, but all with more modest rollouts than we recall in the past..
#OpeningDay for @Athletics as they play against the @Angels! Don't miss a moment of the action as the 2 #LED video scoreboards and ribbon displays bring you close to the on-field excitement! But that's not all… Check out more here https://t.co/pZ5uUOin8E #FanExperience pic.twitter.com/TGRAL8DIcd

— Diversified. (@DiversifiedUS) March 28, 2019
#OpeningDay for @Padres against the @SFGiants ! Catch the score on the new #HD Scoreboard to get the best #Fanexperience possible while you're watching the game! Wonder how the funny videos are being shown on the big screen? Click here https://t.co/2VNYjeLLag @Sony pic.twitter.com/p3w6opnBea

— Diversified. (@DiversifiedUS) March 28, 2019
Your first action on the new scoreboard. pic.twitter.com/uOcaQuwr4E

— John Shea (@JohnSheaHey) March 26, 2019
Happy #OpeningDay for the @Mariners in #SafecoPark! Check the replays on the new 4K LED scoreboard to get the best #FanExperience! Have some spare time during the #7thInningStretch? Get the full story of our project here https://t.co/ldNL0ZeHjm #TruetotheBlue #Canyouimagine pic.twitter.com/3aWcApt1GD

— Diversified. (@DiversifiedUS) March 28, 2019
MLB Teams Ask for an Arm and a Leg…and an Eyeball
That doesn't mean, though, that baseball fans across the U.S. and in Toronto won't see plenty of new technology in their favorite ballparks starting today for Opening Day 2019. They'll just have to look a little harder to find it or notice that it affect them and their game-day experiences differently.
The Minnesota Twins will unveil a Dante audio network platform from Audinate this season at Target Field, while the Tampa Bay Rays became the first team in Major League Baseball to create a cashless transaction system for fans at Tropicana Field, later being joined by the NFL's Atlanta Falcons and MLS' Atlanta United.
Meanwhile, several more MLB teams will be embracing the future of ballpark entry but incorporating biometric ticketing and concession systems in a pilot program between Major League Baseball and Clear, the company that uses fingerprints and facial recognition systems at airports and other places.
In this age of social media, most fans probably won't think twice about tapping their fingers or having their eyes scanned as they enter the ballpark, but maybe they should.
Clear members can link their profiles with their MLB.com accounts and use their fingerprints or faces rather than a paper ticket or even a mobile one on their smartphones. [Personal aside: Setting aside the potential for data breaches with this sort of setup, let me renew my objection for such technological "advances" for the simple reason that it means I won't have ticket stubs as souvenirs from the ballpark anymore.]
In this age of social media, most fans probably won't think twice about tapping their fingers or having their eyes scanned as they enter the ballpark, but maybe they should. While Clear and MLB both say they have no interest in retaining this biometric data, there's really nothing stopping them from doing it, with no federal laws in this regard and only three states saying it's not kosher to collect info this way.
MLB is spinning the initiative as a way of adding another level of security to fans' ballpark experiences, but this is definitely something worth watching—and worrying about when and how it will be compromised.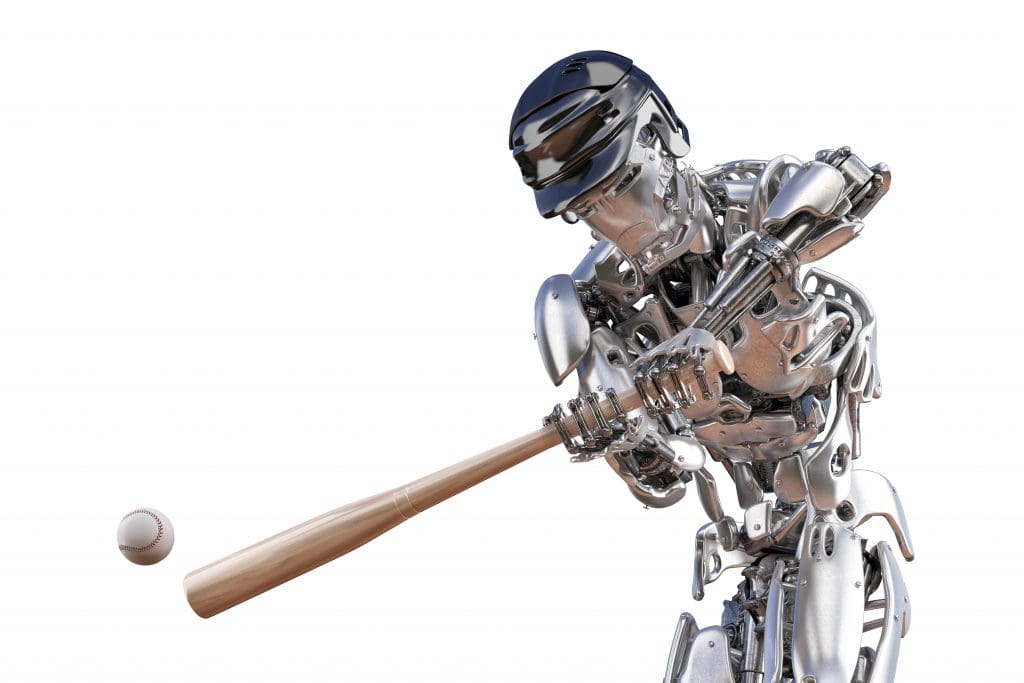 Tech Advancements You Can't See
Meanwhile, Major League Baseball players themselves—and their coaching staffs—are always looking for new technology to help them gain an advantage over their opponents. No, we're not talking about the short-lived controversy that saw the Boston Red Sox accused of using smart watches to steal signs from their opponents.
This technology, both for the hitters and pitchers, is embraced and encouraged.
Pitchers are becoming increasingly reliant on the super-slow-mo Edgertronic camera—which captures 1,000 frames per second—to help them tweak their mechanics between outings. The system can turn a second of time into a minute of video while displaying a sharp image.
The TrackMan radar system helps pitchers notice if they're doing something differently than they normally do and Rapsodo, a radar/optical system that describes the characteristics of a pitch, provides quick feedback, especially when paired with the Edgertronic camera.
Edgertronic is a lens-free system, so it can be used with a tiny lens suited for closeups or massive telephotos that can pull a quality image from hundreds of feet away. The Houston Astros were among the first teams to embrace it, although Cleveland Indians pitcher Trevor Bauer invested in the company several years ago.
And, while fingerprints and eyeballs may soon replace paper tickets at a ballpark near you and cash—the former king—is being relegated to pauper status in some sports arenas, the Astros are cutting much of their scouting staff in a move that's reminiscent of the recent use of robots in Stop & Shop supermarkets, replacing those actual people with an Edgertronic system.
Yet, we still can't get a robot to replace umpires who blow calls regularly and still get it wrong even after reviewing the replay that shows they made a mistake.
Oh well, maybe next year.