Add-On Soundmasking Sales are Business Rocket Fuel
RedRock Technologies leverages its relationship with Lencore to deliver soundmasking that earns high margins and delivers everyday benefits.
Content from our Sponsor
Leave a Comment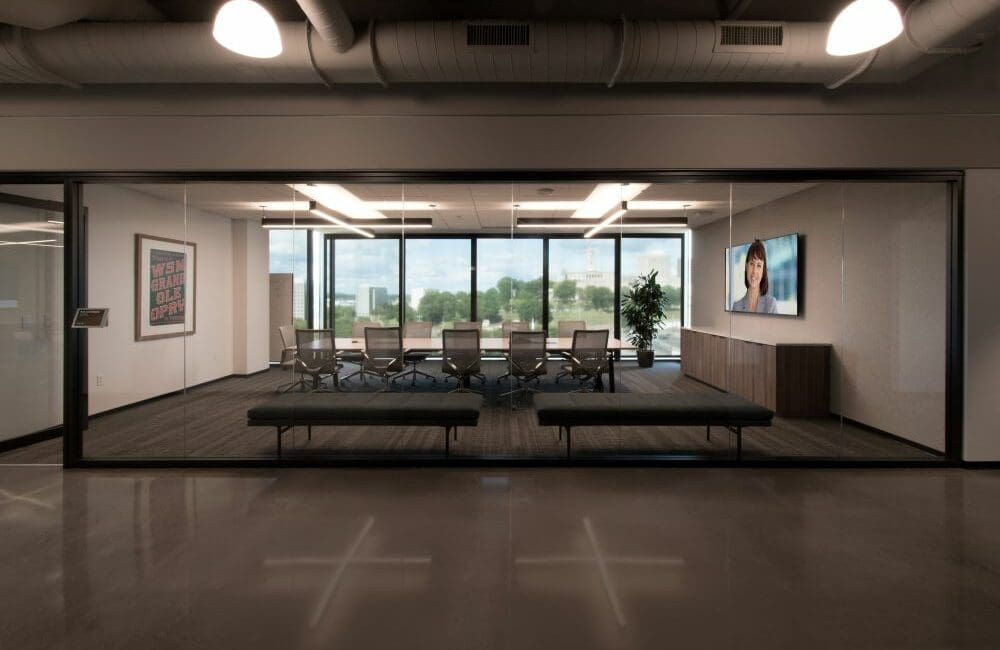 Over the course of 20 years, a company is bound to undergo major changes. Few businesses, however, have so fully come into blossom as Irvine, Calif.-based RedRock Technologies, Inc. Tom Swanecamp, founder, founded the company in 2002 as a commercial cabling house. According to Patric McNeff, general manager, southern California operations, the onboarding of Randy Jara as partner represented the start of RedRock's involvement in security integration. "That's when we became a 'smarter' company, to use more of today's terms," McNeff adds.
And, indeed, RedRock has grown amazingly not only in size but also in capabilities. Today, the company boasts 200 employees and an 8,000-project-plus résumé. It has become a true full-offering integrator capable of handling commercial and MDU residential environments, including having core competencies related to Wi-Fi integration, emergency responder radio communications systems, fire-alarm systems and more. "We have a full, in-house design squad, as well," says McNeff, who explains that RedRock's business is a mix of design work and design/build jobs. The firm's competency even extends to AV technologies, with the team handling "lightweight" AV projects themselves and leaning on strategic partners for "heavyweight" AV projects. Taken together, this offering has made RedRock appealing to A-list clients, including Google, Lennar, Shea, The Irvine Company and many others. "A lot of big players and prestigious names," McNeff says with pride.
Leveraging Soundmasking
According to McNeff, although soundmasking doesn't often get RedRock in the door with a client, it has been extremely beneficial to tag it onto existing projects. "It's an add-on item that is very easily sold," he declares. Analogizing soundmasking to the din of noise on an airplane, McNeff explains, "You don't hear everybody else talking because there's that 48dB to 55dB level that the engines create." In short, soundmasking takes a quiet space, where audio travels too freely, and overlays a subtle base level so that people no longer can hear every little thing. "It just means that those in the immediate area can hear each other well," he adds, "but, for everybody beyond the immediate area, it turns into background noise and unintelligible audio."
Soundmasking is critically important in a host of verticals — chief among them corporate, healthcare and financial services — and we'll explore those shortly. Equally critical, however, is finding the right provider. That brings us to Lencore, which RedRock first encountered on a jobsite more than four years ago. "We were very impressed with their communication," attests McNeff, who adds that, when RedRock first saw Lencore's designs, their accessibility wowed the team. "Hey, this has been broken down to the point that we can install this," he recalls thinking. Although RedRock had existing relationships with other soundmasking providers, the fact that Lencore's designs are functional and digestible for technicians in the field — they don't require you to be an expert — proved an essential differentiator.
Another positive distinguisher for the Huntington, N.Y.-based soundmasking specialist is its commitment to stand shoulder to shoulder with its integrator partners. "They're there," McNeff declares. "They show up." In fact, he points to a time that Lencore traveled to RedRock's offices when a key client — a consultant — was onsite for a walkthrough on behalf of a potential new customer. "They did some demoing here in our office space and sold the customer on a really nice-sized project," he enthuses. "Fantastic!" Lencore's willingness to give that consultant, who is a major revenue source for RedRock, a full-on testing experience in the integrator's open-office area made all the difference. "She needed to offer her customer, 'This is what soundmasking is, and this is the finished product and what you gain from it,'" McNeff continues. "They definitely won over the customer with the knowledge."
Not Bread and Butter
As noted, soundmasking isn't necessarily RedRock's bread and butter, but it's a fantastic add-on item for commercial projects that the integrator undertakes. That sale is even easier now, post-pandemic, with many companies having downscaled their office spaces and, thus, now packing people more densely. "Soundmasking — more today than ever — is extremely important because you just don't have the separation," McNeff explains. He says, these days, most enterprises no longer have the luxury of a cordoned-off executive row. Clearly, sensitive conversations are still occurring, which means soundmasking is a virtual necessity for open-office configurations and when offices have glass walls. "It's a very sellable thing in an open-office environment," McNeff emphasizes, adding that it not only commands a nice margin but also makes RedRock look even better to customers because they experience a tangible benefit every day.
Corporate enterprise just scratches the surface of the vertical-market applications of soundmasking technology. Specifically, McNeff points to healthcare applications, financial services, legal services and any other environment where sensitive information must be kept confidential. "To get that privacy that [these clients] absolutely demand, soundmasking is the way to achieve it," he states. "That conversation about your personal information — whether it's health, whether it's finance or whatever it may be — stays more personal in this environment."
Benefits of Lencore
"There's only a few things in our portfolio that we consider we have a strategic partnership with," McNeff says, adding, "Lencore is definitely a partner." That's not only because of the soundmasking specialist's willingness to come onsite and help in any way possible but also because the technology itself is hugely appealing to customers. McNeff specifically commends Lencore's frequencies and compares them favorably to others, about whose sound people have sometimes complained. "Lencore's [frequencies] are fantastic," he declares. "Very easy…sits nicely in the background…not as noticeable. It comes across as maybe an air-conditioning system that's operating above the ceiling."
Matching Lencore's unintrusive sound is its unobtrusive aesthetic. Installation is flexible, with an option to install the speakers visibly or, more commonly, out of sight above a T-bar ceiling. "It just goes away…doesn't draw any attention," McNeff enthuses, saying that people can enjoy the product's speech-privacy effects without being distracted by conspicuous speakers. And, he adds, installation is a snap, dramatically simplifying tasks like leveling, which, with other providers, can be more difficult. "This product…you put it in, and it basically falls into the pleasing, level, plum position," McNeff says with a smile. He chalks up RedRock's success with Lencore to the company's designs, calling them buildable, workable and requiring no changes. "What they give us, as the installer, has been the best we've been given by anybody," McNeff attests.
Visions in Alignment
When it comes to customer centricity and commitment to excellence, RedRock and Lencore are in complete alignment. In particular, McNeff cites Lencore's gracious willingness to come out to jobsites for system commissioning, tuning and final presentation. "They're ultimately accommodating," declares McNeff, who notes that tunings sometimes take place after hours or on weekends. "They understand it's not on their schedule; it's on our customer's schedule." RedRock routinely meets with Lencore hours before the customer arrives. Together, they review everything and commence the balancing and tuning process. "The in-field, on-the-job training they give us when we commission something is fantastic," he says. "Their knowledge is accessible to my installers and my people."
Harking back to the customer that Lencore helped RedRock win by traveling to its offices for a demo, McNeff says candidly, "We had no idea it would be the windfall it was." And that's a good way to think about soundmasking across the breadth of the integrator's portfolio. Although soundmasking might be an add-on sale rather than a door opener, it offers the kind of healthy margins and tangible customer benefits that have have meaningfully bolstered RedRock's bottom line over the last four years.
"Once we have that design in hand, success is the next thing to follow," McNeff concludes. And you can be sure that RedRock will continue to realize that success — and serve scores of customers well — by following that formula.
For more Commercial Integrator content from and about Lencore, check out our website archives.
If you enjoyed this article and want to receive more valuable industry content like this, click here to sign up for our digital newsletters!