Biamp's Winter 2021 Products: Processors, Speakers, Sound Masking, Paging, Automation
Biamp has released several new products, including audio processors, loudspeakers, paging systems, sound making systems and more.
Leave a Comment
Audio solutions manufacturer Biamp has released several new products Friday, including processors, sound masking solutions, paging systems, a new line of loudspeakers and new solutions designed to help system integrators design, install and tune AV systems.
The company released the six new product lines as part of its winter 2021 lineup, including the new TesiraFORTÉ X Series meeting room processors, Devio SCX Series conference room processors, the Cambridge Qt X Series sound masking solution, the NPX Network Paging Stations, the Desono Loudspeaker series, and the VenuePolar Focus Plugin for loudspeaker system design.
TesiraFORTÉ X Series
The TesiraFORTÉ X Series is a range of open-architecture meeting room processors designed to accommodate demanding conferencing applications that builds on the company's existing Tesira FORTE system by combining the advanced signal processing of that product with the streamlined network connectivity and a small industrial design to simplify meeting room deployments.
Essentially, the TesiraFORTÉ X Series provides all the connectivity and processing required in a single device.
It offers powerful signal processing, AVB and Dante network connectivity, POE+ device power, enhanced VoIP support, advanced automation and flexible mounting options.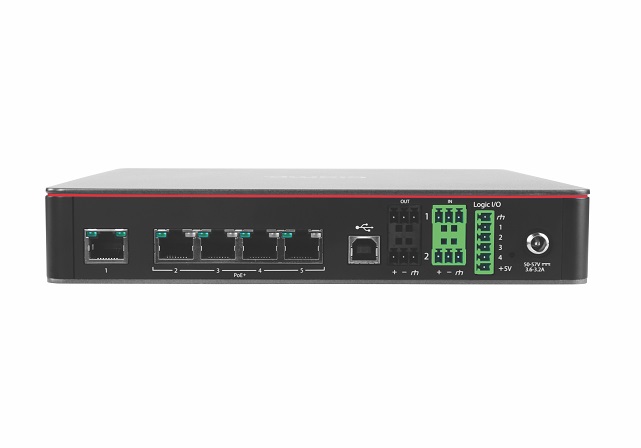 According to the company, the TesiraFORTÉ X Series combines the functionality of the current TesiraFORTÉ with the connectivity of the TesiraCONNECT in a design that is idela for unified communications and VoIP conferencing.
The three models – the X 400, X 800 and X 1600 – support four, eight and 16 channels or acoustic echo cancellation, respectively. That's enough for up to 16 Biamp Parle Beamtracking microphones.
New to this line is the company's one-touch automatic device discovery and tuning feature, Biamp Launch.
At the press of a button, installers can connect all of the devices in the room via a fully automated setup experience. That can dramatically reduce installation and setup time.
Each model has five network ports (four PoE+-powered) network ports and a USB interface for audio connections to UC host devices.
Devio SCX Series
The Devio SCX Series is a new line of conference room signal processors designed to deliver high audio quality and deploy with ease and speed.
It builds on the company's Devio platform –which is designed for huddle rooms and smaller conference spaces – by expanding it to larger conference spaces.
Like the TesiraFORTÉ X Series, the Devio SCX Series also features the company's new Biamp Launch button for one-touch automatic discovery and tuning of meeting room devices.
The processor will automatically detect the connected equipment and the feature takes care of the rest, including programming devices, measuring acoustics and tuning. It also produces an audio report card that helps installers optimize the room audio for all listeners.
The device features the Devio family's simple and efficient installation while adding the processing power required for larger spaces that was previously only available with the TesiraFORTÉ series.
The device is available in two models: the Devio SCX 400 that supports up to four Parle microphones, and the Devio SCX 800 that supports up to eight microphones.
It includes five (four PoE+-powered) network ports to connect other Biamp devices, along with a USB port to connect to UC host platforms. It is also the first Devio product to feature VoIP.
Read Next: Biamp Puts the Power of Charitable Involvement in Employees' Hands
Cambridge QT X Series
Biamp is calling the company's new sound masking solution the first to offer complete direct and indirect field sound masking in one easily manageable system.
In addition to sound masking features like speech privacy and reducing distractions, it also supports paging and background music with no additional components.
According to the company, the Cambridge QT X Series eliminates the need for additional independent systems for locations with both drop-ceiling and open-ceiling spaces.
This allows integrators to mix and match systems and unify the management and programming of all components in a single sound masking platform.
Designed to incorporate Biamp's QtPRO direct-field and DynasoundPRO indirect technologies, it is easily interfaced with a building's emergency systems and supports paging and background music sources.
It comes in eight different models that support Dante and AVB media distribution.
NPX Paging Stations
The NPX Network Paging Stations are a new line of intelligent and convenient paging stations that can be used with the aforementioned processors and sound management systems.
Integrators can easily add the NPX to a Tesira system or to the Cambridge QT X system. They are PoE-powered and feature 16 paging priority levels, default and customizable preambles and push-button security access.
The stations also allow for stored message playback for fast and convenient broadcasts.
The NPX series is available with gooseneck or hand-held microphones and can be mounted on the wall or tabletop in eight different configurations.
Desono EX Series Loudspeakers
A new line of premium surface mount loudspeakers for music or speech reinforcement, the Desono EX Series are designed for both indoor and outdoor use in presentation spaces, restaurants, hotels, bars, multi-purpose spaces, entertainment and sports venues.
The Desono EX Series includes 6.5-inch, 8-inch, and 10-inch two-way coaxial loudspeakers and as a 10-inch subwoofer.
Each model installs quickly thanks to two flexible mounting options, the company's ClickMount Pan-Tilt bracket or the ClickMount U-Bracket that allows for mounting in virtually any location or orientation.
VenuePOLAR EASE Focus Plugin
The VenuePOLAR Ease FOCUS Plugin helps installers streamline design and setup by automating loudspeaker system design for the Community IV6 Modular Vertical Array.
The plugin automates the process and removes the need to manually select a configuration out of an infinite number of line array configurations. It evaluates the options to find out that best meets the designer's objectives.