Here's How Tupac Martir's ISE 2019 Keynote Will Be Instantly Translated into 5 Languages
KUDO translation services will play critical role in translating visual artist Tupac Martir's ISE 2019 Closing Keynote into five languages.
Leave a Comment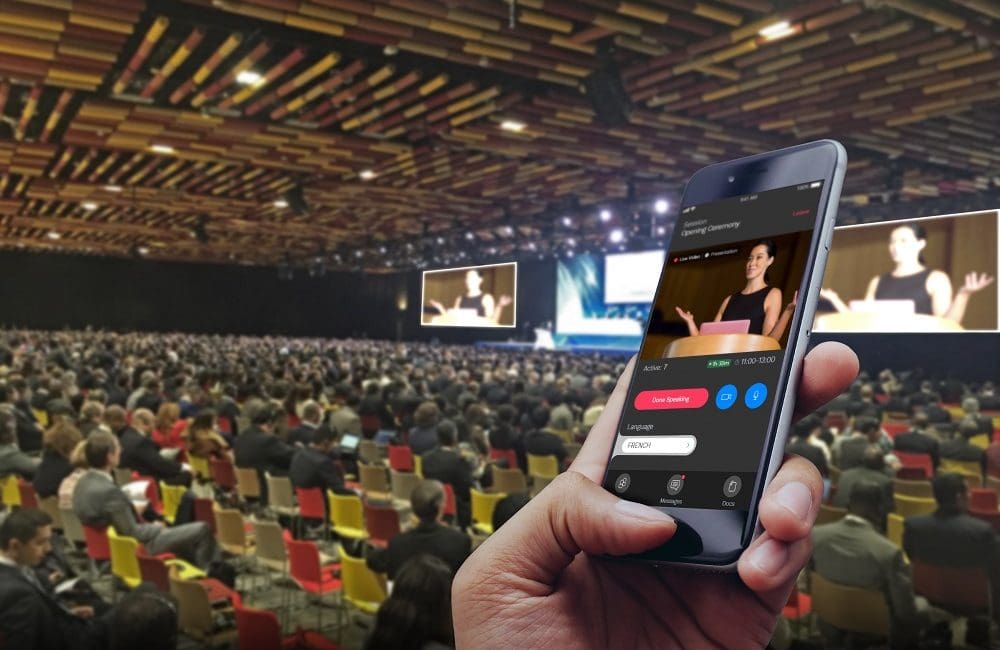 One of the challenges with a global tradeshow is, such as Integrated Systems Europe, is making sure that messages are landing clearly regardless of language barriers. It helps when there are exhibitors that are in the business of providing live language interpretation – and that will be the case during Tupac Martir's ISE 2019 keynote which will be instantly translated by KUDO service and Fardad Zabetian, CEO of ISE 2019 exhibitor Media Vision – The Conference Company is part of the team behind KUDO.
It's the first time a major ISE presentation will feature live language interpretation — English to Spanish, French, Italian, Portuguese, Chinese and Japanese — available free to attendees, according to a press release by Media Vision. With technology and translation services provided by KUDO audience members will be able select from five language streams while listening to the ISE 2019 closing keynote by Tupac Martir.
More on Tupac Martir's ISE 2019 Keynote Translations (via press release):
To enhance a connection between Martir and the multi-lingual members of ISE's international audience, KUDO is offering free access to its professional interpreters' simultaneous translation of the event. Martir's talk will be translated in real time from English to Spanish, French, Italian, Portuguese, Chinese and Japanese, while listeners may easily choose any of the language feeds via KUDO's intuitive app.

KUDO is a new technology company launched by Fardad Zabetian, founder and CEO of ISE exhibitor Media Vision – The Conference Company (Stand 3-C120), provider of interpretation equipment for such clients as the United Nations and the IMF/World Bank. Seeing an opportunity to expand the existing conference space and address a growing need for multi-lingual support in the global enterprise market, Zabetian created KUDO to help make high-quality language and conference services affordable and accessible through cloud-based technology.

"ISE is a show of many languages, and we're happy to support the Closing Keynote experience with a multi-lingual platform that fosters true understanding and engagement," says Zabetian. "At KUDO, we believe technology and language foster creativity and bring people together, and we hope our translation platform can help enhance the conversation between Tupac Martir and his audience."
More on KUDO Language Services
With more business canvassing the world today than ever before, you're sure to find yourself in a position where there's a language barrier preventing you from closing the deal as quickly as you'd hoped. The second generation of KUDO simultaneous translation hopes to prevent that complication.
KUDO's cloud-based platform for live meetings and web conferences with built-in simultaneous interpretation represents "a revolution in technology for multi-lingual communication," says Fardad Zabetian, CEO of Media Vision, who's part of the team behind KUDO.
"I'm passionate about enabling people to communicate with each other in different languages," says Zabetian. "KUDO was born to address very specific needs. There's a huge value for people to meet in person but we realize how many meetings today are in the cloud and using video collaboration."
Although global business is commonplace today, more than two-thirds of people in the U.S. meet only by videoconference, says Zabetian.
"There's a missing layer of language in the other platforms and we're assuming people we're talking to understand what we're saying," he says.
"Even the largest organization is facing problems with communication," says Annabelle Gazzo, marketing director at Media Vision.
"Clients have very high standards. KUDO isn't trying to replace any existing technology; it's more to supplement what's out there now. There's a synergy with existing technology."