Why 6K Displays? Prysm Will Let Its New LPD Product Speak for Itself at InfoComm
6K is on display at the Prysm InfoComm 2018 booth (#N1245). We hear more from the company about where the LPD 6K displays have a place in the market.
Leave a Comment
If Integrated Systems Europe was any indicator, the show floor at InfoComm 2018 is likely to be pretty packed with high-res solutions. The mad rush towards anything higher than 4K — even up to 16K — seems in full swing. And the Prysm InfoComm 2018 booth (#N1245) is no exception.
Hannah Grap, VP of corporate marketing and demand generation at Prysm, says the company is about to unveil their Prysm LPD 6K Displays for the first time in a public setting.
The large, no-bezel laser phosphor interactive display (LPD) supports up to 6K x 2K resolution and, according to the company, can reproduce over a billion discrete colors.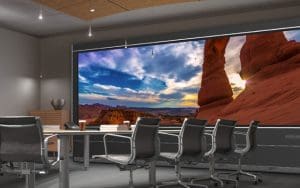 "It's a technology that people really need to see in person to understand its full impact," Grap says. Learn more in the video above.
Finding the Market for 6K
In an age where both consumer and commercial tech screens are just expected to look crisp and realistic, it is understandable that manufacturers are increasingly coming up with higher and higher-res displays, even if it sometimes seems like the industry only just embraced 4K.
But Prysm says their existing and prospective customers have already shown interest in those higher resolutions. One of those customers will be at the Prysm InfoComm booth to explain why it's worked for them.
Read Next: 7 Most Innovative Content Creation Products of 2017: The Best 4K Video Encoders, Podcast Mics and More
Standard Process, one of the initial customers for Prysm LPD 6K displays, will share their experience using it at their Innovation Lab for medical practitioner learning programs.
More about the Prysm 6K Displays from the company:
LPD 6K is a fully interactive display, enabling you to extend its use beyond video and presentations into team collaboration. Its robust polymer surface is both impact and scratch resistant and supports up to 30 unique touchpoints; perfect for your company's most interactive meetings.