4 Key Lessons from ISE 2018 the AV Industry Should Pay More Attention To
Integrated Systems Europe (ISE 2018) featured some surprises…and re-confirmed trends we already knew were big in pro AV. Here are 4 of the most important.
Leave a Comment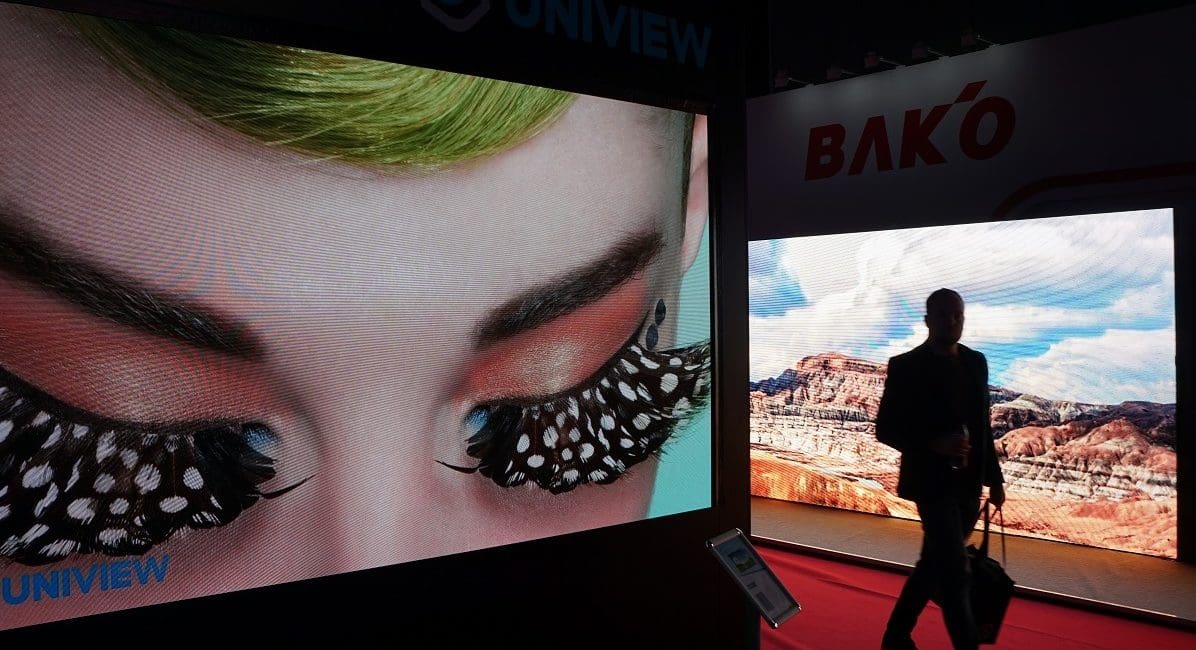 The reverberations from Integrated Systems Europe (ISE 2018) are still bouncing around our minds here at CI: what will the business conducted in Amsterdam this year mean for the pro AV Industry going forward?
After roaming the 15 halls and covering the show with podcasts and product round-ups, we can't help but reflect on the following implications gleaned from ISE 2018…
There's a future for VR & AR in Pro AV
You might be in the camp that says, "there are little-to-no viable applications for AR & VR in systems integration." But you might be wrong.
Many of these service providers and manufacturers struggle to put to words exactly how their "futuristic" tech benefits AV installation. Dan Gordon, the solutions architect for Holovis International, doesn't have that problem.
He says that, for one thing, AR and VR aren't likely ever to be off-the-shelf products. They're more likely to be integrated solutions, customized for customers' needs. Sounds like a theme AV integrators can get behind, right?
So which are the markets most ripe for AR/VR integrations? The most immediate is entertainment — but that's far from the only one, and there may be others with greater potential.
It hit me one day during this year's Integrated Systems Europe: CONTROL ROOMS! Of course! "Mission critical" applications where a large amount of space or a complex item needs to be monitored from one room or a limited amount of screens. It doesn't take a sci-fi movie buff to picture that one.
But education is another. Imagine being a student in the heartland of the United States and stepping right up to the Incan Ruins. Or, more technically: a medical student at a school with a shortage of corporeal volunteers.
You may also consider familiarizing yourself with this technology if you service large corporations or government clients who regularly train employees on complicated systems. Training is, according to Holovis, an influential market application to watch.
Video resolution remains a moving target…
ISE 2018 had more screens in one place than I would have otherwise seen in a lifetime. And all of them were incredibly high definition.
That appears to be the latest mad rush on the engineering front. Manufacturers crank out screen after screen, each one of them capable of 4K, 8K, and even 16K resolutions.
Whether or not the use cases are there for this insanely crisp imagery is up for debate; however, consider that social media culture necessitates corporate entities and media outlets (like us) to create compelling digital video.
With the rise in demand for well-produced, crisp video content, one can safely assume that standards might change on the hardware side. If everyone is used to the pixel-less imagery on their phones, they balk at a digital sign or video wall display that features obvious pixelage.
…and there's room for AV integrators to add video production to their services
If you read the above point, than you should already be thinking about content creation. Yes, we're serious.
There are plenty in the AV integration industry that don't want to hear it — but ISE 2018 isdid little to dissuade us from our contention that more integration firms need to offer their customers content creation services.  We've even called digital signage content creation the "secret to profitability."
We get that adding what is a essentially a small video production house to your already-complicated business is probably not viable for many.
However, many integration firms recognize that the reason their customers are investing in video solutions — video walls, displays, video distribution — isn't because they love the hardware; they're excited about possibilities around video content.
Quality manufacturing is still a key selling point
I was frankly a bit surprised to find over five separate manufacturers on the Integrated Systems Europe show floor which exclusively manufacture their products within the United States.
With ISE being such a global show — and with the difficulties that USA-only manufacturers face — I simply didn't expect to see many "made in America" stickers.
Of course, this is only relevant for our readers who live or work in America. But I bring this up to shed light on a broader theme: people in this industry seem to care about production cycles, where and how their chosen products are made, and the overall quality of any given pro AV operation.
It seems like a stupidly-simple point, but remember the lessons learned by our neighbor, the consumer tech market: the mantra "just make it overseas," out of view of the watchful consumer, seems to be the mantra there. We should be thankful that's increasingly not the case in AV.
Learn more about Integrated Systems Europe here.