The Most Popular AV Products in 2019: But What About Audio?
Video displays certainly top the list of the most popular AV products categories in 2019 — but what about the importance of audio?
Leave a Comment
AV products related to video displays continue to drive the growth of the industry. An impressive 46 percent of those surveyed for the 2019 State of the Industry Report expect to see "a great deal" or "quite a bit" of growth in video related projects in 2019.
Add to that the 39 percent that expect to see that same level of aggressive growth in digital signage projects.
It seems like the proliferation of video displays is providing AV integrators with a windfall of AV products opportunities.
This could stem from the concept that customers across pretty much all vertical markets embracing digital signage for branding and communication, or from the fact that most meeting rooms now require video for unified communications and collaboration.
UCC Also Growing
Speaking of UCC, that's another strong category with 39 percent predicting "a great deal" or "quite a bit" of growth in 2019. During 2018, Commercial Integrator conducted a survey on the state of video collaboration in the integration market and found lofty growth expectations.
That survey saw nearly a quarter of integrators reporting that their video collaboration revenue would be up at least 20 percent during 2018. Overall, 65 percent of those surveyed were seeing year-over-year growth in their video collaboration business.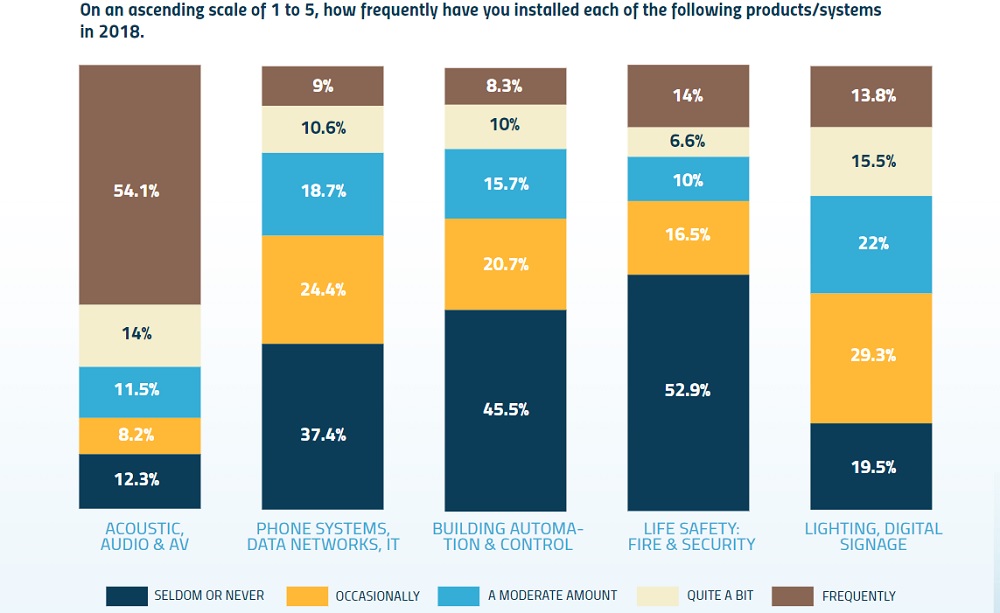 The Trouble With Audio
Audio, meanwhile, is an interesting category because, according to CI's separate readership survey, it shows up in virtually every project in which our audience works.
However, our survey conducted in 2018 on the state of meeting room audio in the integration market concludes that significant money is being left on the table — largely because customers prioritize video over audio.
In a meeting room project, for instance, we previously mentioned the demand to add video for UCC applications. However, the audio end of those conferences tends to take a backseat.
Listen: Inside Our 2019 State of the AV Industry Report: Episode 39 of AV+
Asked about how their typical meeting room audio customers prioritize different meeting room solutions, video display, video conferencing, video collaboration and camera for video conferencing all were reported to be higher than microphones and loudspeakers.
The irony, of course, is that meetings can take place without video but often not without audio.
If you enjoyed this article and want to receive more valuable industry content like this, click here to sign up for our digital newsletters!