Getting to Know LED Display Solution Provider NovaStar
LED display solution provider NovaStar is expanding its presence in the United States and making a name for itself in the crowded LED market.
Sponsored Content
Leave a Comment

Innovative LED display solution provider NovaStar, known for its LED display controllers and calibration solutions, has been making an impact in the North American market. Integrators and consultants unfamiliar with the maker of dynamic visual display solutions ought to learn more about the company that was founded in 2008.
NovaStar got off to a quick start, supporting the 2008 Olympic Games in Beijing. Soon after in 2013 it made its U.S. market debut with the introduction of the MCTRL300 LED controller.
"Rather than simply creating a variety of LED control products, we first analyze the needs of various applications and then create a series of products tailored to the specific needs of the application." —John Zhan, NovaStar
Since then, NovaStar's presence in the U.S. market has steadily grown with the introduction of products like the MCTRL660 Pro, NovaPro HD, VX4s and MCTRL4K.
As such, the company continues to gain traction among pro AV installers.
"Our favorite thing about NovaStar is that they are always listening to customer feedback," says Shannon McNealy, marketing manager for integration, rental and staging provider ABCOMRENTS.
"They continually update products to meet the high demand of today's rental and staging market which makes our jobs so much easier."
An example, according to McNealy, is how NovaStar keeps pace with integration firms by updating its product line.
"With the addition of fiber in their new 660 and HD model, LED walls can be controlled at greater distances," she says. "NovaStar is definitely a first choice for hardware and software for LED walls."
Meanwhile, audio-video-lighting provider Blizzard Lighting calls NovaStar's products the key to its success in the video market.
"They are innovators, place a high value on product quality, and are all-around good people to work with," says a representative from Blizzard Lighting.
"There's no other company we'd rather have provide our processing hardware."
We talked to North America regional manager John Zhan to get more insight into what makes NovaStar tick.
CI: What makes NovaStar's approach to video different?
Zhan: NovaStar decided to approach the market in a different way than other companies in the industry.
Rather than simply creating a variety of LED control products, we first analyze the needs of various applications and then create a series of products tailored to the specific needs of the application.
These tailored solutions include low latency, stage rental, digital signage and more, and make it easier for clients to find a solution that works for their specific application.
Zhan: We've got a really great R&D team that we rely on to keep apprised of industry trends. We try to be the first to market with products that meet the requirements that we think clients are going to have, often before they even become the industry standard.
The MCTRL4K is the first controller in the industry to fully support HDR10.
HDR is just starting to become more widely used in the LED industry, and we expect it to become the new standard for applications needing the best image possible. This is a good example of how we stay in front of these industry trends.
CI: What are some key NovaStar video products integrators should know about?
Zhan: Our MCTRL4K has been really well received. It was the first 4K controller in the industry, and also the first to support HDR10. What we've done lately is refined the HDR10 standard into something we're calling HDR-Optima.
This standard is tailored specifically for LED screens to get the best HDR result and, of course, the MCTRL4K already supports this new standard.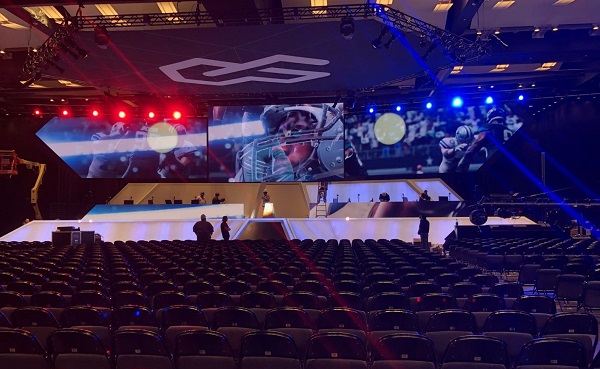 CI: What are a couple of examples or projects where NovaStar solutions are deployed?
Zhan: NEP Screenworks and PRG Worldwide Entertainment Technology Solutions are two really big rental clients that use NovaStar tech.
We've also been a part of some really big events in the U.S., including Esports Stadium in Arlington, the largest dedicated esports facility in the U.S.; WWE; and the Electric Daisy Carnival.
CI: How do U.S.-based integration firms get NovaStar LED display products?
Zhan: We have our own sales team, and we also have some authorized distributors that carry NovaStar products.
CI: Does NovaStar have plans to expand its U.S. presence?
Zhan: We currently have an office in Las Vegas. We're also in the planning stage for a new bigger office with a demo room, training center and more.