Review: We Took the FS5 II and PSW-Z90 Sony Pro 4K Cameras To a Trade Show, Here's How They Performed
The FS5 II and PSW-Z90 Sony Pro 4K Cameras provide users with a choice of easy-to-use cameras that are suitable for a range of applications.
Leave a Comment
We took the new FS5 II and PSW-Z90 Sony Pro 4K cameras to CEDIA Expo 2018 to help us better capture the sights and sounds of the show — but we also figured readers would be interested in how well they performed at such a demanding event.
West Coast digital marketing professional Andrew Smith featured the cameras as central components in Commercial Integrator and CE Pro's multimedia coverage of the show. Here's what he had to say about their experience.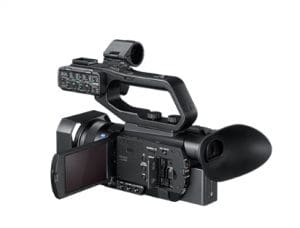 Sony Pro PSW-Z90 Specs Summary:
4K video with HDR capabilities
ZEISS 12x zoom lens
high-res OLED viewfinder (0.39-type, 2,359k dots) with touchscreen control
Super Slow Motion recording offers up to 960fps
One of three new palm camcorders Sony Pro introduced towards the end of 2017, the PSW-Z90 incorporates the company's Fast Hybrid AF system.
According to Sony, this technology helps to ensure accurate focusing and tracking during shooting through the use of 273 phase-detection AF points that cover more than 80 percent of the shooting area.
Sony Pro FS5 II Specs Summary: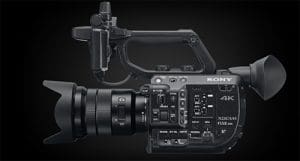 FS5 II produces a true 4,096 x 2,160 resolution with HDR
high frame rate recording to an internal SD card at full HD 10-bit 4:2:2 image-quality levels
frame rates up to 240fps
10x slow motion to capture 239.76fps at HD or 2K
lightweight at 0.8kg, supports grab-and-go shooting
Related: Sony Pro Explains: Future of Pro Video is 'Lens to Living Room'
Sony Professional says that it recently expanded its selection of Large Format Sensor products with the launch of the FS5 II body and the PXW-FS5M2K lens kit.
These products deliver a true 4,096 x 2,160 4K resolution, along with HDR and 120fps at 60Hz, and RAW capabilities.
How the Sony Pro 4K Cameras Handle
Videographer Smith noted how he went through the cameras' menu systems the day before the show, familiarizing himself with the Sony Pro FS5 II and PSW-Z90 4K features.
"Once you find things, it's pretty easy… there was no hardware limitation, there were no extremely difficult settings I needed to find," he recalled. "It just took a little bit of tinkering up front."
Smith notes the PSW-Z90 is basically a point-and-shoot camera. "It's a handy cam with very nice specs."
The FS5 II is a more advanced camera, so it requires more from users to not only familiarize themselves with features, but to assemble accessories to meet usage demands.
FS5 II hardly needs a gimble
One of the features Smith noted on the FS5 II was its built-in handle with user controls. He says he didn't really have to use a gimbal or shoulder harness to comfortably use the camera while walking all around a large trade show floor.
Quick access to slow-mo
Smith stresses a favorite feature built into cameras and their similar menus systems was the S and Q function that allowed him to switch between frame rates and slow motion without having to enter the camera's menu system.
"You are able to toggle your frame rate quickly and toggle it back," he explains.
"I thought that was one of the better features. Also, I didn't use it much, but there is a built-in ND filter built into the FS5 II, which is great."
Final Thoughts on FS5 II & PSW-Z90
Smith called the FS5 II a step up from prosumer level to a pro standard.
"You didn't have to use any lens attachments, you didn't have to use any filters or anything because it is built in. So if we were doing more outdoors, that would have come in handy a lot. The variation of color profiles available was awesome, too."
Smith says the PSW-Z90 is a point-and-shoot product with 4K capabilities. It's one of the easiest solutions to use for "run-and-gun" situations where you don't want to think too much about the content, but still want it to look good.
Smith admits the same basic comments could be said about the FS5 II, but because of its advanced capabilities, you have to be "more deliberate" using it.
He says the jump in terms of features and performance from the new Sony Pro 4K Cameras or Alpha Series products to the FS5 II needs to be accounted for in order for users to maximize its full capabilities.
"It is definitely the next jump before you start getting into the baby-Hollywood-level equipment."