A Guide to AV over IP Products at InfoComm 2018
AV over IP products will dominate InfoComm 2018 as the AV industry accepts what was once a shunned technology. Learn where to find it on the show floor.
Leave a Comment

The very first article I wrote for Commercial Integrator won me the job. It was a "test" article — assigned to me after the final interview — about AV over IP products clawing their way towards acceptance in the AV industry (read it here). Editor-in-chief Tom LeBlanc liked it so much, he let me publish it.
This was a couple of weeks before InfoComm 2017. I won the gig — and AV over IP won solid acceptance at the show.
So you can hardly blame me for wanting to write about it this year. Especially after a study published last fall suggests AV over IP products sell like hotcakes and will continue to do so.
According to the report, AV over IP encoders/decoders will continue to experience a year-on-year increase of 130 percent.
So, if I may be so bold as to make this statement heading into InfoComm 2018: If 2017 was the year AV over IP was officially "accepted" in the AV industry, this is the year it expands. 
AV over IP Training at InfoComm 2018
Before you feast your eyes on the seemingly endless tables of IP-enabled black boxes, you'll want to be sure you can maximize their use in your installations. Thankfully, there's a course, training session, workshop or lecture for any subject at InfoComm 2018 — and many of them have to do with IP.
Here are a few training sessions to consider attending:
SDVoE Alliance (Booth #N720): 20-minute, in-booth training sessions that begin on the hour and half-hour throughout all three days of the show
Aurora Multimedia (Booth #C2300): Tuesday, June 5th, 10:30 am to noon, IPBaseT solutions course
AVoIP and SDVoE System Designs: Westgate Hotel, Pavilion 10, Thursday June 7th, 10:30 am to noon
AVoIP: LAN vs. Cloud: Westgate Hotel, Pavilion 10, Thursday June 7th, 2:30 to 3:30 pm
AVoIP Forum: Westgate Hotel Ballroom G, Friday June 8th, 9 am to noon
Alliance for IP Media Solutions: Westgate Hotel, Pavilion 10, Tuesday June 5th, 10 am to noon
AV over IP Products at InfoComm 2018
Here are just a few of the many AV over IP products that tout AVoIP functionality at InfoComm 2018: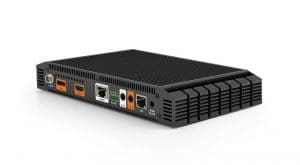 Booth N1564: Wyrestorm – NHD-600-TX 4K HDR Premium AV over IP SDVoE Encoder/Decoder
"Drawing on our years of experience in providing award-wining AVoIP solutions, the 600 Series combines the power of the SDVoE platform with WyreStorm's enhancements that make the real difference. 4K60 4:4:4 with Zero millisecond latency, Mathematically lossless transfer, an ingenious passive design for Zero maintenance, a unified software experience for our entire AVoIP family, Videowall and Multiview modes." – Nick Roberts, product manager

"New to our Evolution line, the EVO-IP HDMI over IP is a single HDMI over IP system that gives installers the capability to transmit, manage and receive audio/video while controlling hundreds of devices over a local network. Useful in any size application in both commercial and residential installations, the EVO-IP HDMI over IP transmits virtually lossless 4K@60Hz,4:4:4, HDR, HDCP 2.2 video, audio, and IR/RS232 control as a point-to-point, splitter, switch, matrix, digital signage and/or video wall solution." – Mark Corbin, President

"In the past, people used to worry about performance and latency of solutions delivered over the network, but with Userful that's not a concern.  We use a PC/Server on site and then connect to displays over the Local Area Network and can deliver 8k source video over the LAN with no latency. You can still manage the solution through the cloud, and yes, because it's software based and delivered over the network you also get all the benefits in scalability and flexibility you're looking for." – Daniel Griffin, VP of marketing

Booth N706: Christie – Terra
"Christie Terra is the first AV over IP switching and processing solution where the AV system directly processes signals for LED and flat panel video walls, providing audio visual signal distribution, control, processing and a KVM platform that operates from 10G networks." – Karl Johnson, senior product manager

Booth C2300: Aurora – IPX-TC3 10Gbps IPBaseT transceiver
"The IPX-TC3 is the World's First 10Gbps IPBaseT transceiver capable of 4K60 4:4:4 with a frame latency of only 100us (.1ms) offered in copper and fiber. The IPX-TC3 is the first ever 10G SDVoE product to have redundant fiber version and selectable copper fiber in a single unit. The IPX-TC3 also supports the new ReAX IP Control engine option (IPE-REAX-1) base on Javascript. ReAX allows full IP control automation throughout the network without the need of an external proprietary control engine." – Patty Wanzer, CTS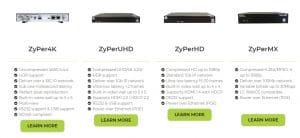 Booth C3980: ZeeVee solutions
"With what seems like every supplier jumping on the AV over IP bandwagon, it becomes critically important for integrators to thoroughly investigate the level of practical experience an equipment provider has with the technology. Integrators must understand what is 'in the box' and what stands behind the design and performance 'of the box.'" – Bob Michaels, president & CEO

Booth N946: BTX technologies – Capture, Record and Stream Appliance for AV over IP (K2140T0)
"It is extremely disruptive! Capable of recording, re-streaming and capturing both AV over IP and 3G SDI or HDCP-compliant HDMI sources, the K2140T0 has a familiar interface which allows cuts, wipes, dissolves, seamless transitions, and recording sources. Its price, for 4 sources plus an HDMI source, is about half of what similar AV over IP products have with only 2 discrete inputs." – Carl D'Agostino, manager of AV over IP solutions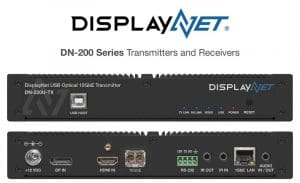 Booth C2809: DVIGear – DisplayNet
"Built on SDVoE technology, our DN-200 Series uses 10GbE Ethernet technology to switch, extend and distribute uncompressed AV signals in real time with resolutions up to 4K (UHD). Support is provided for HDMI 2.0 with up to 12-bit color, HDCP 2.2, DisplayPort 1.2, and High Speed USB 2.0. The high-performance scaler in both Transmitters and Receivers enables very Fast Switching, MultiViewer, and enhanced Video Wall processing." – Lisa Barlow Flournoy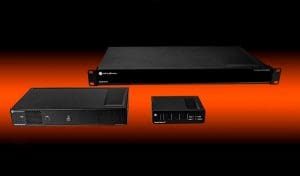 Booth C3576: Atlona – OmniStream 
"The beauty of the All-IP Meeting Space design is that it can be sized exactly to the quantity of inputs and outputs required, and be duplicated or adapted to various room sizes by modifying the quantity of endpoint devices. It's no longer necessary to create a customized system design for each meeting space, which greatly streamlines the system-design phase of an AV integration project." – David Shamir, Director of Product Management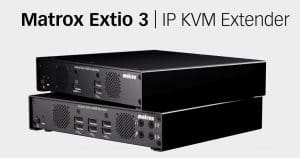 Booth N1322: Matrox – Extio 3 Series
"The Extio 3 is the world's first to support 4Kp60 4:4:4 video, keyboard, and mouse, as well as USB 2.0 and audio at low-bitrates over standard Gigabit Ethernet!"