Westbury, Backman Vidcom Teaming on Nova Centre Benefits Both Sides
Halifax Convention Centre too big for Backman Vidcom alone, but Westbury needed a local partner to secure the prestigious job.
Leave a Comment
We've all heard the expression, "if you can't beat them, join them." A pair of Canadian integration firms teamed up recently to outfit the Nova Centre, part of the three-phase Halifax Convention Centre project, acknowledging neither would have been able to do it alone.
Westbury National has built a reputation as one of Canada's top AV integration firms and takes pride in its custom-made solutions, while Backman Vidcom is a growing Halfiax, Nova Scotia-based firm, but wouldn't have been able to take the lead on such a massive undertaking with only 17 total employees. But they teamed up and pulled off what some might've called impossible.
This isn't the first time Westbury has reached out to one of its competitors to deliver a successful outcome for its customers recently either. They teamed up last year with Applied Electronics and design consultant Smith + Anderson on Canon's Toronto headquarters building.
Setting Up the Nova Centre Parameters
For the Nova Centre job, IBI Group hired Westbury as design consultant about three years ago, but Westbury "needed a strong local partner" to be able to move forward on their portion of the development, which includes a hotel, convention center, retail shopping area and condos, says Westbury VP of sales Brock McGinnis.
"A lot of AV companies look at each other with a bit of suspicion," says Backman Vidcom's Laurie MacKeigan. "We try to be friends with everybody. We're in a small market."
Backman Vidcom "was by far best suited" to join the application package, says McGinnis.
Laurie MacKeigan, who bought Backman Vidcom with Tom Murray about four years ago and now serves as president, says she isn't often shy about reaching out to big companies to talk about the chance to work together, although it's not something that's all that common. Maybe it's part of being PSNI Global Alliance affiliates, she says, where partnerships help companies reach new areas often.
"A lot of AV companies look at each other with a bit of suspicion," says MacKeigan. "We try to be friends with everybody. We're in a small market. This felt more like a partnership [than like two competitors working together]."
She notes Backman Vidcom had beat Westbury on a large job before Westbury reached out to partner on the Nova Centre "and we did a good job with it." Westbury and Backman Vidcom had bid against each other on other jobs, but there was no animosity between them.
"We trusted each other and knew we all want to do good work," says MacKeigan.
"Westbury's known as one of the top dogs in Canada," says Backman co-owner and VP of technology David Rudderham. "Working side-by-side with them opened my eyes to the quality of work we do. Westbury's attitude is 'the show must go on' and we share that same attitude. There's nothing too severe to stop you from completing the work you're hired to do."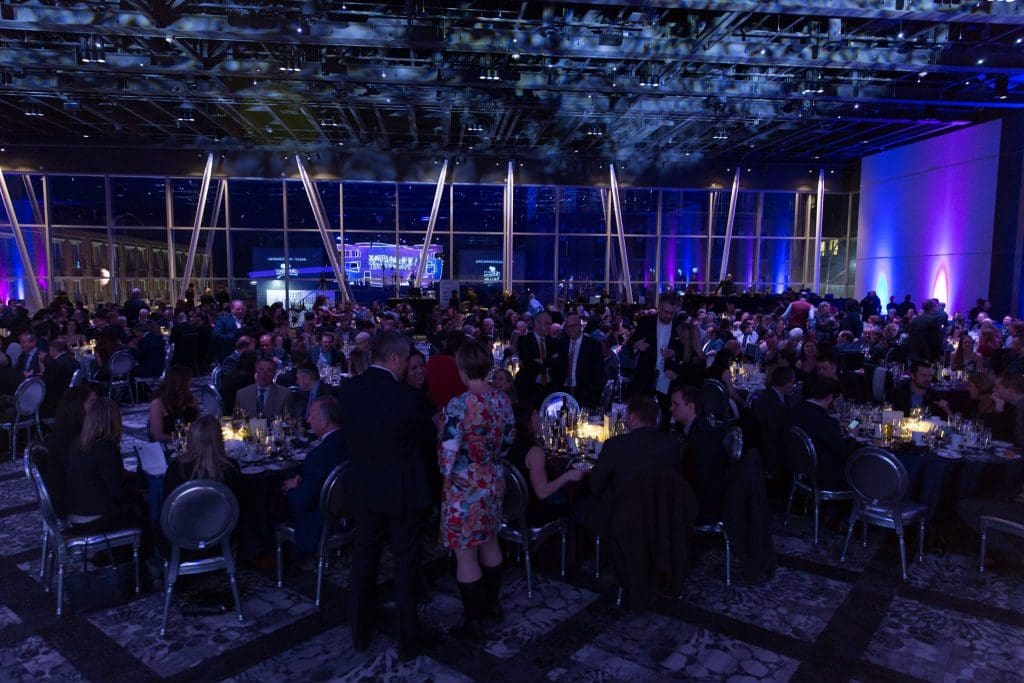 For the Nova Centre, Westbury worked on the design, then took on project management and engineering, along with commissioning the project. Backman Vidcom focused on the AV integration, a division of labor that proved to work for all involved.
"We wanted a clear, clear division," says Westbury's Brock McGinnis. "That helped to prevent any conflict."
"If we had tried to do it ourselves, it would have been a huge stretch," says Rudderham. "Westbury has a lot more resources."
Rudderham's crew installed all the AV and Westbury "was involved at the front and in turning it on," says McGinnis.
"We wanted a clear, clear division," he says. "That helped to prevent any conflict. [Working with a competitor] is a bit like a marriage. There's some pushing and shoving about who's taking out the garbage and who's doing the dishes, but there are shared risks and shared rewards. Doing it this way was the best chance of success. The client looked at it as a multiplier."
Rudderham was the lead installer of the old audio system at the Halifax Convention Centre, so that was one avenue in the door for the Nova Centre work.
"For them to be able to deal locally was probably the key part in making the deal," says McGinnis.
While both teams enjoyed the experience, that doesn't mean it was a pressure-free job.
"The building was a couple of years behind schedule so there was a lot of pressure to get it done as soon as possible," says MacKeigan.
Many Happy Returns
While there are no formal plans yet for Westbury and Backman Vidcom to team up on future projects, it seems likely in the right situation.
"I'm very satisfied having half a pie versus no pie at all," says McGinnis. "Compromise is a great solution. If you end up with a weak partner, you're just toast. Doing this project establishes them to do any kind of project in any market."
MacKeigan agrees, saying this arrangement helps her company participate in big projects they might not otherwise secure.
"We walked away with validation we're doing the right things, because what we do seems to mimic what Westbury does," says Rudderham.
Do you have a story to share about working with your competitors? E-mail me at cmaccormack@ehpub.com.