Drunk Unkles Generate $102,800 for NSCA Education Foundation at InfoComm 2018 Concert
Drunk Unkles annual fund-raiser brings total to more than $1.2 million for NSCA Ignite, PASS K-12 and other NSCA Education Foundation programs.
Leave a Comment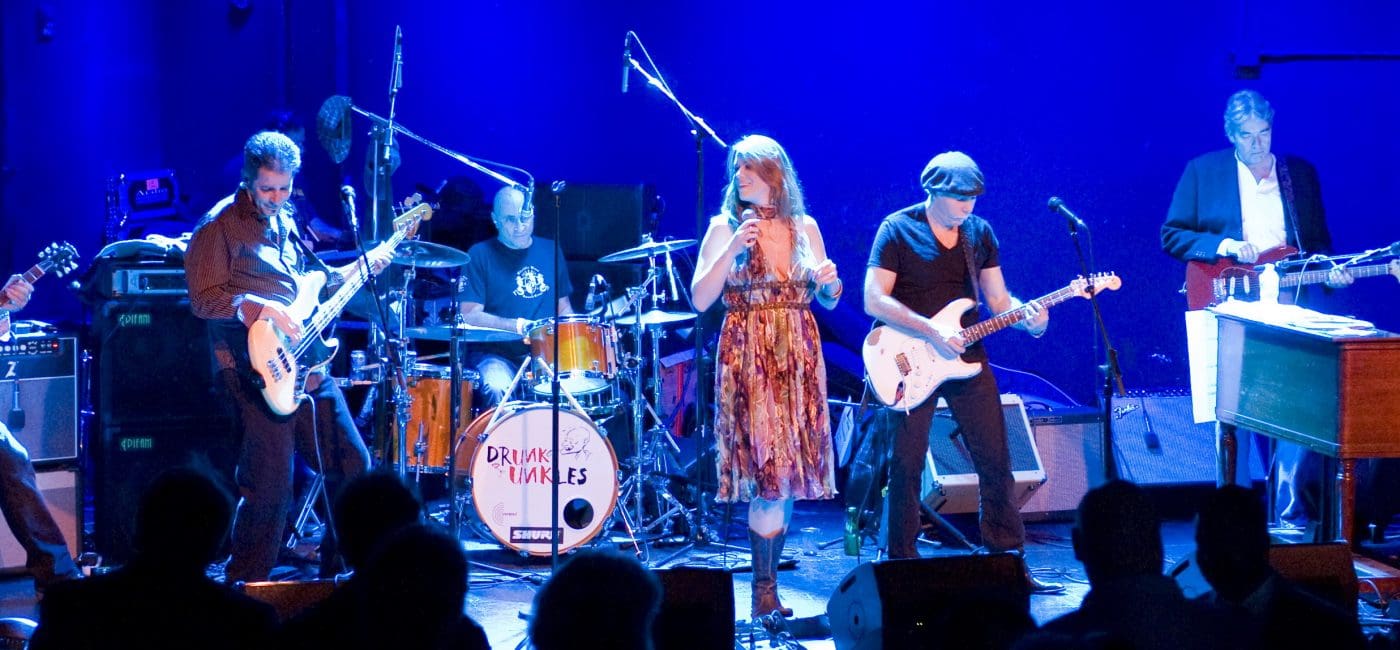 The Drunk Unkles once again proved why the NSCA Education Foundation bestowed them with the 2018 Volunteers of the Year award by generating more than $100,000 at their InfoComm 2018 show for programs including the Ignite workforce development effort and PASS K-12 school safety initiative.
In their first fundraiser of 2018, the Drunk Unkles' show at Vinyl in the Hard Rock Hotel Las Vegas generated $102,800 through a mix of personal donations, sponsorships and a live auction, marking the highest dollar amount in Drunk Unkles history.
Almost 1,200 Drunk Unks fans came to Vinyl on June 6 during InfoComm 2018 to cheer on and thank the band members with more than 12 years of raising money for industry initiatives.
Cleerline's Rob D'Addario also donated a Music Man guitar with an authenticated signature from guitarist Albert Lee featuring D'Addario strings and accessories.
Funds generated from the auction during the Drunk Unkles' InfoComm 2018 show—with a winning bid of more than $6,000—were donated to the NSCA Education Foundation.
Drunk Unkles' Long History with Fundraising
Since they first came together 16 years ago to help the family of an industry peer who unexpectedly died, the Drunk Unkles have generated more than $1.2 million for the industry through this annual fundraising event.
"The cause was well-received, as always, and greatly appreciated by the industry," says Chuck Wilson, director of the NSCA Education Foundation.
"The crowd was great, the Drunk Unkles were terrific, and it all made for an awesome night. We provided an experience for everyone who attended – and all the money we made goes directly back to our industry."
Supporters of this year's Drunk Unkles show include:
Atlas IED, Audio Incorporated, the AV brands of Legrand, AVI SPL, Barco, Belden, Biamp, Bosch Communications Systems, BTX, Cleerline, Evoko, FSR, Harman, Liberty AV, Milestone AV Technologies, Navigate Management Consulting, NEC Display Solutions, Solutions360, Stewart FilmScreen, SurgeX, Synnex Corporation, West Penn Wire and Winsted Corporation.
The all-star band features Felix Robinson, Steve Emspak and Marc Hochlerin of Shen Milsom & Wilke, Mike Phillips of Hudson Marketing, John Cardone of Cardone Solomon and Associates, and Lisa Wenger, formerly of Bosch and now with the Lisa Wenger Band.