AV Junction Introduces Online Platform for Finding Contract, Full-time AV Professionals
New free AV Junction online platform matches AV integration firms and manufacturers with qualified AV professionals.
Leave a Comment
Finding qualified AV professionals for contract or full-time work just got easier, according to AV Junction, which announces its free online platform for the audiovisual industry.
The platform, which can be found here, aims to help integration firms find qualified help while adding AV professionals in their quests to find work.
AV Junction founder and CEO Paul Weatherhead says the new online platform provides companies with instant access to pre-vetted AV professionals while simultaneously helping industry pros to find new employment opportunities, adding that it's the industry's first dedicated online marketplace of its kind.
"AV Junction enables AV companies to search for and connect with qualified AV Professionals on a project-to-project or fulltime basis, from anywhere in the world," Weatherhead says.
"AV companies can post jobs, instantly receive matches, search a vast worldwide database of AV Pros, and send direct messages.  All without a middleman and associated fees."
Industry AV Pros can easily search for and even apply to relevant jobs based on skill, sector and job type, according to a press release.
Born Out of First-Hand AV Recruiting Experience
AV Junction is a solution built to address all of the issues that currently plague AV operations departments that are tasked to find and hire and AV Pros, according to Weatherhead. As the former VP of operations at integration firm Advanced, he experienced how difficult securing AV Pros and navigating a long-distance employment relationship could be for everyone involved.
Related: Strategies to Overcome AV Hiring Challenges 
"I realized that there was no good solution for finding AV Pros. It was basically through non-industry platforms or via a middleman." he says. "Likewise, there is no AV-specific job platform for AV Pros to refer to when looking for work. I knew there was a better way to connect companies and AV Pros all over the world."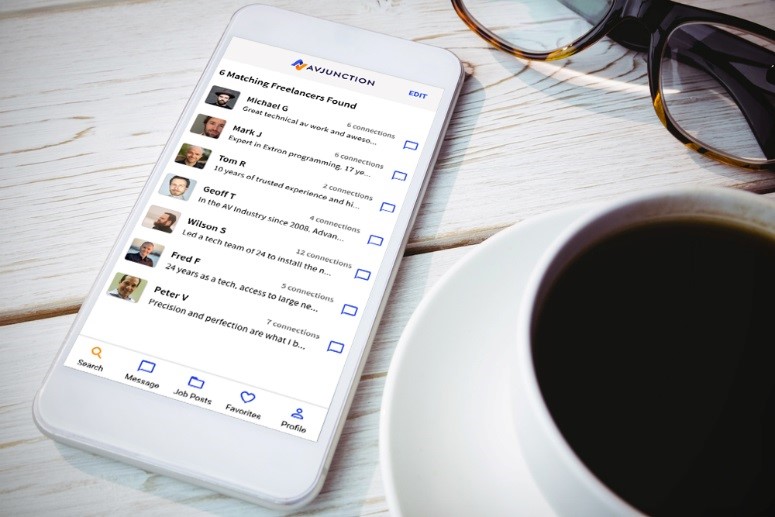 AV Junction Online Platform Features Include (via press release):
Qualified Applicant Searching: Quickly find qualified AV professionals for contract or fulltime work.
Post Jobs: Post jobs and instantly receive matching applicants who are automatically invited to apply for the job.
Send Direct Messages: Send direct messages to AV pros. Check availability and ask additional questions about their skills.
Add AV Pros to Favorites: Companies can add AV Pros as favorites so they can build a roster of professionals for easy access.
Ratings System: Rate AV Pros after each project, boosting attractiveness to other potential employers after a job well done.
More on AV Junction Online Platform (via press release):
All applicants are vetted by AV Junction; and then receive a "verified" check mark on their profiles. All participating AV Pros can showcase their skills on a dedicated profile and market themselves to a focused AV audience, search for jobs and send direct messages to employers.

AV Junction is available to commercial and residential systems integrators, rental, live event and staging companies, exhibit and production houses, and audiovisual manufacturers in 25 countries.

"For the very first time, companies have unrestricted access to a portal of AV professionals that they can easily find and work with on their meaningful assignments. And, for the very first time, AV pros have a dedicated platform to market themselves and their hard-earned skills to an audience that needs them more than ever. All of this at a fraction of the cost to anything else available on the market today.  It's a win-win for everyone involved."