AV Hiring Still Got You Down? Here Are More Ways to Welcome Hard-Working Youth into Pro AV
AV hiring an issue? NSCA Ignite, AVIXA grant initiative, Maverick Technical Institute, EnventU & more are attracting young people to pro AV integration.
Leave a Comment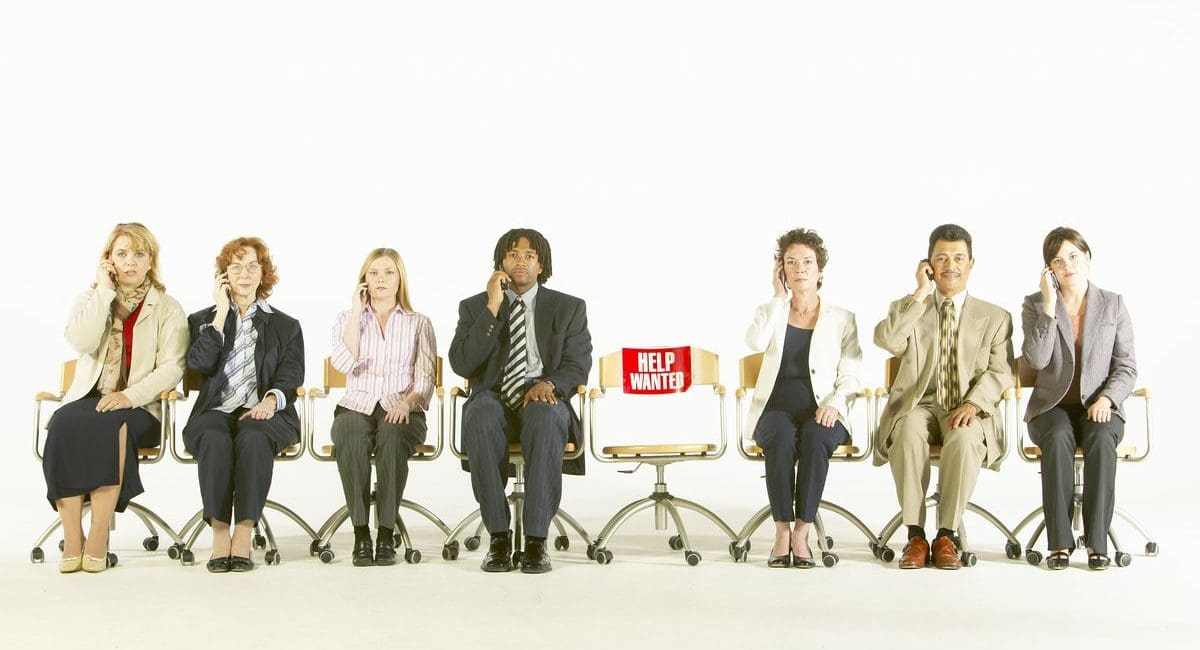 More than ever, we're finding the pro AV integration world flooded with young talent who are looking to lead their companies—and their industry—into a prosperous future. And it's an industry with many firms struggling with AV hiring and mentoring young talent to take over when their leaders retire.
Whether they're hearing about the AV industry through NSCA's Ignite workforce development program that kicked off this summer with a pilot offering, through the AVIXA grant program that gives students three months of on-the-job training, or through programs including the eight-month Maverick Technical Institute certification program or EnventU offering that exposed young people to the industry's biggest North American trade show in June — there are more avenues than ever for millennials and those looking for a career change to jump into pro AV.
You've probably noticed many of these young people featured in our 40 CI Influencers Under 40 list and the goal is you'll learn about more of them in future years.
If you're still dismissing a whole generation of people because of the sins of a few, your business isn't likely to have much of a future once you decide it's time to walk away.
Career Paths Don't Have to Be Traditional
"We want this [Ignite] internship program to be as successful and useful as possible—both for the interns and the employers so it can be used to the best of its ability," says Kelly Perkins, program director of the NSCA Education Foundation.
"Ideally, in a perfect world, we want to be feeding interns into the industry." Ignite has about 90 members, each of which send representatives to local schools to talk about pro AV and introduce it as a career to young people.
And the timing couldn't be more perfect, considering the growth in salaries among trades and the growing acceptance among employers that bachelor's degrees aren't the only way to find qualified candidates.
If you're dismissing a whole generation of people because of the sins of a few, your business isn't likely to have a future once you decide it's time to walk away.
The need for a college degree in trades such as pro AV integration is trumped today by a shortage of skilled workers in these fields, and a lack of a college degree doesn't necessarily mean you'll be scraping by from paycheck to paycheck, either.
According to a recent NPR report, the Washington State Auditor found that good jobs in the skilled trades are going begging because students are being almost universally steered to bachelor's degrees.
Among other things, the Washington Auditor recommended that career guidance — including choices that require less than four years in college — start as early as the seventh grade.
"There is an emphasis on the four-year university track" in high schools, said Chris Cortines, who co-authored the report.
Yet, nationwide, three out of 10 high school grads who go to four-year public universities haven't earned degrees within six years, according to the National Student Clearinghouse. At four-year private colleges, that number is more than 1 in 5.
"Being more aware of other types of options may be exactly what they need," Cortines said.
In spite of a perception "that college is the sole path for everybody," he said, "when you look at the types of wages that apprenticeships and other career areas pay and the fact that you do not pay four years of tuition and you're paid while you learn, these other paths really need some additional consideration."
Seventy-percent of construction companies nationwide are having trouble finding qualified workers, according to the Associated General Contractors of America. Many of these jobs pay more than $50,000 per year.
In all, some 30 million jobs in the United States that pay an average of $55,000 per year don't require bachelor's degrees, according to the Georgetown Center on Education and the Workforce.
"There's that perception of the bachelor's degree being the American dream, the best bang for your buck," said Kate Blosveren Kreamer, deputy executive director of Advance CTE, an association of state officials who work in career and technical education.
"The challenge is that in many cases, it's become the fallback. People are going to college without a plan, without a career in mind, because the mindset in high school is just, 'Go to college.'"
It Isn't All About Formal Education
And just because someone in pro AV doesn't go to college, that doesn't mean they stop learning. AVIXA recently celebrated its 12,000 CTS certification during InfoComm 2018 and many AV manufacturers have certification programs that ensure installers stay updated on what's new.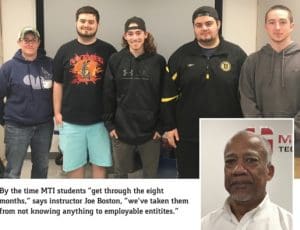 AVIXA has struggled to gain the traction it had envisioned for its grant programs, wherein member companies pay $2,000 and the schools where the grant recipients attend pays $2,000 toward giving the student a stint at an actual pro AV integration company or manufacturer.
The association does have several formal relationships with colleges and universities around the U.S., including Columbia College in Chicago.
Meanwhile, AVIXA's monthly Pro-AV Business Index continues its up-and-down ride as companies encounter difficulties finding talent to fill openings as they grow. That roller coaster ride can sometimes lead to companies having to turn down jobs.
"AV hiring and retaining talent has always been the number one focus for building a business," says AVIXA CEO and executive director David Labuskes. "I don't think you can be successful in an industry at the top edge of creating experiences like pro AV without attracting and retaining high-quality talent.
"Talent attracts talent as well. As a business owner, you have to look at the capabilities of your leadership team and ensure they are relevant to the workforce that exists today.
"If your leaders are using leadership practices and assumptions they formulated 20 years ago to manage people today, they're going to be misaligned and they're not going to be successful."
Some Pro AV Hiring Success Stories
EnventU founder Latoya Lewis was back at InfoComm 2018 with students who completed an application process for the second straight year.
Now that she's seen for herself what AVIXA does and how the association can help the students she serves find careers they may not have otherwise known existed, she's planning to become an AVIXA member this year and join the new AVIXA Diversity Council and the AVIXA Women's Council.
Ranisha Jackson, 17, of Duke Ellington School of Performing Arts in Washington, D.C., and Chalice Ross, 17, of Suitland High School in Maryland represented EnventU at InfoComm 2018 and came away thinking about making a career out of pro AV.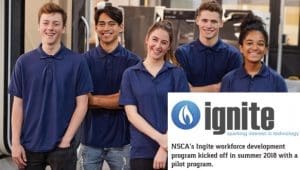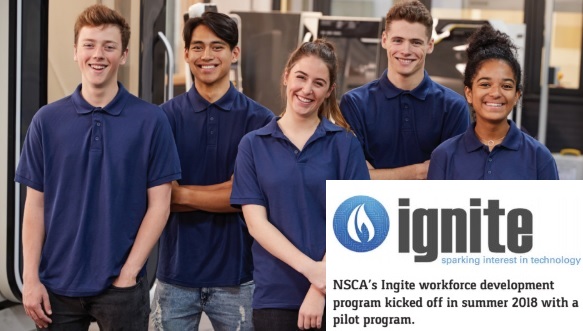 Jackson and Ross sat in on a handful of AVIXA training sessions, toured the trade show floor and even got to visit the Neon Museum during their Las Vegas visit.
Their classes included How to Be an Effective AV Mentor and one geared toward incorporating AV into hospitality and live events.
Jackson enjoyed the pro AV hiring networking opportunities at such a large show, saying she went home with some business cards for people she hopes can eventually help her with her career.
Ross was happy to see lots of women among the InfoComm crowd, saying, "This industry isn't male-dominated."
Oregon State University manager of classroom technology services Don DeMello has been successful in exposing young people—including his own son—to the wonders of pro AV through a hands-on offering that's been supported by AVIXA's grant program in recent years.
"When you come to college, there's no degree for [pro AV integration]," says DeMello. "They stumble upon it, like I did when I was in restaurant management. We're part of the avenue to learn about this field. We want them to also understand the fun and exciting parts."
The OSU program has seen several of its students go into the pro AV industry after graduation, including at 2016 CI Integrator of the Year Diversified, Planar, Comcast, Nike and Hewlett-Packard. Interns often come through the New Media Communications department.
"No one knows where to go to get the education," says BiampVP of sales for the Americas and former AVIXA foundation board member Ron Camden, who told DeMello about the grant a couple of years ago. "They don't know how exciting it is."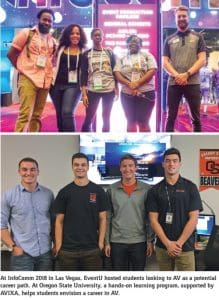 Maverick Technical Institute, the two-year-old school housed in the same Nashua, N.H., building as Maverick Integration, trains students in myriad ways, from week-long boot camps for established pro AV technicians to an eight-month certification program for newcomers.
The Maverick Technical Institute curriculum combines the best of AVIXA, CEDIA and ESPA into the course, says executive director Joe Boston.
MTI students split 1,100 hours between the classroom and the installation lab.
Students pay $18,000 for the eight-month course, including all exams and a toolkit worth more than $500. Students must get at least 80 of the 100 questions right on the written final exam as well as pass a lab final that includes troubleshooting, rack termination and more.
"Most of these students come in green so we start from the beginning with them," says MTI classroom instructor Bill Mosher.
"College wasn't for them but they wanted a career. We start with talking about showing up on time and not using their phones while they're here. We want them to be immediately, instantly employable. We're constantly trying to link the textbook to the real world."
Frederic Paradis, former owner of Elite Media Solutions of Wellesley, Mass., oversees most of the lab work for Maverick Technical Institute in addition to working as a construction manager at Maverick Integration.
"I like when that light bulb goes off and you can see they get it," says Paradis.
"To get there, you have to teach them about improving their mechanical aptitude and their technical aptitude. You really can't have one without the other. Once they see how the system flows and works together, they understand. By the time they get through the eight months, we've taken them from not knowing anything to employable entities."
So far, MTI graduates have started their professional careers with salaries ranging from about $37,000 to $42,000, says Boston. Before they get there, though, Maverick instructors help them with resume writing, mock interviews and preparing their "elevator pitches."
The Security Industry Association has been touting its free RISE program, which helps to promote so-called rising stars in the security integration space through education, professional development and a scholarship program.
Go to College or Go to Work in Pro AV
People with career and technical educations are also more likely to be employed than their counterparts with academic credentials, the U.S. Department of Education reports, and significantly more likely to be working in their fields of study.
Young people don't seem to be getting that message. The proportion of high school students who earned three or more credits in occupational education — typically an indication that they're interested in careers in the skilled trades — has fallen from 1 in 4 in 1990 to 1 in 5 now, according to the U.S. Department of Education.
Washington is not the only state devoting attention to this. California is spending $200 million to improve the delivery of career and technical education.
Iowa community colleges and businesses are collaborating to increase the number of "work-related learning opportunities," including apprenticeships, job shadowing and internships. Tennessee has made its technical colleges free.
Read Next: How to Avoid These Common Recruiting and Hiring Mistakes
Michigan Gov. Rick Snyder in February announced a $100 million proposal he likens to the Marshall Plan that rebuilt Europe after World War II.
At the federal level, there is bipartisan support for making Pell grants available for short-term job-training courses and not just university tuition. The Trump administration supports the idea.
For all the promises to improve vocational education, however, a principal federal source of money for it, called Tech-Prep, hasn't been funded since 2011.
A quarter of states last year reduced their own funding for post-secondary career and technical education, according to the National Association of State Directors of Career Technical Education.