Whitlock Tops $1M in Funds Raised in Decade-Long Connection to JDRF
Whitlock leadership adopted nationwide initiative to find cure for juvenile diabetes after founder's daughter got the disease a decade ago.
Leave a Comment
Whitlock founder and chairman John Whitlock got one of the biggest shocks of his life a decade or so ago when doctors diagnosed his then-14-year-old daughter Ellie with Type 1 diabetes.
He might be even more surprised that Whitlock employees have raised more than $1 million in their quest to help Ellie, now 24, and others like her who are battling this disease through a partnership with JDRF, an acronym that once stood for the Juvenile Diabetes Research Foundation.
"The whole culture of our company has always been about caring," says Whitlock. "Giving back has always been an important part of my life. That's just the kind of people we have here. The whole organization has really embraced the effort.
"It's really special we'd be able to make that kind of impact," he says.
CEO Doug Hall says it was an easy decision for the company named for its founder to adopt the charity that had such a personal connection to him, despite John Whitlock's objections since he didn't want the focus of the philanthropy to be on him or his family.
"John is the founder of our culture at Whitlock," says Hall, noting many employees across the company share "the passion he has for giving and for others.

"We've always supported a lot of local charities, but we wanted to have a corporate program to support as well. We all agreed it would be wonderful to be able to help children. To be able to have an impact on a kid's life was very important to us."
During their time as partners with JDRF, "we've become great friends with the national people," says Hall, and "we rejoice in their successes." Whitlock typically includes a JDRF booth at its regional events, he says.
When some Whitlock employees were training for a marathon a couple of years ago, a JDRF patient who was planning to run seven marathons on seven continents in a week ran with the Whitlock group during one session. That wowed many of the participants, says Hall.
"It's great to see what people can achieve," he says.
Whitlock Proud of JDRF Partnership
It didn't take long for Whitlock management's decision to partner with JDRF to be proven correct, says Hall. Through the company's Whitlock Cares initiative, the company paid for one of its employee's children who also had Type 1 diabetes to attend a JDRF camp.
"You don't always realize how many people have it," says Hall.
Hundreds of employees in Whitlock's 20 nationwide offices participate in walk-a-thons, raffles, cookouts and other JDRF-related events throughout the year, says Hall.
"It's really a companywide event," he says. "We have pretty close to 100 percent participation. It makes me proud of the people at Whitlock that we can unite behind this worthy cause."
Whitlock says he's excited to see the progress JDRF has made since he first became involved with them about 10 years ago.
"They've done an enormous amount of research and are making some incredible progress in delaying the onset and managing it," he says. "Hopefully they're nearing a breakthrough."
Whitlock is the sponsor of a JDRF effort known as the Peak Initiative, which helps patients be able to monitor levels and continue to be active. Ellie Whitlock, for example, continued to participate on the University of Alabama ski team during her college days.
When she was first diagnosed, Ellie to prick her finger eight to 12 times a day, says John Whitlock.
"That's what her life was about all the time," he says. "If she got it wrong, she'd get really sick or could die." Today, Ellie uses a continuous glucose monitor that's connected to her phone—and that of her parents, a function that's typically reserved for JDRF's younger patients, he father says with a smile.
The monitor can manually adjust a patient's glucose levels as needed, something that's particularly handy at night, says John Whitlock.
"It can be a life-saver," he says. "We're seeing the fruits of all that research and hard work. What we've seen in the last 10 years has been remarkable."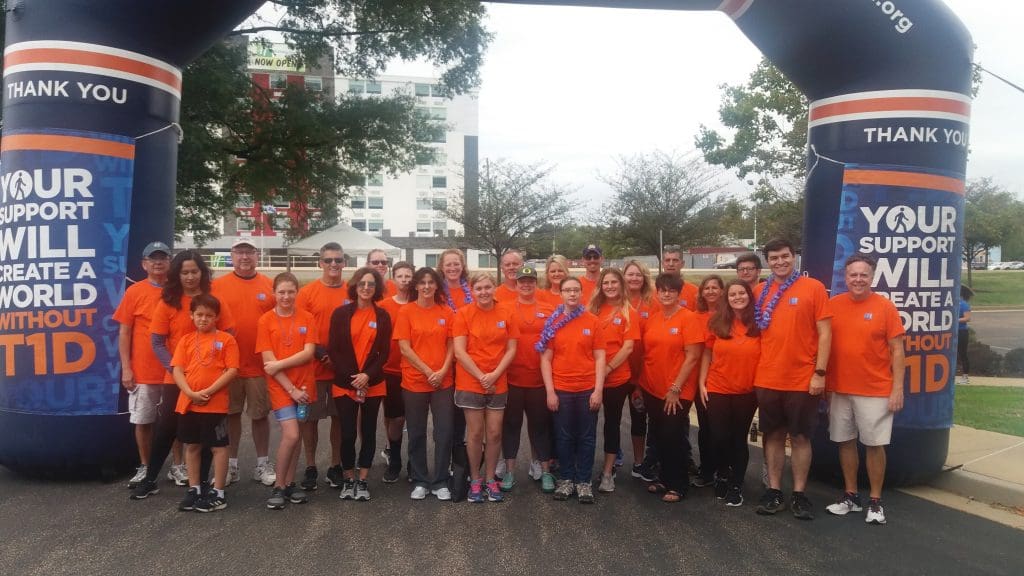 Coming next Monday: The next installment in our Connected to the Community series. If you know about an AV or IT company doing something good, email executive editor Craig MacCormack at craig.maccormack@emeraldexpo.com.