AVIXA Research Predicts Global Pro AV Will Drop to $239B in 2020
After hitting a peak of $259 billion in 2019, coronavirus pandemic leading to significant decline in 2020 and long-term revenue projections.
Leave a Comment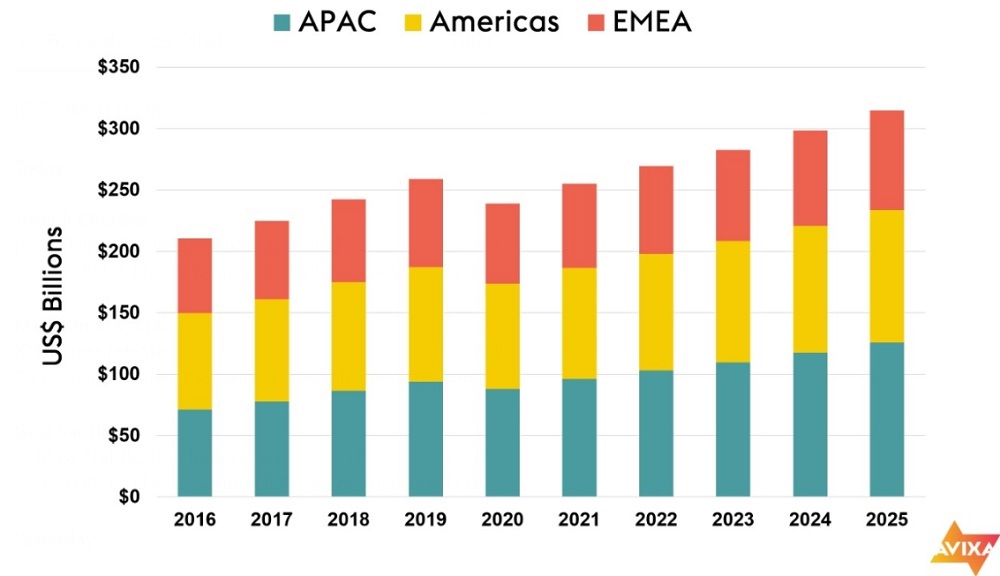 AVIXA's 2020 Industry Outlook and Trends Analysis report shows an expected decline of about $20 billion in global revenue across the pro AV industry this year, in large part because of the ongoing spread of the coronavirus pandemic around the world.
As AVIXA senior director of market intelligence Sean Wargo said during his InfoComm 2020 Connected keynote last month, the pro AV industry won't fully recover from the effects of the COVID-19 outbreak until 2022 and revenues should grow to $315 billion in 2025.
That latter number is down about $10 million from the projected 2024 revenue levels in last year's IOTA, but is still almost $60 million higher than 2019 and reflects a 5.8 percent compound annual growth rate.
"The COVID-19 pandemic has broadly impacted the near and longer-term outlooks for economic growth and business activity," said Wargo in the AVIXA announcement.
"Regions and industries are being impacted at different degrees and are on different timetables for recovery. For example, Asia-Pacific will weather 2020 better than others, because it was the first to be impacted by COVID-19 and the first to re-open its economies," he said.
Related: How Small Businesses Can Survive a Prolonged AV Recovery
Asia-Pacific will have the strongest growth of all regions, according to AVIXA research, with a 7.4 percent CAGR from 2020 through 2025 — compared to 4.7 percent for the Americas and 4.5 percent for EMEA.
In 2025, APAC pro AV revenue will amount to $126 billion compared to $108 billion for the Americas and $81 billion for EMEA, keeping it firmly entrenched as the fastest-growing pro AV region in the world.
Regional IOTA reports for the Americas, Asia-Pacific, and EMEA will be released in July and August.
Inside AVIXA Research for 2020 IOTA
The corporate market leads the way with $52 billion in projected global revenue for 2020, while the energy and utility segment of the market is likely to grow most between 2020 and 2025, with a 10.4 percent compound annual growth rate from $7.3 billion, thanks to investments in sustainable energy sources and smart grid.
Conferencing and collaboration solutions remain the largest solution area, generating $38 billion globally in 2020, according to AVIXA research. That's not a huge surprise given how many workers have found themselves working from home during the pandemic outbreak.
The fastest-growing solution is security/surveillance/life safety, with an 11.4 percent compound annual growth rate. Government and military, education, and corporate are three industries that will generate the most demand for this solution area, AVIXA says.
City surveillance is also a significant market for security cameras. Typically, this requires significant storage and server systems to support the camera infrastructure.
Among product segments, streaming media, storage, and distribution (SMSD) is projected to be the largest component of pro AV revenues, generating $68.5 billion in 2020. SMSD includes all the generic and specialty servers and storage used to manage AV content.