State of the Industry 2020: Global Growth & Acquisitions
Two more AV Industry trends affecting integrators' ability to grow in the new decade: expanding globally and being acquired/making acquisitions.
Leave a Comment
In our third and final follow-up to our 2020 State of the Industry, we examine two other AV Industry trends which will undoubtedly affect the space in the new decade: acquisitions and globalization.
"Money follows success," says AVIXA CEO David Labuskes. "When you have an industry where pace of growth is double that of others, that's where the money goes. A growing industry and positive profitability is going to attract capital. 
"That's an affirmation that our industry is growing and profitable and strong. Profitability drives growth and growth and initiative drive solutions," he says 
Private equity and venture capital firms could become more present in 2020 in AV.
"If you look at the structure of our industry and the players within the industry, you have a lot of privately held companies that are moving to new levels of investment, new levels of innovation, new geographies and having to scale that business," says Labuskes. "When you want to do that, you need capital. 
"Our success drives our evolution through the ubiquity of AV and the recognition of its strategic value across all verticals. The more AV that is installed, the more that's wanted," he says.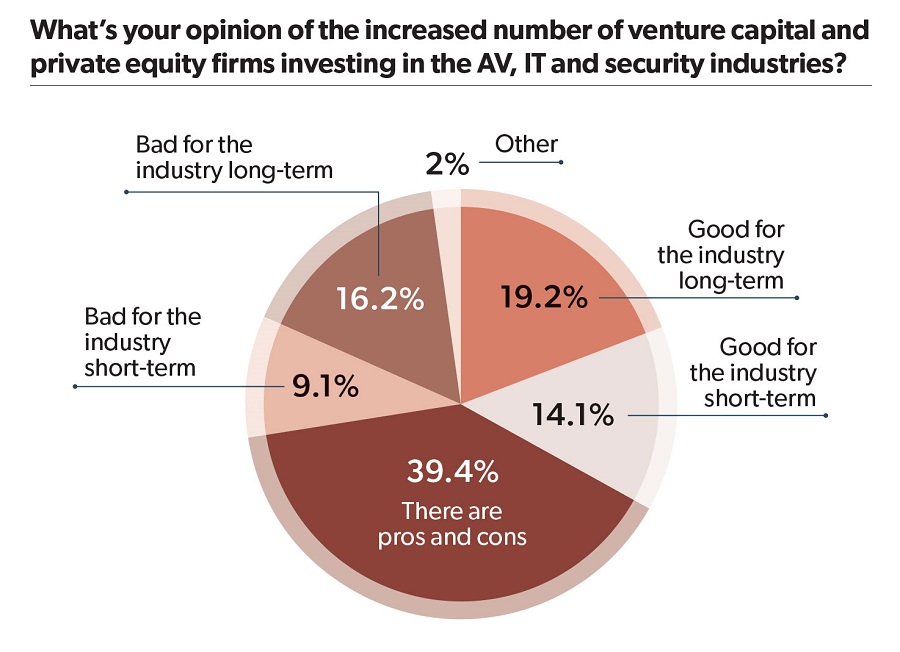 Labuskes sees the middle of the AV landscape continuing to evolve.
"Business owners need to ID their unique value, clearly message that value and invest in workforce in a way that ensures they deliver on that promise," he says. "Develop a competence before you make a promise, then deliver on that promise." 
NSCA executive director Chuck Wilson agrees there's "no slowdown in sight" for mergers and acquisitions and he points to interest rates as one key reason why. 
"However the companies measure their growth in equity or earnings, average acquisition is at about 4.5 times EBITDA," he says. 
"If you can create company that has 7-8, or even 10-11 times return on that asset, they're just looking at the numbers and saying, 'we can create a strategy that fuels our growth, gives us a broader footprint and using debt to fund it.'" 
NSCA has seen a shift in its member demographics as longtime members get scooped up by large companies almost every day.
Wilson likes that it means those long-time business owners are able to pad their retirement funds. 
"Private equity is driving up their exit values," he says. "AV's return on earnings is relatively high compared to other things. We're the perfect target. 
"We have to prepare our members for the world of private equity influencing our industry—being owned by them and competing with them," says Wilson. He notes the equity value of companies goes up the more managed services they do. 
You can certainly expect Diversified and Solutionz to be among the most active when it comes to adding more companies to their portfolios in 2020. 
"Diversified will be an acquirer," says D'Alessandro. "There's a lot of opportunity." 
Collins says the continued consolidation is a sign "that our industry is maturing." He calls Diversified "an aggregator to continue to meet the needs of our customers." That strategy has the company on the precipice of topping $1 billion in revenue as soon as 2020. 
Related: State of the Industry 2020: AV Service Revenue is the Antidote for Recession
Bill Warnick, CEO of 2019 CI Integrator of the Year Solutionz Inc., says Solutionz aims to be the top integrator in the market and that means the company will look to make more deals after finishing out the year by adding Unified. 
"From a personal standpoint, my appetite hasn't been quenched yet," he says. "We're still looking. The big boys aren't done snatching. It's going to continue to happen." 
Although Solutionz is owned by founder Kirk Fernandez and his company, Fernandez Holdings, "I don't see how you keep private equity and venture capital out," says Warnick. "Why wouldn't you want a piece of a profitable business?" 
Going Global
As Asia takes its place as the largest worldwide AV market, there's a perception that that means the opportunities are drying up for AV integrators in North America. That's certainly not the case, says Labuskes. It just means other markets have more opportunities for growth, he says. 
Less than 30 percent of the global AV market is in the U.S., he says.
"Customers of our industry are broadening their market reach and they're looking for solutions that can go with them as they expand," he says. "Growing your business outside the U.S. It's not low-lying fruit. It takes a lot of work." 
Companies can choose expansion, acquisition or partnerships to meet those ever-increasing global AV needs of their customers, says Labuskes. There are also growth opportunities in a variety of vertical markets, he says. 
"We have a tendency to focus in on the corporate market," says Labuskes. "There are a lot of exciting markets growing at faster rate—health care, hospitality, higher ed, live events. They're smaller, but there are still billions of dollars being invested in those markets. 
"There's a learning curve for any vertical. You need to be able to understand the needs and help develop solutions that are based on your customer's world," he says. 
The most important part of expanding your operations is being properly capitalized, says Wilson.
"Globalization is really driven off of client demand for standardization," he says. "They want everything to work the same. We're the matchmakers. Doing it that way is probably more fiscally responsible than just opening up another office." 
Integrators must understand issues related to taxes, licensing, permitting, local ordinances and more when they plant their flags in other countries, says Wilson.
"Our members have found that out the hard way," he says. "You're going to lose a lot of money if you're not familiar with the laws in that area." 
Integrators must understand issues related to taxes, licensing, permitting, local ordinances and more when they plant their flags in other countries.
Codes and compliance are another area that should be a focus for integrators as they expand.
NSCA has a code compliance committee and Emerging Technology Council to address some of these concerns. 
"We're being reminded at the end of a project, the innovation level has to include us taking control of that entire system" says Wilson.
"That includes things like room occupancy sensors and tying into the IT network. You have to be mindful of any conflicting codes. 
"You need to have a risk mitigation strategy that ensures we own compliance. We have to understand what we're properly licensed to do so we don't create open ports," he says. 
Globalization, says D'Alessandro, represents a "great opportunity for us as well as the customers to see an efficient operation that comes out of the ability to connect in a collaborative fashion." 
Spearman sees a lot more of it on the way, saying, "we're the very tip of the iceberg right now." Collins agrees, saying, "Customers have had a real epiphany they can't really look at tech spending by region. There has to be centralized guidance." 
Asia and other global markets are "just hungry for the types of services we provide," says Diversified senior VP of global marketing. "That's opening a few opportunities for all of us." 
Solutionz hasn't established an international presence, but Warnick isn't opposed to it. 
"If the opportunity arose and it made good business sense to do it, I wouldn't rule out anything," he says. "We're achieving the level of success we're satisfied with in the States. 
"We learned through our grants team that money will often get routed to the neediest areas for things like distance learning and telemedicine. We've seen those things drive development faster than corporate development," says Warnick 
Looking Ahead
Warnick is optimistic about the future of his industry, but he hopes to see a bit more innovation in 2020 AV Industry trends. 
"We're rock-solid in what we do as businesses, but it's time for us to be more imaginative," he says. "It's time for us to stretch our bounds." 
It'll be interesting to see how many others in the industry accept Warnick's challenge, especially at a time when they could also be bracing for the next economic recession—or possibly in the middle of it.