State of the Industry 2020: Don't Get TOO Comfortable
It seems 2020 will be another solid year for the systems integration industry, but there's too much talk of recession to not be thinking about its arrival.
Leave a Comment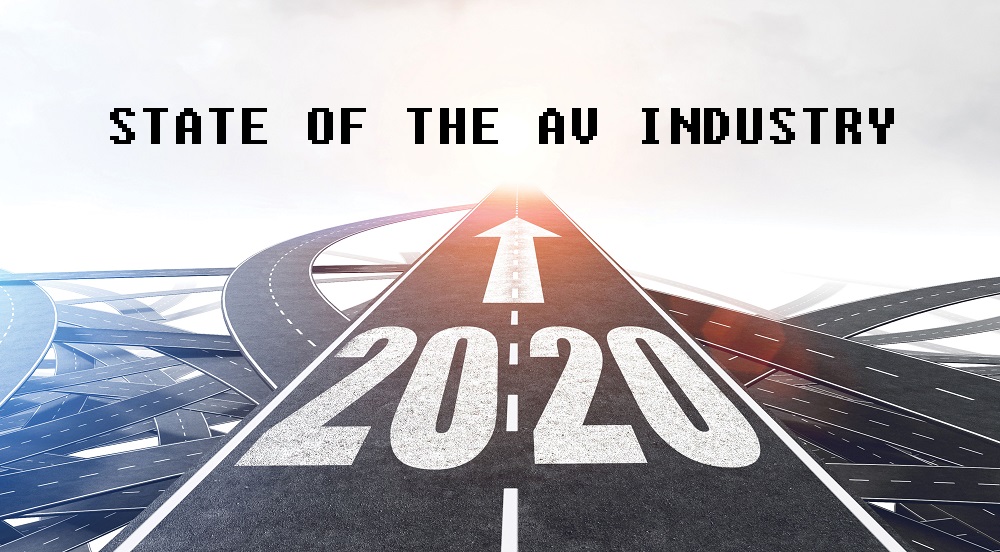 Last year's State of the Industry focused on what we called a "profitability problem," a phenomenon where companies in AV and the systems integration industry were continuing to see their bottom lines grow but possibly ignoring some of the things below the surface that could lead to problems down the road. 
Heading into 2020, there's a potential for more of the same. More than half of the respondents to this year's survey say they view the overall business climate as very good or excellent, but we're still seeing resistance or confusion when it comes to recurring revenue and talent development in the industry. 
"I think 2020 is going to be a great year for AV," says AVIXA CEO David Labuskes, who expects to see continued growth in the industry as it builds from about $247 billion this year to $325 billion in 2024, all the while growing at twice the rate of the world's economy in that timeframe.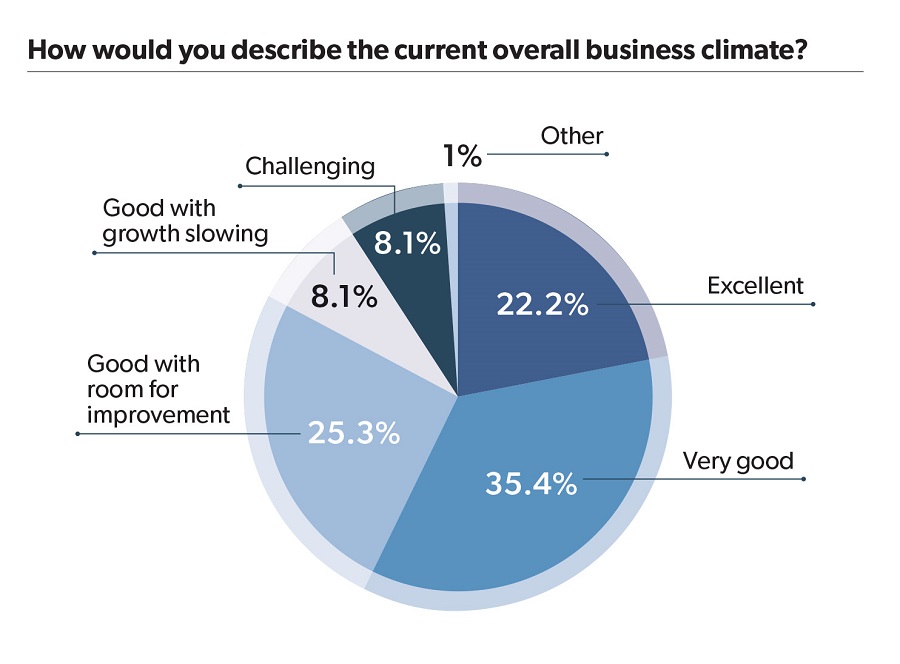 UC to see largest growth rate; signage close behind
Labuskes points to unified communications as the segment with the largest growth rate and expects to surprise some people in the systems integration industry by pointing to digital signage as the area with the largest application rate by 2024. 
"That creates a great opportunity for companies that haven't focused on that area," he says. Of course, there are other systems and technologies that tie into making UC and DS applications work, so those segments could see a jolt as well, says Labuskes. 
Fred D'Alessandro, founder and CEO of CI 2016 Integrator of the Year Diversified, expects globalization and standardization to be major factors for his company and the AV integration industry at large.
He's also expecting managing services will continue to increase in importance for customers and installers. 
"We're really looking to make it easy for customers to purchase those assets and manage them for them," he says. "There's a big opportunity." 
The other side is growing, too
The economic optimism isn't restricted to the AV side of systems integration either. There's an equally rosy view of the next 12 months in the CompTIA Industry Outlook 2020. 
The global information technology industry is on pace to reach $5.2 trillion in 2020, according to the research consultancy IDC. 
"Economies, jobs, and personal lives are becoming more digital, more connected and more automated," according to the CompTIA 2020 outlook. "Waves of innovation build over time, powering the technology growth engine that appears to be on the cusp of another major step forward." 
The U.S. remains the largest technology market in the world, representing 32% of the total or approximately $1.7 trillion for 2020, according to CompTIA. For AV in particular, though, the global landscape is a bit different with Asia Pacific emerging as the worldwide leader, passing the Americas. 
Optimism for 2020
CompTIA projects the global information technology industry will grow at a rate of 3.7% in 2020. The optimistic upside forecast is in the 5.4% range, with a downside floor of 1.9%. Growth expectations for the U.S. market are in line with the global projection.  
"While emerging technologies currently account for only 17% of the overall global revenue, they are expected to drive nearly half of the growth in new revenue," according to the CompTIA outlook.
That statement comes with two caveats, though.
"First, the nature of emerging technology means that there is less history to guide future forecasts," the CompTIA report says. "Not only might the numbers be off, but it is also difficult to predict which categories will take off and which ones will fall by the wayside. 
"Second, the stackable architecture of modern business systems blurs the lines between categories. While emerging technologies will be the driver for growth, they must be used in conjunction with more established technologies to create innovative solutions," according to the CompTIA 2020 outlook.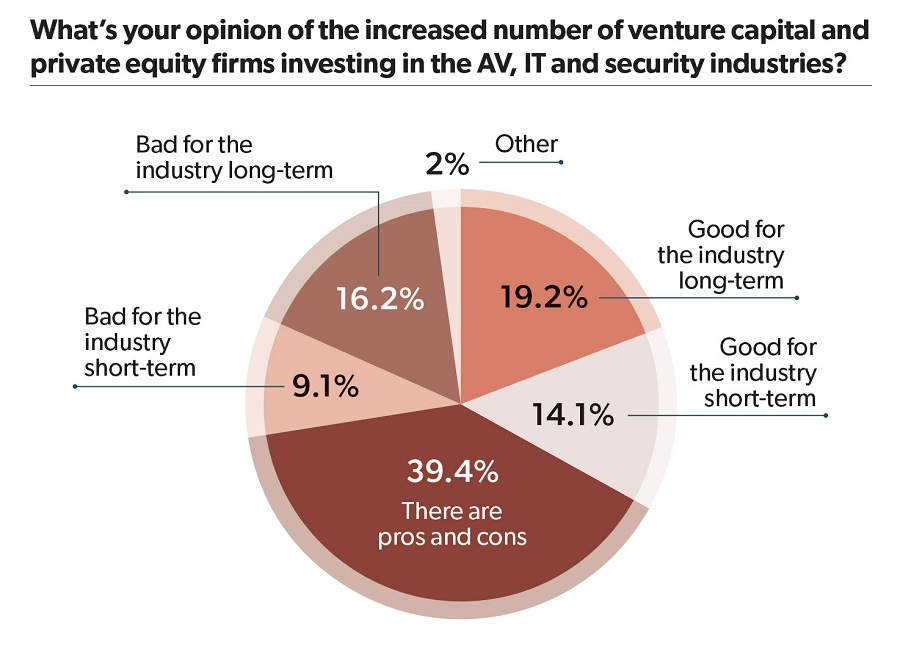 Turning back to the CI/NSCA State of the Industry survey, the optimism for the short-term health of the overall economy is tempered by the results of questions focused on the long-term viability of particular companies and the systems integration industry as a whole.  
Exactly three-quarters of this year's survey respondents say the lack of qualified candidates is their biggest obstacle when it comes to filling their open positions.
Maybe that's why it was surprising to learn almost half of our respondents don't have and don't plan to add an internship program. 
About 40 percent of the respondents are part of the NSCA Ignite workforce development initiative or have another internship program to keep the talent pipeline flowing and almost 20 percent of them say they plan to add one in 2020. 
"As long as you can look wide enough in the talent pool, there's plenty of talent out there," says Warnick. "We weren't all born as systems integration industry geniuses." 
Solutionz employs several AV techs who grew up as auto mechanics, saying their troubleshooting skills, knowledge base, perceptions of problems and ability to build components and combine them into one system crosses over well to decking out a room for collaboration. 
"When you cast your net wide enough, I don't think there's going to be a drought for talent," says Warnick. 
Almost half of this year's respondents say they don't expect an economic recession in 2020 and think it will hit in 2021 or later—if it happens at all. That said, we heard more people talking about how they're preparing for the next recession, which business leaders agree will happen at some point. 
Prepping for Recession
Although most economists have said the chances of a recession happening in 2020 are about one-in-three, there's been "pretty broad consensus about a slowdown in the economy" in the next 12 months, says Labuskes. 
One of the big reasons the so-called Great Recession affected so many companies so sharply is they were operating in a way that didn't anticipate hard times would be coming at some point. Since then, though, the business environment seems to be doing more to prepare for the next recession.  
Labuskes notes that a global recession doesn't necessarily mean the AV industry will struggle either. 
"I wouldn't say we're a recession-proof industry, but the solutions we provide are cost-saving solutions that are more invested in in a recession than in a growth phase," he says. 
"We have to be disciplined in our business model, our approach to the marketplace and in the execution on that model. If we adhere to those principles, then we're ready for a recession," says Labuskes. Recessions, he says, also create opportunities to attract talent that might not otherwise be available. 
"This industry has a long tail of demand and delivery cycle," says Labuskes. "We've become a necessity. We're not a luxury anymore. There's a luxury layer to what we sell but nobody can operate a business today without AV." 
"This industry has a long tail of demand and delivery cycle," says Labuskes. 
"We've become a necessity. We're not a luxury anymore. There's a luxury layer to what we sell but nobody can operate a business today without AV." 
NSCA's most recent Electronic Systems Outlook forecasts a "really strong" industry through 2021, says executive director Chuck Wilson.
That said, NSCA leadership are advising members to think about what they'll do when their backlogs start to erode and billings start to chew up that backlog. 
"In most cases, that means looking at who's skilled for the future—network-enabled and savvy people—and downsizing in areas that are having their sunset," says Wilson.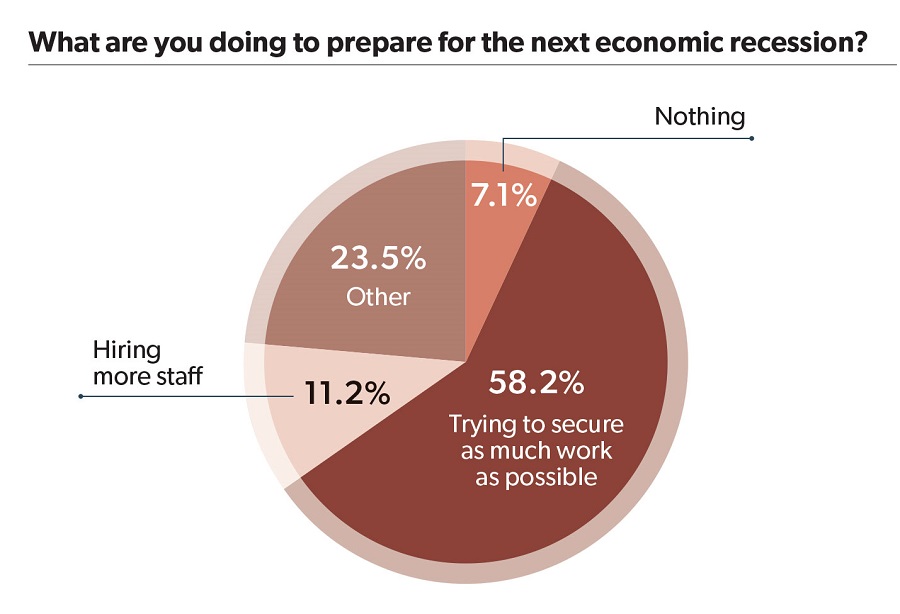 Systems integration industry generally lags about 18 months behind the overall economy when it comes to recessions, says Wilson, and geography can also play a role in how severely a particular company or region feels its effects.
The East and West coasts are often harder hit than Midwest, he says. 
"You have to diversify into economically insensitive vertical markets," says Wilson. 
That means not only working in the systems integration industry, but also data, life safety and other tangential markets. "If we're crossing the chasm of all these areas, you spread out the risk." 
No matter how prepared companies think they are for a recession, part of the whole thing is that you're never truly prepared for it.
Labuskes points to his time with the fifth-largest architecture firm when the stock market crashed in 2007 and that led to frantic phone calls ordering work stop on big projects. 
"We didn't anticipate those calls the previous Monday," says Labuskes. "I wouldn't want to let anybody think they were ready for that." 
The most important things to do between now and the next recession, says Labuskes: 
Understanding your business

Understanding the constraints of your business and understanding what your customer needs
Wilson wonders if there's enough long-term memory in the systems integration industry about how the last economic recession wiped out so many opportunities—and fears what could happen if people forget that. 
"Times have been so good, so I don't know if people remember the bad times," he says. "Our job is to remind them about what happened in the last recession." 
If you enjoyed this article and want to receive more valuable industry content like this, click here to sign up for our digital newsletters!