Total Tech Summit Goes Beyond In-Person Conference to Yearlong Networking
Total Tech Summit VIP peer-to-peer groups in December mark the kickoff to a year's worth of networking opportunities for attendees.
Leave a Comment
Those who have been lucky enough to earn an invitation to the annual Total Tech Summit know all too well that every year's agenda means they'll come home with several action items to use to make their companies even more successful.
The Summit traditionally brings the industry's best and brightest together for three days of in-person networking, education and more. Although the in-person component has been scrapped this year in place of virtual sessions throughout December, everything else is being cranked up.
The 2020 Total Tech Summit will serve as the kickoff to a year's worth of opportunities for attendees to share their stories with each other, learn new ways to approach problems they're encountering and bring the entire industry up a notch or two.
The keynote session for the CI Summit segment of the 2020 Total Tech Summit will focus on job creation and diversity, two topics that have been squarely in the spotlight throughout 2020 but certainly well before that too.
General sessions for the event will include looks at selling software to integrators, marketing for integrators and new technology that integrators will be using more in 2021 and beyond in their installations to bring them beyond the status quo.
Related: The True Value of Total Tech Summit 2020
If you're still wondering if you should apply for the 2020 Total Tech Summit, this should give you an idea of what to expect: the 2019 event's guests generated projected annual revenues of more than $6 billion and more than 250,000 installations. Are you sure you can afford not to be part of it?
The annual Total Tech Summit — comprised of the CI Summit, SSI Summit and CE Pro Summit — is "an opportunity for invited business leaders to foster a high-caliber network of industry peers, explore opportunities related to growing and sustaining their long-term businesses and receive VIP perks for industry leaders," according to the event announcement from Emerald.
Unlike the traditional three-day in-person gathering that brings integrators from residential, security and commercial backgrounds, the Total Tech Summit will be broken into six, two-day experiences on the following dates:
SSI Summit East: Dec. 1-2
SSI Summit West: Dec. 3-4
CE Pro Summit East: Dec. 7-8
CE Pro Summit West: Dec. 9-10
CI Summit East: Dec. 14-15
CI Summit West: Dec. 16-17

VIP Peer-to-Peer Networking Groups
To help Total Tech Summit attendees feel the same connectedness in the online version of the event that they get while in-person in a more traditional year, summit organizers are launching Total Tech Summit VIP Peer-to-Peer Networking Groups.
These year-long group conversations will take place each month and will be guided by the CE Pro, Commercial Integrator, and Security Sales & Integration editorial staff. Each group will be custom-created so attendees are placed in a group with peers who can help their businesses grow.
"When you are a more experienced integration company, peer-to-peer networking is the name of the game in terms of advancing your business," says Jason Knott, chief content officer for CE Pro, Commercial Integrator and Security Sales & Integration.
"That is why I am so excited to be kicking off our networking groups. The information shared among the participants issues related to HR concerns, productivity, software, rates, profitability, sales, showroom operation, employee management, training, hiring, new products and technology can be the difference-makers in profit and revenue," he says.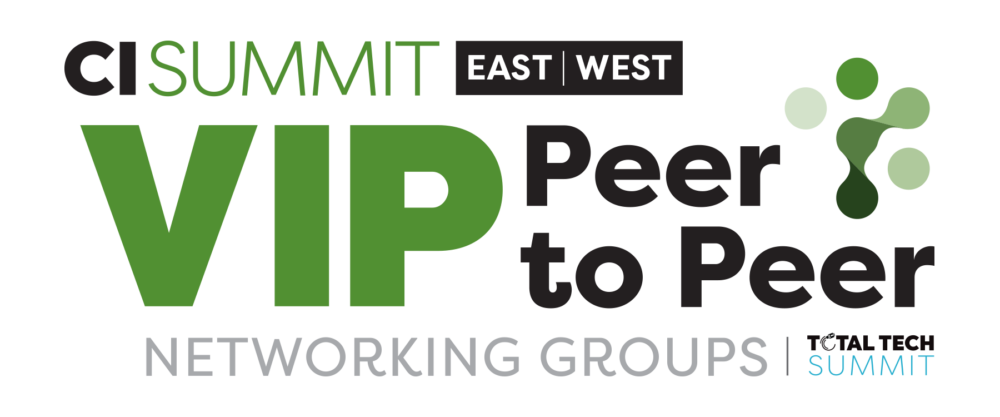 Knott says the Total Tech Summit VIP Peer-to-Peer networking groups will be "in a fast-paced, relaxed environment with a minimal time commitment."
On top of having the ability to meet once a month with an elite group of integrators, networking group members will be able to "connect with each other all year long through a dedicated chat forum," according to the Summit announcement.
Through this chat, members can get questions answered, find solutions to challenges they're facing and coordinate a meet-up at another industry event. The forums are created for each VIP networking group, but participants can connect by direct message or in general forum groups.
Shaping the Summit's Future
In addition to the networking groups that will kick off as part of the 2020 Total Tech Summit, we're also launching a program that gives some of the annual attendees the opportunity to help us shape the future of the summit through membership on an advisory board.
Darrance Tezino, director of the managed services division for MCA Communications, attended the CI Summit for the first time in 2019, saying he was interested in hearing more from the companies that have achieved the highest levels of success in the AV integration space.
"My primary interest is trying to figure out what everyone else is doing," he says. Leadership in technology tends to drift more toward what other leaders are doing."
Managed services "has been a great success for us," says Tezino, and learning more about it helped to pave the way for him to sell AV-JV to MCA Communications shortly after the event.
"We all think we know what as-a-service is, but I was able to talk to my competitors and hear what they thought," he says. "It was an equal playing field. We all addressed ideas about this new term in the industry so we could all grow from that."
Going to the Summit "offered us an opportunity to forecast integration budgets and strategize," says Tezino.
"It's the first environment that allowed me to drop my guard and not feel like a competitor was trying to steal my business," he says. The committee, he says, will work to "streamline key interests and current topics in the market."
One of Tezino's favorite parts of the Total Tech Summit is that "presenters are willing to speak on topics people are afraid to address."
Tezino wants to learn more about managed services as well as a better strategy of survival during the coronavirus pandemic, as well as creating support and generating revenue when companies don't have capital expenditure to pay for the equipment.
He sees the future of Total Tech Summit "becoming like a Presidents' Club."
"What's missing in our environment is an elite, established program that allows people who make the decisions to collaborate," says Tezino, who notes he's still in touch with everyone from his 2019 Summit group.
"I know I'm not alone," he says. "I could have gotten so much more if I met 10 more people. They're not long messages or emails. It's usually asking if someone has gone through something and how they dealt with it. We have a connection now. That's how we pass tribal knowledge.
"Having a network I can talk to makes things easier to deal with. I inherited a whole other team I didn't have to pay for. The strategy and structure of Total Tech Summit allowed us to drop their guard and talk. We became a team," says Tezino.
"We need avenues like this that allow us to talk, vent and meet core people who are dealing with the same things we are," he says. "It's about our customers. It's about communication and growth."
Lionel Felix, CEO of Felix Media Solutions has attended two CI Summits in-person and is now part of the committee that will shape its future.
"You can't measure the value of being able to hang out with your people," he says. "It's not about competition. This is where you dive deep. You go and get into the core of stuff with good people and quality conversations."
Felix talks regularly with fellow CI Summit veteran Tom Berry about whiskey, differences between the northeast and southwest U.S. and industry mergers and acquisitions. Felix Media Solutions has also worked with Mankin Media on projects after meeting Ben Mankin.
"My relationships with my friends is always intertwined with business," says Felix. "Our secret sauce isn't something I can tell you and you're going to go and be able to do. If you want to try to play in the same pool as me, good luck to you."
Felix knows what he wants to hear more about at future Total Tech Summits.
"We don't talk enough about finance in this business and how we really get to profitability—the master's level stuff," he says.
Felix will never forget how quickly he felt comfortable at his first Total Tech Summit in 2018.
"As soon as I walked in the room, my guard was down," he says. "I realized we all speak the same language and see the world through a related lens. There's nothing like meeting people in person and we're going to do that all next year. This year, I'm going to Show Up with a capital S and a capital U.
"You're not here for basic training. You're here for advanced stuff," says Felix. "We make each other stronger when we share. We level each other up when we challenge each other. What are the nuggets we can give people to allow them to have actionable intelligence?
"I'm learning things. I've made a lot of mistakes and seen my blood on the ground. There's a lot of discussion about doing what you're great at doing and focusing on your strengths. This gave me things to do. This was meaty. There's a lot of fear uncertainty and doubt when you're talking about doing something new but it's my job to do that," he says.
To be part of the 2020 Total Tech Summit, please fill out the application at TotalTechSummit.com/apply.
If you enjoyed this article and want to receive more valuable industry content like this, click here to sign up for our digital newsletters!