From Entry Level to CEO… Before Turning 40
Starin's bold young CEO, Bobby Swartz, exemplifies the vibrancy of AV's next generation of executive management.
Leave a Comment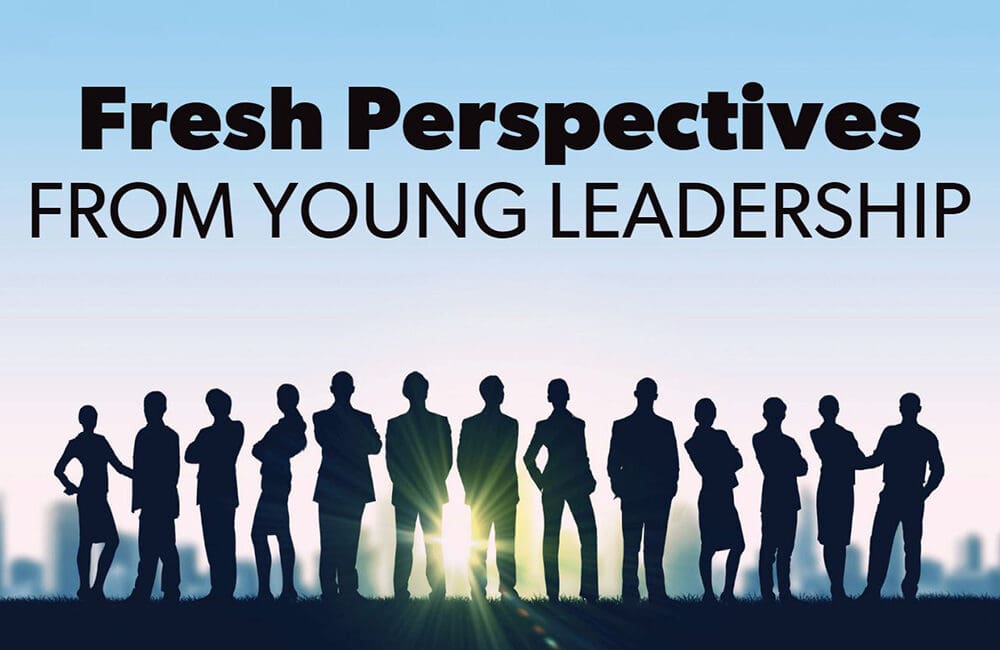 The commercial AV industry benefits from the experience, knowledge and perspective of seasoned leaders who've seen the economy expand and contract, technology fads emerge and vanish, and vertical markets evolve. However, our trade and practice also benefit from fresh, vibrant perspectives.
And those are exactly what the next generation of AV leadership is offering. Bobby Swartz, CTS, who ascended to CEO of Starin on January 1, 2021, is a prime example. Here, we'll explore a bit about Swartz's background, delve into the daring transformation he helped usher in throughout his first year as CEO, and consider the importance of being amenable to change and directional shifts. In so doing, we'll glimpse, in microcosm, the exciting future that these new AV leaders are bringing into focus. 
Working His Way Up
Sometimes, when you hear about an under-40 working in the C-suite, you assume it's a gilded chair that they inherited right out of an MBA program. For Swartz, the path was much more relatable.
During his college years, he pursued his passion for music by gigging. (In fact, during our interview, I noticed an impressive collection of electric and acoustic guitars as part of his backdrop.) As family responsibilities materialized, Swartz pivoted to positions at Woodwind & Brasswind, Guitar Center and Musician's Friend, continuing to indulge his musical passions. From there, he joined the Starin organization in an entry-level position, embarking on what has now become a 15-year career with the venerable, Chesterton, Ind.-based distributor. 
Swartz's first role was as an inside support representative; over time, he worked as market development manager, channel sales associate and in other, increasingly responsible roles.
"There's almost no department I haven't worked in at this point," he chuckles. Swartz hastens to add, however, that he didn't have his mind on a C-suite position in those early days. Noting that Starin was a relatively small company with lots of long-tenured associates, he figured his best course was simply to do his job well. And because he did, management encouraged him to contribute even more meaningfully.
"Anytime I found something that needed to be done, the company just said, 'Well, go ahead and do it,' Swartz says. "I was always empowered to do something new…take something further." 
A Boundary-Pushing Year
Swartz is something of a disrupter—pushing boundaries to help Starin succeed—but there was no greater disrupter than the COVID-19 pandemic, which reared its head in Q1/20. Earlier that same quarter, Starin had had its eyes on opening an office in the United Kingdom to broaden its portfolio of offerings outside the U.S.
Following what had been a very strong 2019, the company was undoubtedly in growth mode. Starin sought funding to enable European expansion, forging strong ties with the Midwich Group along the way. Ultimately, Midwich acquired Starin on February 6, 2020. A bit more than a month later, the world locked down as the COVID-19 pandemic descended.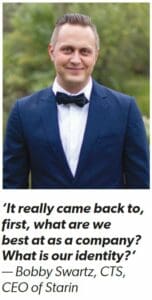 "Twenty-twenty was hard," Swartz acknowledges. "We pivoted quite a bit, as all the industry did. Big rooms…live events—they all disappeared." These trials proved clarifying for Swartz and the value-added distributor he would soon come to lead. The challenging year revealed that Starin should focus on its core strengths—namely, corporate unified communications (UC) and education—while pulling back from other, less distinguishing ancillary areas.
"Twenty-twenty-one needed to be a pivoting year," Swartz explains. "It really came back to, first, what are we best at as a company? What is our identity?" And as he stepped into the CEO's office when the calendar flipped, those directional choices laid in his hands. 
A Reimagined Line Card
You might think that a young, new CEO entering the position fresh off a challenging pandemic year would proceed with caution, but Swartz knew he had the support of Midwich management and, even more importantly, the rank-and-file Starin team. Thus, Swartz was bold.
"If we were going to focus on those two areas [corporate UC and education] and do a really damn good job internally and for our customers, and provide my people that focus, something had to give," he acknowledges.
The answer, he decided, was to look at Starin's line card and decide what contributed to its strengths and what distracted from them. "At the end of the day," Swartz continues, "we ended up walking away from a significant percentage of our existing business with brands that we had maintained and served for many years." 
Related: Starin To Distribute Neat's UC Devices
Brand changes of that magnitude can be scary—after all, there's no instantaneous way to fill that vacuum—but Swartz and his team knew it was the right decision. "We want to be the best at being a UC and education provider," he stresses. "You can't be the best at everything."
Thus, over the course of 2021, Starin rebuilt its line card with a more tailored offering aligning with its core strengths and the work-from-home revolution. This agility not only fit Swartz's bold vision but also reflected the heart of Jim Starin's approach.
The company's founder, Starin long instilled a sense of adaptability, overseeing its transition from being a hybrid rep firm/distributor to a true value-added distribution company. 
Protecting Starin Associates
Channeling another core value of Jim Starin's—his commitment to associate welfare—Swartz and the management team (including CFO Nick Parisi and COO Bill Pak) protected associates' jobs throughout the transition period.
Indeed, he says with pride that Starin did not terminate any team members either because of the Midwich acquisition or because of line-card turnover. Part of that commitment to Starin's associates springs from Swartz's recognition that executive management doesn't have a monopoly on good ideas.
"I will never say I have all the right answers," he says. "What I will do is find people who have the right answers and make sure they're optimized to work together." And it's not just about hanging onto existing talent, either. Starin grew its workforce by almost 30% last year; what's more, this year, budgets have been allocated for another 30% (or larger) workforce expansion. 
Swartz brings a sense of gravity to the CEO's office, recognizing that his choices have substantial reverberations. "These are my decisions to make," he says, "and it's also my responsibility if I make the wrong ones." He handles that stress by relying on his gut—a strategy that has proven wise over the years—and by looking to Starin's motto as a lodestar: "Care more and be better."
That's care for the company's associates, of course, as well as for its vendor partners and customers; however, it's also care for the welfare of the industry and the societal ecosystem within which commercial AV exists.
"AV's a small industry in the world, but it's important that we do our part to have some sustainability," Swartz explains. "Give back—be able to highlight other causes." Later on this year, at InfoComm '22, Starin will further reveal that side of itself. 
For now, the company has moved past a challenging 2020, surged through a 2021 characterized by immense organizational change and set itself on a course for growth throughout the year ahead. "What's on the horizon is more listening, more conversations and then more adapting," Swartz concludes. 
These fresh, vibrant perspectives have begun to shake out the cobwebs of our industry. And, in so doing, they've paved the way for an exciting, profitable future. 
If you enjoyed this article and want to receive more valuable industry content like this, click here to sign up for our digital newsletters!