Inside the SVT Family Business Model and Josh Shanahan's Vision for its Future
Led by NSCA president Josh Shanahan, SVT is now in its third generation of family ownership —with a fourth generation possible down the road.
Leave a Comment
Josh Shanahan wasn't literally born into his role as president and CEO of SVT, the technology solutions company his grandfather Dick Shanahan started in 1955, but "there is some speculation I may have even been conceived" inside the walls of the company, he quips.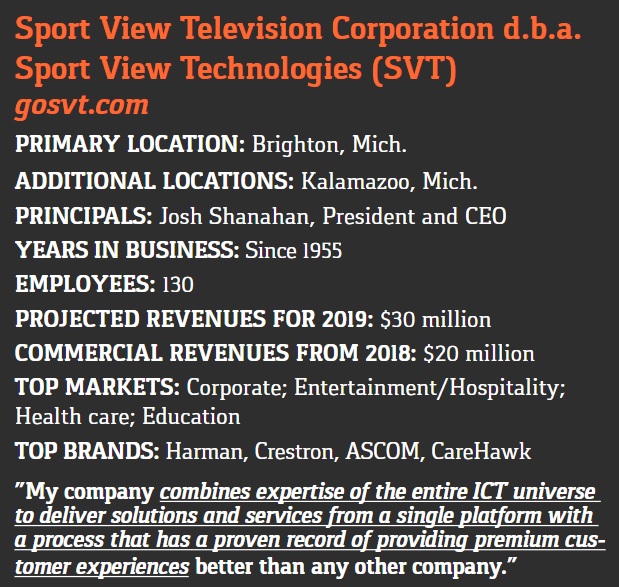 So perhaps it's no surprise Shanahan now runs the family business and has heard from his 13-year-old daughter that she's at least entertaining the idea of succeeding her father at the helm someday. But that's a long way off.
Between now and then, expect SVT to make at least four more acquisitions—in keeping with the plan for five additions in five years—and continue to find new ways to provide what the firm calls "premium experiences" for its customers.
While the makeup of SVT's management team has expanded outside the family under Josh's leadership, he always keeps the idea of it being a family-run business close to his thoughts.
That's true even as the company has grown from 60 employees to about 130 in the past few years amidst a flurry of hiring and an acquisition in late 2018 that was anticipated to be the first of many in the next few years.
Tracing the Shanahan Lineage at SVT
Dick Shanahan launched Sport View Television Corporation in Brighton, Mich., in 1955 as a video patrol business, later expanding to offering XaaS [before that acronym for "anything as a service" even existed] to horse and dog tracks across the U.S.
Josh's father, Mike Shanahan, started working at Sport View Technologies in the mid-1960s and Josh "went to work with my dad almost every chance I had" as he was growing up, learning the trade side of the business from the ground up.
"As the business evolved, so did my education and desires. After graduating from college, I worked for the company for a short time before going to work for several other large integration firms that focused on other industries."
Between 2007 and 2010, SVT invested "a significant amount of capital" into several XaaS accounts, but facility closures in 2011 "led to a historic financial concern with what was still a very soft global economic condition," he says.
Late in 2011, SVT was forced to restructure, and Josh Shanahan negotiated an equity buyout to lead the turnaround of the company. By 2016, he had acquired 100 percent of the company, "not at all how I thought the dream would be assumed," he says.
The Growing Pains
While there have been "huge growing pains" over the years and "we still have more of those to endure," Josh Shanahan is happy to have the support of several NSCA executives and former presidents—as well as his family members.
"Our theory is that companies focusing solely on profit ultimately make less and those that focus on culture make more." — Josh Shanahan, SVT
What were those growing pains?
too much leverage organically financing XaaS
waiting too long to deploy a dedicated managed care team
putting the wrong people in the wrong seats on the bus and waiting too long to change
waiting to address family ownership challenges
adopting a stance as an information communications technology service company and behaving as such in the market
Support From Well-Known AV Figures
Lone Star Communications' Ray Bailey picked up NSCA executive director Chuck Wilson in his private plane on multiple occasions to serve as advisors for Shanahan and his SVT team as they were trying to recover from economic turmoil in 2011.
"It is so important to build community in the industry," says Shanahan, who became NSCA president last summer. He cites Ingolf de Jong, Michael Hester, Kelly McCarthy, Andy Musci and Ron Pusey as his industry mentors.
"He's like a sponge. The network of mentors he uses is like no one I've ever seen before." — NSCA's Chuck Wilson, on Josh Shanahan
"I've known Josh's dad for a long time and Josh has the incredible talent that allows him to take the advice of his mentors at the company but also industry experts," says Wilson.
"He's like a sponge. The network of mentors he uses is like no one I've ever seen before."
SVT posts backlogs, labor rates and utilization among metrics using the Solutions360 dashboard at its headquarters, says Wilson, in places where all employees can clearly see what's going on with the company up to the minute.
"Josh is the definition of an emerging leader who's at the pinnacle of NSCA," says Wilson. "He has a core business savvy and you can see him blossoming into a real strong leader in this industry."
Family Culture
Shanahan says SVT's atmosphere is a natural outgrowth of being a family business—and that atmosphere influences how SVT staffers treat customers, too.
"Our theory is that companies focusing solely on profit ultimately make less and those that focus on culture make more."
SVT had almost no customer turnover in 2018 and only a small amount of turnover among its staff.
SVT VP of client experience John Grady calls the company culture "very unique for me.
"I've been part of major corporations, so it's been a learning experience for me. Josh treats the company like it is his family. The day-to-day culture is like a family. It's very refreshing to be in place where people's opinions really count."
VP of operations Tina Peters agrees.
"Everybody comes in excited and happy," she says.
"The autonomy that Josh gives us as a management team creates a very open communication culture. Everybody's ideas are heard, even if we can't execute on all of those ideas."
That culture filters down into the work SVT employees do, too.
"We provide a platform for our customers to obtain all of the products and services and we have a robust channel sales strategy that includes productized offerings," says Josh Shanahan.
The premium experience comes from meeting and often exceeding what customers expect, says VP of client experience John Grady.
"Ensuring what was promised during sale, what's delivered during install and what's continually supported is all done to the client expectation," he says.
What's Next for SVT
Shanahan wants SVT to be thought of and remembered for "being different, thinking ahead, investing in human capital, creating a culture of accountability and developing a sales and delivery process that is easy for your customers."
Those are lofty goals, but he's confident in the team's ability to achieve them.
He says SVT needs to be ready for competition from Google, Microsoft, Amazon and other IT giants as well as "the ongoing consumerization of the customer mindset."
In the 2007-08 recession, SVT suffered a revenue drop on the XaaS side but otherwise "we were humming along with record revenues and EBITDA performance," says Shanahan.
"We realized that our business required greater analytic rigor and implemented robust financial monitoring and control instruments in conjunction with a restructuring of our finance department including our legal and accounting partners," he says.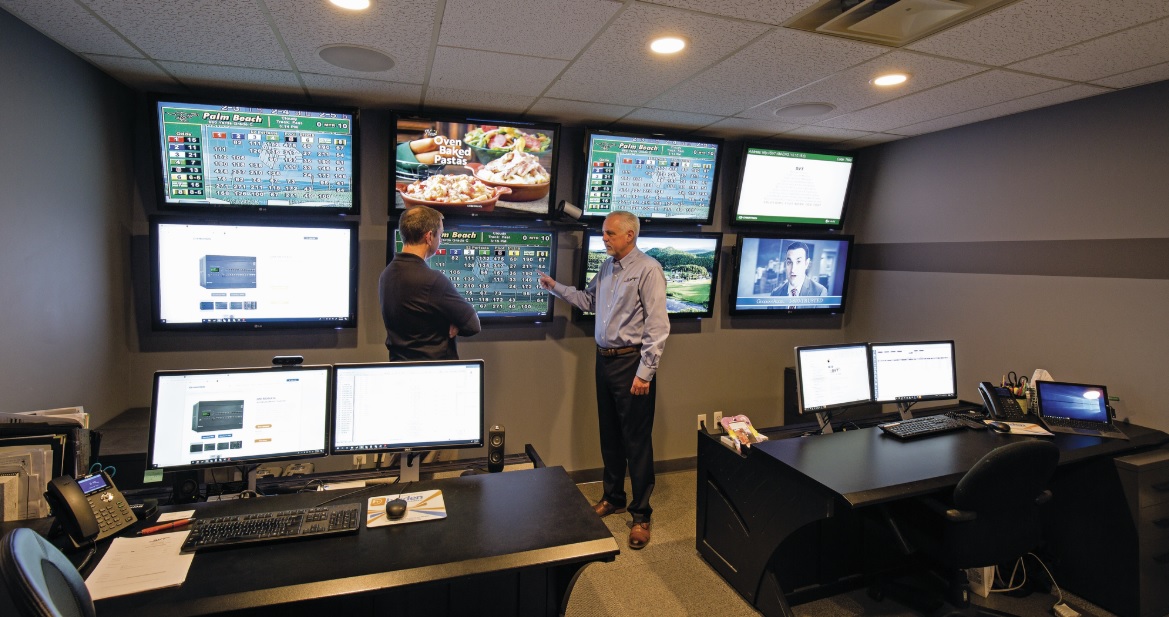 Without Recurring Revenue, You're 'Just a Contractor'
In 2017, SVT decided to restructure its operations/customer experience group to address the need to ramp up its recurring monthly revenue.
"Having the right resources in play are essential to enable the organization to provide premium customer experiences,whether it is one on a single or recurring basis," says Shanahan.
"We found that you must have dedicated, seasoned and highly motivated leadership in order to positively affect growth and sustain for renewals."
SVT's contracted revenue is now about 25 percent of its revenue "and growing exponentially," says Shanahan.
"If you don't have recurring revenue, you are just a contractor. Companies that are strictly contractors will not drive higher trading multiples nor will they have the ability to demonstrate any fraction of stability."
SVT has on-site service resources at a handful of clients' offices, including for some Fortune 100 companies, says VP of channels Adam Naylor. "We're incredibly sticky with our clients and their clients,"he says.
Grady helped to lead the transformation that included the dedicated sales staff for service contracts.
"It's a totally different sale," says Josh Shanahan. "You have to have totally dedicated resources, not only to sell it but also to service it."
Grady has noticed a gradual shift in the feeling of sales staffers when it comes to service.
"When I first came on board, didn't seem to be a lot of interest in selling service," he says. "Now I'm seeing it really come full circle, trying to get quote in front of customers. This industry doesn't always understand what service contract means and how it benefits them. Everyone's asking more questions, which tells me the interest is there."
It's a natural evolution for the company, says Peters.
"Everything is subscription-based now," she says. "The fact we offer XaaS as option has given us a lot of headway."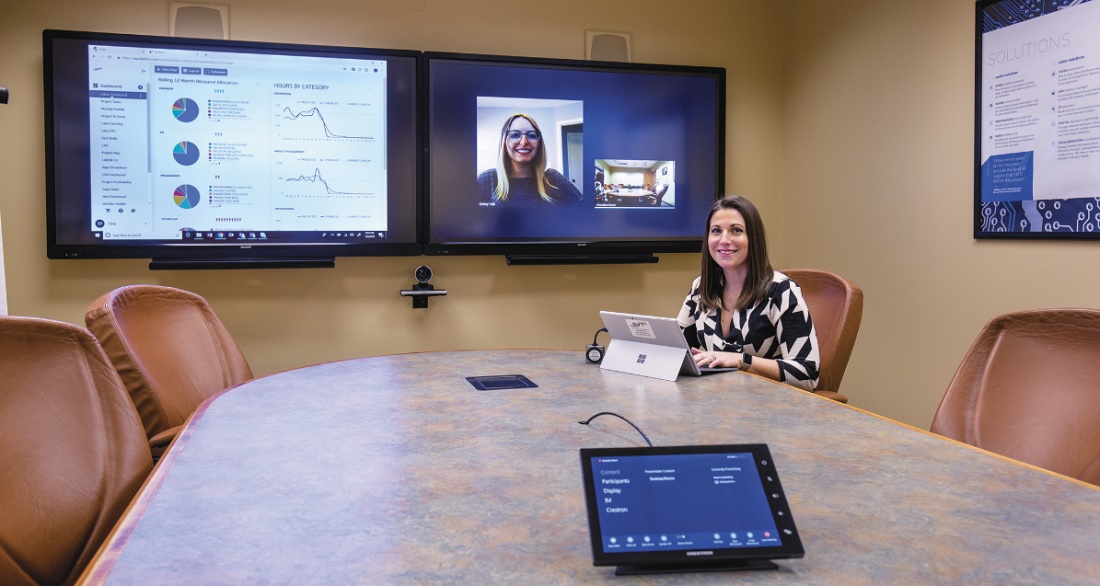 SVT Training and Certification
SVT has continued to encourage employees to go through manufacturer and industry training and certification classes but also launched its own internal online training offering about a year ago.
The company's technical services director has developed some modules and tests and continues to build more live training opportunities with the service and technical teams either in person or on video.
"It's based on what we're finding we need," says Peters.
One challenge for SVT, says Naylor, is "staying out of the curve. You don't want to be so bleeding-edge that you're ahead of the market,but there's no value in being the last to get it. We're trying to keep up with the way the market changes.All those challenges are opportunities for us as well."
Partnerships with BlueJeans and Dolby allows for more pervasive deployment of video across SVT installations, bucking the conventional wisdom that the lack of large videoconferencing installs means less revenue.
With the consumer mindset in the AV marketplace, "you have to be able to react quickly," says Josh Shanahan.
"Your success has to do with availability and capability more than price. With that drive-thru mentality, you have to be able to churn it quickly or folks will turn to go to the next place."