2017 CI: State of the Industry Report
Market optimism exudes from CI's annual survey but it's muddied by a steady stream of disappearing firms. As we enter 2017, the integration market is about the choice between exiting and committing to move forward.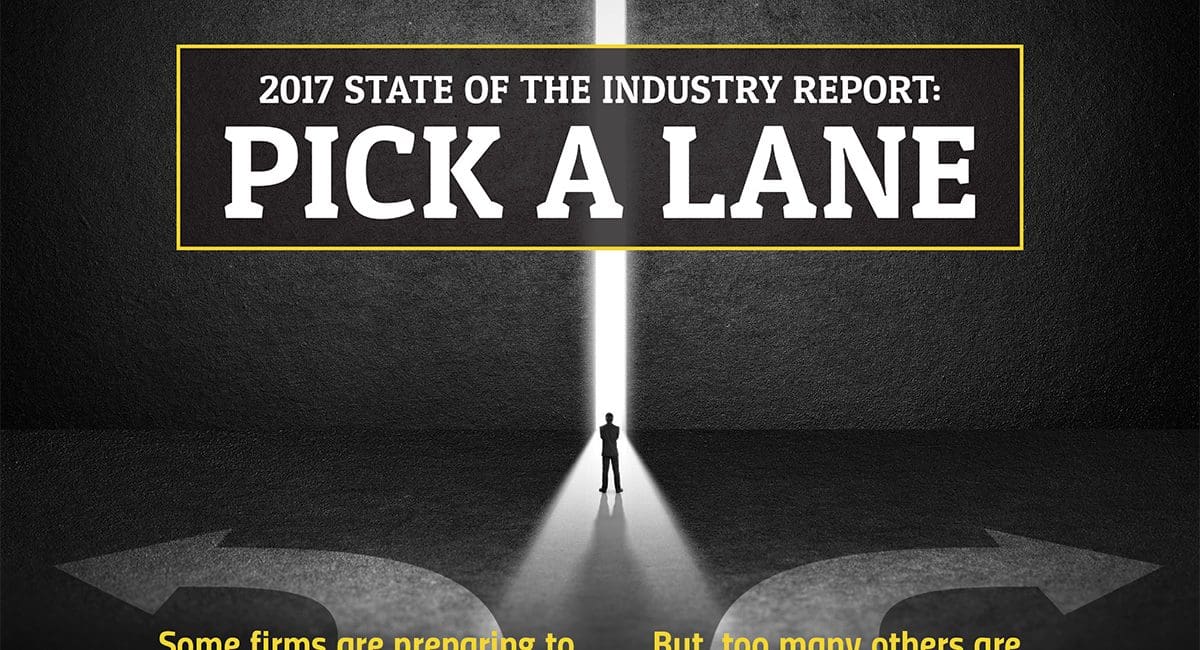 Photos & Slideshow
---
It's not about AVI-SPL, the industry's largest integration firm, which was acquired in 2016 by private equity firm H.I.G. Capital before scooping up Anderson Audio-Visual and its strong West Coast presence.
It's not about Verrex, one of the market's most prominent family-run firms, which was bought in 2016 by private equity firm Five Crowns Capital.
It's not even about $215 million Diversified acquiring $180 million Technical Innovation in 2016 to effectively leapfrog Whitlock and establish the industry's second largest firm.
PHOTOS: Inside the 2017 CI State of the Industry Report
It's about the less headline-grabbing industry consolidation and attrition that occurred consistently and persistently throughout 2016 with no signs of slowing down in 2017. Trade organization NSCA saw 42 of its member integration firms disappear in the past year.
With little fanfare or sensational reporting, smaller firms were swallowed up by medium-sized firms. Typically, it's a Baby Boomer owner looking up at national foot-print competitors that are easily 50-, 100-, 200- or 500-times larger; and looking internally at antiquated business models and sales or system design strategies that aren't resonating with an evolving customer.
WHO ARE THE SURVEY RESPONDENTS:
BY THE NUMBERS (181 Survey Respondents)
74% are integrators or consultants
11% are female
53.2 years average age
26 median employees in their company
50 median projects in 2016 for their company
293 average number of projects in 2016 for their company
$5 million to $9.999 million is where the median annual revenue for respondents falls
$50 million or more is where the largest percentage of respondents' firms' annual revenue falls
Those typical owners seized exit opportunities. By selling to slightly larger firms they got to make some retirement cash and keep their staffs employed.
"They're not out of business, and their people are still working. It's just that the name of the company went away and it's now part of something else," says NSCA executive director Chuck Wilson. "Those kinds of things were rampant last year. It took me by surprise how many there actually were."
Those are the lucky ones. Wilson estimated that about 10 of the 42 firms that went away during 2016 just closed their doors.
"They just decided, 'It's time. We've fought the good fight.'" For these reasons, it's important to take the positive trends reflected in the State of the Industry Survey, conducted annually by CI Research and NSCA, with tempered enthusiasm. After all, we didn't get to ask questions to the firms that disappeared.
Our survey of 181 integrators and consultants reflects those that are still fighting that good fight. The good news is that many are performing very well. More than half, 56 percent, saw revenue growth in 2016 of more than 5 percent and only 8 percent saw dips in revenue of more than 5 percent.
Is Your Business Prepared for 2017?
NSCA's Chuck Wilson and CI's Tom LeBlanc crunch industry survey results, identify where the industry stands, lay out imposing challenges and lay out strategies for success in 2017 and beyond during the 7th Annual Integration Business Outlook Presented by CI & NSCA.
Meanwhile, they're bullish on 2017 with two-thirds predicting growth of 5 percent or more including 29 percent expecting more than 10 percent. A miniscule 1 percent anticipates being down more than 5 percent in 2017.
More than half of those surveyed, 56 percent, saw revenue growth in 2016 of more than 5 percent and only 8 percent saw dips in revenue of more than 5 percent.
To our question of how they characterize the overall business climate for their firm, 44 percent say "good but with still some room for improvement." That's a sentiment worth exploring.
Pick a Lane
It's easy to see why a whopping 82 percent of those surveyed say the current business climate is good, very good or excellent. The corporate market, which is by far the industry's largest vertical and served by 84 percent of Commercial Integrator's readership, is bursting with opportunity. We're in the midst of a renaissance when it comes to how employees meet, collaborate and communicate.
The sky feels like the limit for integrators well-positioned to help their customers rethink their space and communications strategies. As such, nearly two-thirds of those surveyed say their corporate market revenue was up in 2016 with slightly more expecting it to grow further in 2017.
If you enjoyed this article and want to receive more valuable industry content like this, click here to sign up for our digital newsletters!