DSE 2018: Samsung Flip Display Is Flipping Cool
A lot of DSE 2018 attendees are flocking to the Samsung Flip display, a digital flip chart for collaboration … because it's flipping cool.
Leave a Comment
Maybe it's not digital signage per se, but the Samsung Flip digital flip chart for collaboration is one of the stars of Digital Signage Expo (DSE 2018) and the reason is simple: It's flipping cool.
It's "one of the products that Samsung has been most excited about over the last few months," said Jonathan Brawn, principal of Brawn Consulting and Samsung spokesperson, when he was demonstrating the Samsung Flip during a recent Almo Professional A/V E4 AV Tour event.
It's "designed to be a true digital flip chart," he said.
"It's made to be very low cost," he added of the 4K 55-inch display with an MSRP of $3,600.
But it's not just a display, of course. "This is an annotation collaboration tool first, a flat-panel almost second," Brawn points out.
Whether it's digital signage or not, Samsung entered and won a Commercial Integrator 2018 TNT Award in the digital signage category.
Here are some Samsung Flip features (from its application) that won judges over:
Market Position:
Samsung aims to alleviate the frustrations of the modern meeting with its new Flip display – an interactive, digital flip chart designed to drive more efficient and hassle-free collaboration. The Flip display replaces traditional analog board and paper notation with a more centralized and versatile format, condensing everything creative agencies and data-powered operations alike require for productive conversation into an all-in-one arena.
Unique design:
The Flip display's portable design includes a wheel-based stand that transforms any office location into a huddle room. Team members no longer have to battle for coveted meeting room space, and instead can simply move the Flip wherever it's needed and begin discussion without delay.
Configurable features:
To further accommodate varying collaborative needs, the Flip display is configurable for any space and desired comfort level. Users can alternate between portrait and landscape orientations without complication, and likewise can modify the screen for optimized comfort and writing space through a height-adjustable stand.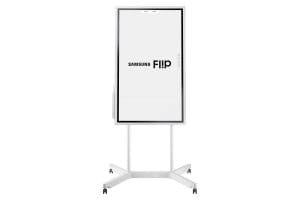 Impact on Meetings:
Meeting participants additionally can introduce new ideas and content to the conversation without complication thanks to the Flip display's extensive connectivity. The Flip synchronizes with personal laptops, tablets and smartphones, empowering attendees to share images and videos on the main screen in almost no time. For added real-time engagement, the Flip's integrated NFC and Miracast features mirror the central screen directly on participants' personal devices. These users in turn can make notes or updates directly on one screen and have them appear seamlessly on the other.
With the Samsung Flip display, business meeting logistics and execution no longer need to be stressful. Whatever the environment, the Samsung Flip helps teams work smarter, faster and better together.
Integration Features:
Samsung's innovative Flip display simplifies the demand on technology integrators in any environment. The display's simplistic, all-in-one composition is easy to assemble, and prevents integrators from having to align multiple independent systems to ensure seamless collaboration. Additionally, a host of embedded features and technologies make it easier for integrators and maintenance teams to identify and address challenges without significant disruption or expense.
As meeting room dimensions change and become more variable, the Flip display offers the scalability that more traditional alternatives lack. Users can wheel the Flip display into any office location and begin their discussion, without sacrificing performance or losing vital meeting tools. This enhanced composition prevents integrators from having to devote extra time to configuring displays to meet unique room dimensions or ensuring compatibility with existing technology infrastructure.
The Flip's extensive mobile connectivity also produces a clean and concise installation. By synchronizing with users' laptops, tablets and smartphones through integrated NFC and Miracast technology, the Flip allows participants to share screens and exchange content directly through the display's infrastructure. Integrators in turn no longer have to worry about implementing complementary external systems or a complex, space-consuming wire network to drive performance.