Clevertouch Enterprise Ecosystem for Agile Workplace Launches at ISE 2019
Calling it a real-time collaborative platform that enables employees to collaborate seamlessly in an open office environment, Clevertouch Enterprise Ecosystem will be unveiled at ISE 2019.
Leave a Comment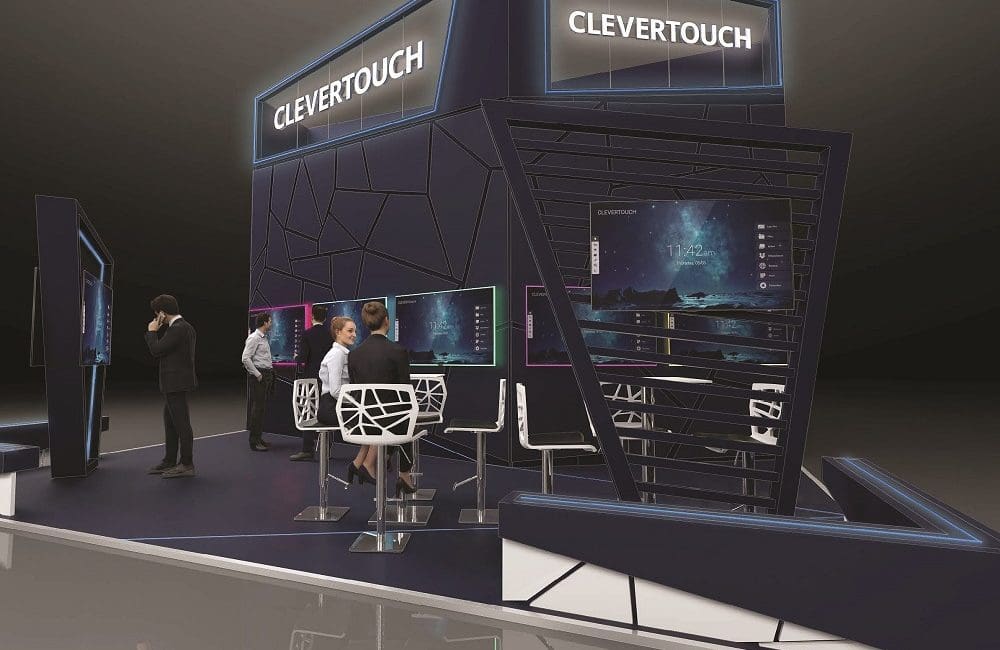 Clevertouch, which showed an interactive touchscreen display at Integrated Systems Europe 10 years ago, aims to make a splash at ISE 2019 by unveiling Clevertouch Enterprise Ecosystem for the agile workplace or open office environment.
The company calls the ecosystem a real-time collaborative platform that enables participants to work together seamlessly in an open environment no matter where they are located or what device they are using, whilst ensuring that the company's underlying networks remain totally secure.
Clevertouch's development team spent the better part of the past year researching and developing the ultimate enterprise environment, according to a company press release, and they're excited to reveal and demonstrate the new ecosystem in its entirety at ISE 2019.
More on Clevertouch Enterprise Ecosystem (via press release):
Connecting multiple users on a common platform is an essential goal for businesses today.  More enterprise entities are deploying Unified Communications and BYOD concepts, using Skype for Business and other solutions, to enable users to overcome barriers to collaboration.

Meeting spaces are evolving, with more huddle areas and open spaces for informal and unscheduled team meetings, requiring additional AV technology to connect people remotely.

This way of working is becoming the norm – no longer do we need to book a meeting room or wait for availability – we can schedule a time and everyone simply logs-in from their touchscreen in the office, laptop, phone or tablet.
Related: 6 Workplace AV Trends for 2019
"Enabling employees to use collaborative technology should be simple and uncomplicated for everyone," says Shaun Marklew, chief technologist, Clevertouch.
"Users should decide how their technology works, the technology shouldn't dictate their path. Unlock content and data from individual devices, move it into a shared workspace so that everyone in the team can access it simultaneously, regardless of whether they're in the office or on the other side of the world.
"Operating platform, device or software is no longer the obstacle – in fact the tech and hardware should be completely irrelevant to participants.  It's important that technology enhances, not impedes, the free flow of ideas and the power of the collective mind."
What Does the Clevertouch Enterprise Ecosystem Consist Of?
According to the company press release, the Clevertouch Enterprise Ecosystem includes:
Video and voice conferencing
Screen sharing and mirroring
File sharing
Infinity whiteboarding
Remote on-screen annotation
Digital messaging
Instant alerts
Room and meeting booking system
Enterprise-wide digital signage across any connected screen-based displays – connecting multiple users on a common platform
Clevertouch says the solution offers simplicity, ease-of-use and security and that it stands out from the collaboration crowd.
"Unlike other collaboration environments, which require users to install apps and/or plugins often conflicting with the organization's internal security protocols, the Clevertouch ecosystem requires no downloads and can be configured to work within a company's unique network and security framework," it writes.
The company adds that its E-Cap is the central hub of the Enterprise Ecosystem. "The latest interactive display benefits from a blend of two technologies that combine IR technology and electro magnetic resonance," it writes.
"The two technologies have enabled Clevertouch to create an advanced, durable and lightweight display with outstanding touch accuracy and responsiveness, delivering the same user experience as a capacitive screen, but at a fraction of the cost."
Clevertouch Enterprise Ecosystem will be on display in Hall 13 stand D155 with one-to-one demo available during ISE 2019.